Our Favorite 100 Grocery Store Backpacking Foods
Updated May 6, 2023
This post contains affiliate links.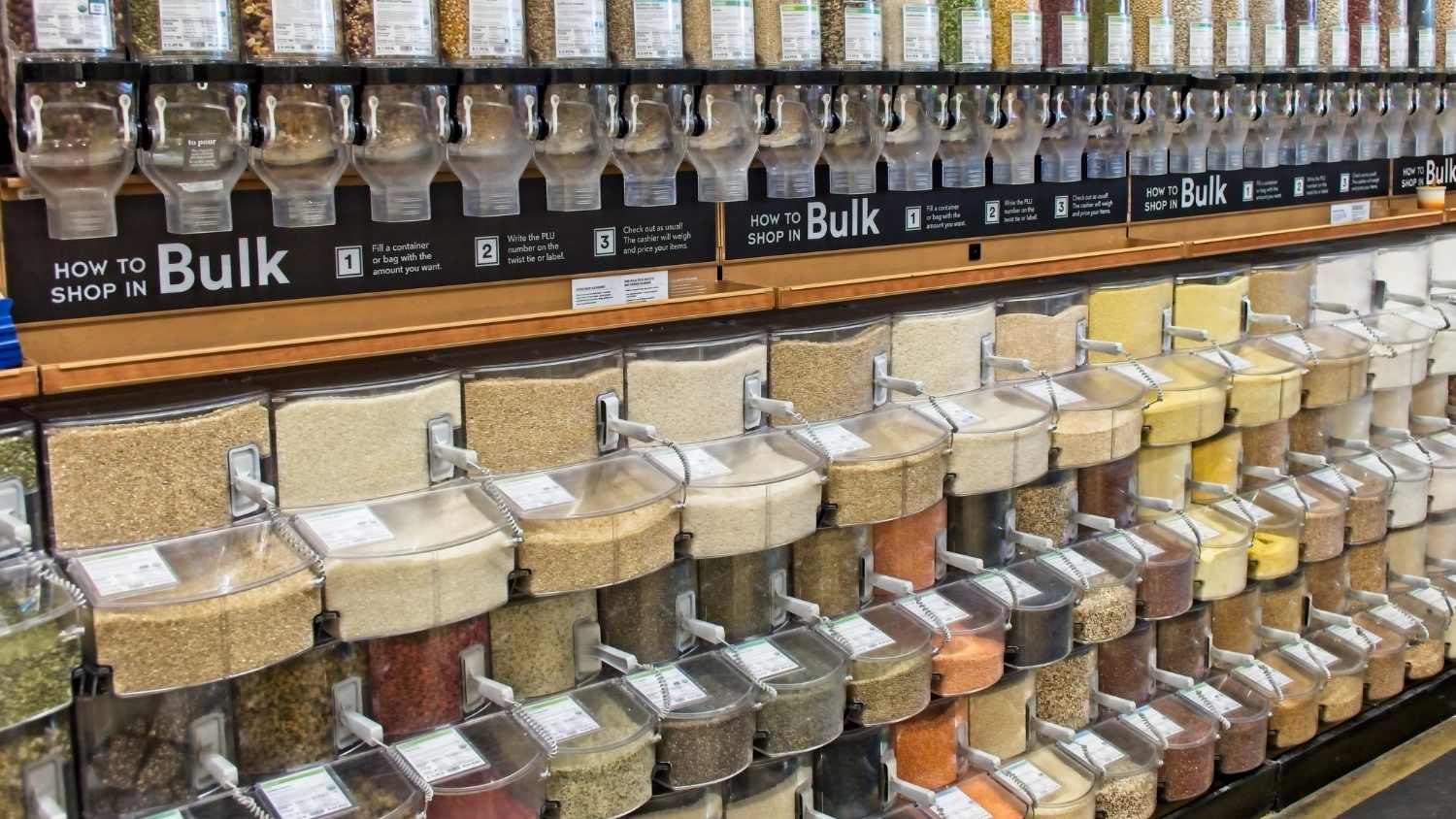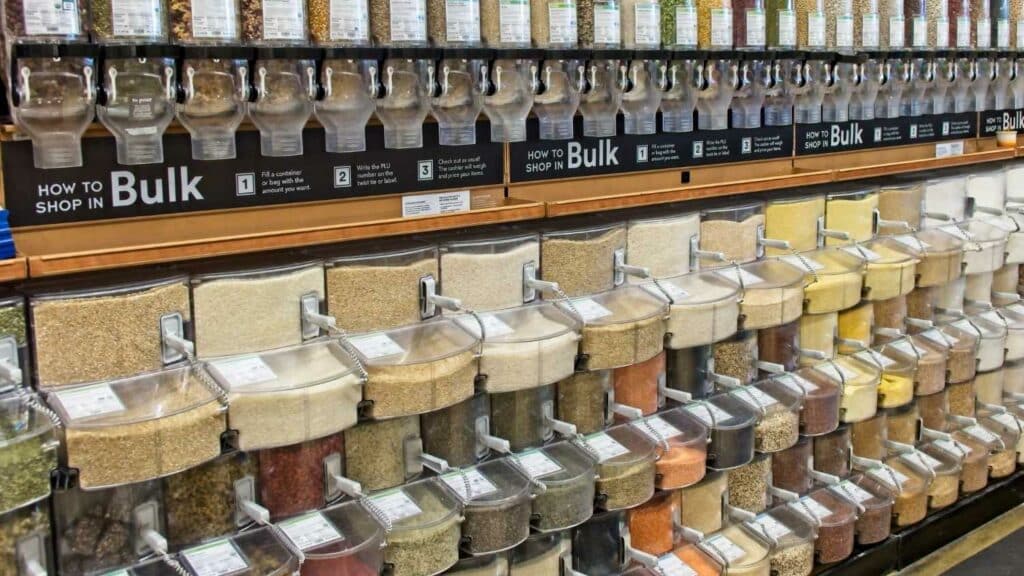 Walking into the grocery store to find backpacking food ideas for your next outdoor adventure can be overwhelming! There's a lot to think about, especially if you're putting together backpacking meals for a multi-day hike. Whether you are planning to make resupply boxes or shop for hiker-friendly foods near the trail, this post breaks down the grocery store, aisle-by-aisle, to give you some backpacking meal ideas to make the process a little easier. It will also list some specific stores and store types where you might find unique or less expensive hiker-friendly ingredients. Finally, we will share our favorite places online to buy backpacking foods that you may not be able to find easily in stores.
Just one note:
While most of the backpacking food ideas listed will be available in larger grocery stores, your local selection will vary. Keep in mind also that the availability of foods in smaller markets or trail-side convenience stores may be limited. You may want to consider calling individual stores ahead of time to confirm that they stock the ingredients you are planning to use.
Backpacking Food Ideas: Aisle by Aisle
PRODUCE
You don't want to skip the produce section! The produce section is a great place to find dehydrated and freeze-dried fruits and veggies for backcountry hikers. While freeze-dried produce retains more nutrients than dehydrated produce, either option will add essential vitamins, minerals, and fiber to your diet. You can include a few pieces of fresh fruit such as apples or oranges. While they are far from ultralight, fresh fruits and vegetables can help minimize the fresh food cravings many hikers experience on the trail. Just make sure you eat your fresh foods before they spoil.
THINGS TO KEEP IN MIND
Harder fruits like oranges and apples will travel better. Vegetables like bell peppers, small onions, and sugar snap peas are sturdy choices that will last a few days. Fresh mushrooms make great additions to meals and should be stored in a paper bag. Make sure to pack out any peels or cores.
---
BULK BINS
If your grocery store has one, the bulk bins section is a great place to start looking for foods to build your meals and snacks. Bulk bin sections are likely to include many of the backpacker-friendly food ideas listed below. Bulk foods are often less expensive. On top of that, they allow you to buy the exact amount you need for your next trip, so you don't have to worry about unused food going to waste.
---
BREAKFAST & CEREAL
The breakfast aisle is another place to look for grocery store backpacking food staples, but don't limit your hiking food ideas to just oatmeal packets! Here you'll find a variety of convenient and packable hiking foods and snacks. Pick a few different options so you don't have to eat the same thing day after day while trekking.
---
BAKING SUPPLIES, SPICES & OILS
Your meals and snacks for backpacking don't have to be boring. The flavor possibilities are endless, even when you're on a mountain! One way to add more flavor to your hiking foods and snacks is to take advantage of the baking supplies, spices, and oils aisle. This aisle is a great place to find sweet treats, spices, seasonings, and calorie-dense oils to add flavor to your backpacking meals. The added calories from oils and milk and egg powders can also make your meal more satisfying and provide you with the extra calories needed for those strenuous all-day hikes.
---
RICE, PASTA & GRAINS
When coming up with backpacking food ideas don't forget about the rice, pasta, and grains aisle. This grocery store aisle has a lot of great hiking staples to help you build satisfying meals and snacks while in the backcountry. You can try mixing up the grains you use to get more variety and nutrients out of your backpacking foods when you are on a multi-day hike.
---
SOUPS & SOUP MIXES
Your grocery store's soup aisle will usually be where you find the ramen, which backpackers always tend to pack because it's quick to prepare and lightweight. However, when coming up with backpacking meal and snack ideas, don't limit yourself to just that. The soup aisle has some other instant food items that are great for adding flavor and calories to your backpacking meals.

---
MEAT, POULTRY, & FISH
Another great place to shop for your backpacking foods is the canned meat and fish aisle of your grocery store. This aisle is where you'll find high protein, hiker-friendly foods that are shelf-stable and safe to pack with you. The wide variety of flavor options can also help keep your foods interesting so you don't experience flavor fatigue during your next backpacking trip. Another plus about some of the foods in this aisle (i.e., packaged tuna and salmon) is that they contain omega-3 fatty acids. These fats are anti-inflammatory and may help prevent unnecessary aches and joint pains while you're adventuring in the backcountry.
---
CONDIMENTS, SAUCES, & SPREADS
The condiments section is a great place to find calorie-rich spreads and nut butters as well as flavor enhancers. You can use these items to add extra flavor and nutrition to your backpacking meals and snacks. Don't skimp on extras like this – they'll help to keep you satisfied and prevent flavor fatigue on long trips. Look for them in single-serve packets to simplify your meal prep.
---
ETHNIC FOODS
The international aisle (see also ethnic specialty markets) will often contain hidden backpacking gems. Shopping for your backpacking food ideas in this aisle is a great way to keep your food interesting and can help you increase the variety of your meals and snacks while on the trail.
---
CHIPS, CRACKERS, & SNACKS
The chips and snacks aisle can be a good place to look for convenient hiking snacks and treats that you may choose to eat between meals. You can find some nutritious and calorie-dense foods that are easy to pull out of your pack and enjoy while you're out trekking.
---
COOKIES & CANDY
The cookies and candy aisle is full of backpacking snack ideas for when you need a quick burst of energy. For longer-lasting energy, pair these sugary snacks with a protein source (like nuts or cheese).
---
DRINKS & DRINK MIXES
The beverage aisle has many hiker-friendly drink ideas – hot and cold – to keep you hydrated. A lot of drinks will contain extra electrolytes such as sodium, which is helpful if you're a heavy sweater. This grocery store aisle is also a great place to find meal replacement drinks that can come in handy if you tend to lose your appetite on backpacking trips.
---
BREAD & BAKERY
The bread and bakery aisle has many carbohydrate-rich foods that can help you build a hiker-friendly meal or snack while on the trail. Just remember to pack these foods near the top of your backpack so they don't get squished during your trek.
---
DELI & DAIRY
The deli and dairy sections can be tricky to navigate for hikers because some of these foods are more perishable than others and are not hiker-friendly. But you don't need to avoid these sections altogether. Check the package if you are unsure if a product requires refrigeration.
---
BABY FOOD
You may not even think to check the baby food aisle, but it often has surprisingly useful food items for hikers. Yogurt melts from this aisle can form the base of an easy backpacker-friendly smoothie mix. Grind the yogurt melts into a powder using a coffee or spice grinder. Then add powdered milk and freeze-dried fruit, grind a little more, and package for the backcountry. Just add water on the trail for a refreshing snack!
---
Unique Backpacking Food Ideas Available in Specific Stores
Can't find what you want in your everyday grocery store? Try a few of these stores for those harder-to-find hiker foods.
HEALTH FOOD STORES & CO-OPS
These stores are likely to have more vegetarian and vegan options. They often also have larger bulk food sections.
---
ETHNIC SPECIALTY MARKETS
Ethnic markets stock unique options for backpackers. You will usually find more variety here than in the ethnic aisles of regular grocery stores.
Markets serving the Hispanic community can be a good place to find:
And here are some hiker-friendly foods commonly found in Asian markets:
---
WALMART
Walmart stores on-trail are much more frequent on the Appalachian Trail than the Pacific Crest Trail or Continental Divide Trail, but they are called superstores for a reason. For hikers, Walmart is a reliable place to find inexpensive backpacking food. You'll also usually be able to find stove fuel and other non-meal essentials here.
In addition to all of the grocery store foods listed above, Walmart stores are often great places to find:
---
TRADER JOE'S
Trader Joe's is another place to find many of the common backpacking grocery store foods listed above. Many hikers rave about Trader Joe's because you can often find backpacker-friendly foods in their specific brand for less.
---
COSTCO & SAM'S CLUB
Costco and Sam's Club are great places to save money if you are a member. This is especially true if you're making multiple servings of meals and snacks for your next adventure or preparing batch meals for your resupply boxes.
---
DOLLAR STORES
One thing to keep in mind about Dollar Stores is that their selection can vary quite a bit. These stores often have less selection than full-size grocery stores, but you can sometimes find much cheaper hiking food items, including small bags of freeze-dried and dried fruit. Dollar Stores are also a good place to look for cheaper Ziploc bags for portioning your hiking foods.
---
OUTFITTERS
Outfitters will also vary widely in their food selection. If you are looking for a specific food brand that caters to hikers, you're more likely to find it here.

What if I can't find what I am looking for at the store?
Depending on what stores you have locally, it can be hard to find some freeze-dried or pre-dehydrated vegetables, freeze-dried meat, and butter or cheese powders that you may need to make your homemade backpacking meals. If you can't find an ingredient you need, we recommend the following websites:
You can also try searching for the product you need on Amazon.
Do you like these backpacking food ideas, but aren't sure how to put everything together?
If you enjoyed these grocery store backpacking food ideas but still get overwhelmed putting it all together, you're not alone – and we can help!
Backcountry Foodie is your go-to resource for more than 200 backpacking dietitian-created recipes and a one-of-a-kind automated meal planning tool. The meal planner even creates itemized shopping lists for you! Meal prep has never been easier. Take a look at our membership options here.
Check out this video to see where all the magic happens.
---
DISCLOSURE: Some of the links on this page are affiliate links, which means we may receive a modest commission if purchases are made through those links. This adds no cost to our readers and helps us keep our site up and running. Our reputation is our most important asset, so we only include links for products we use ourselves.
---
Did you find this post helpful?
Pin it and share it with your fellow hikers.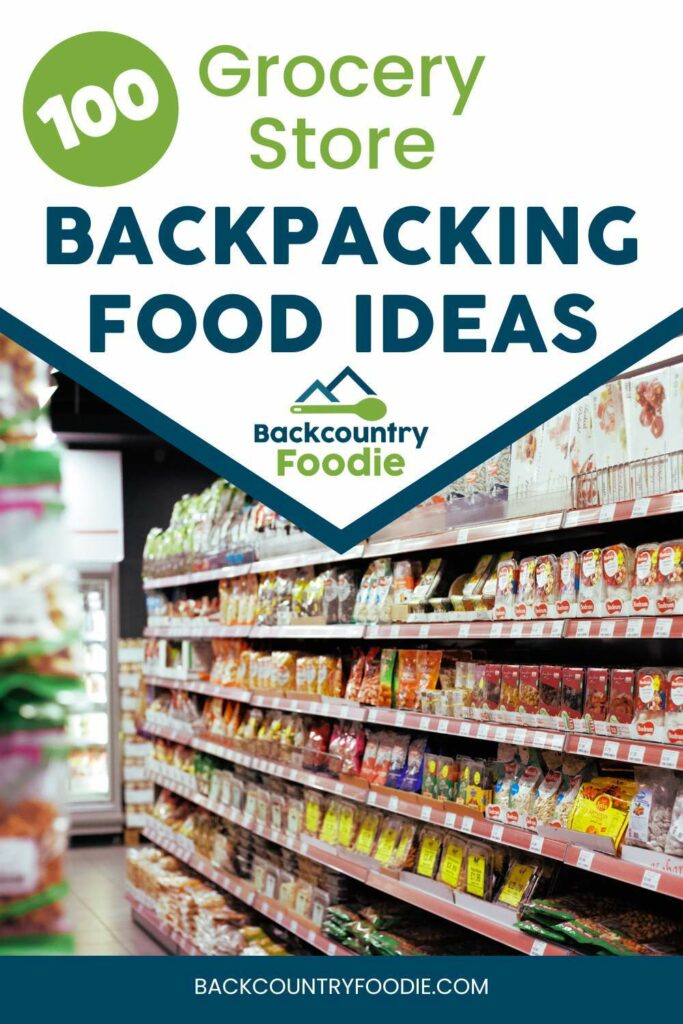 Are you new to our blog?
Consider checking out a few of our recipes using grocery-friendly ingredients:
Consider checking out these backpacking nutrition posts:
---
ABOUT THE AUTHORS: