Aloha Trail Mix | Ultralight Backpacking Recipe
Updated January 17, 2023
This post may contain affiliate links.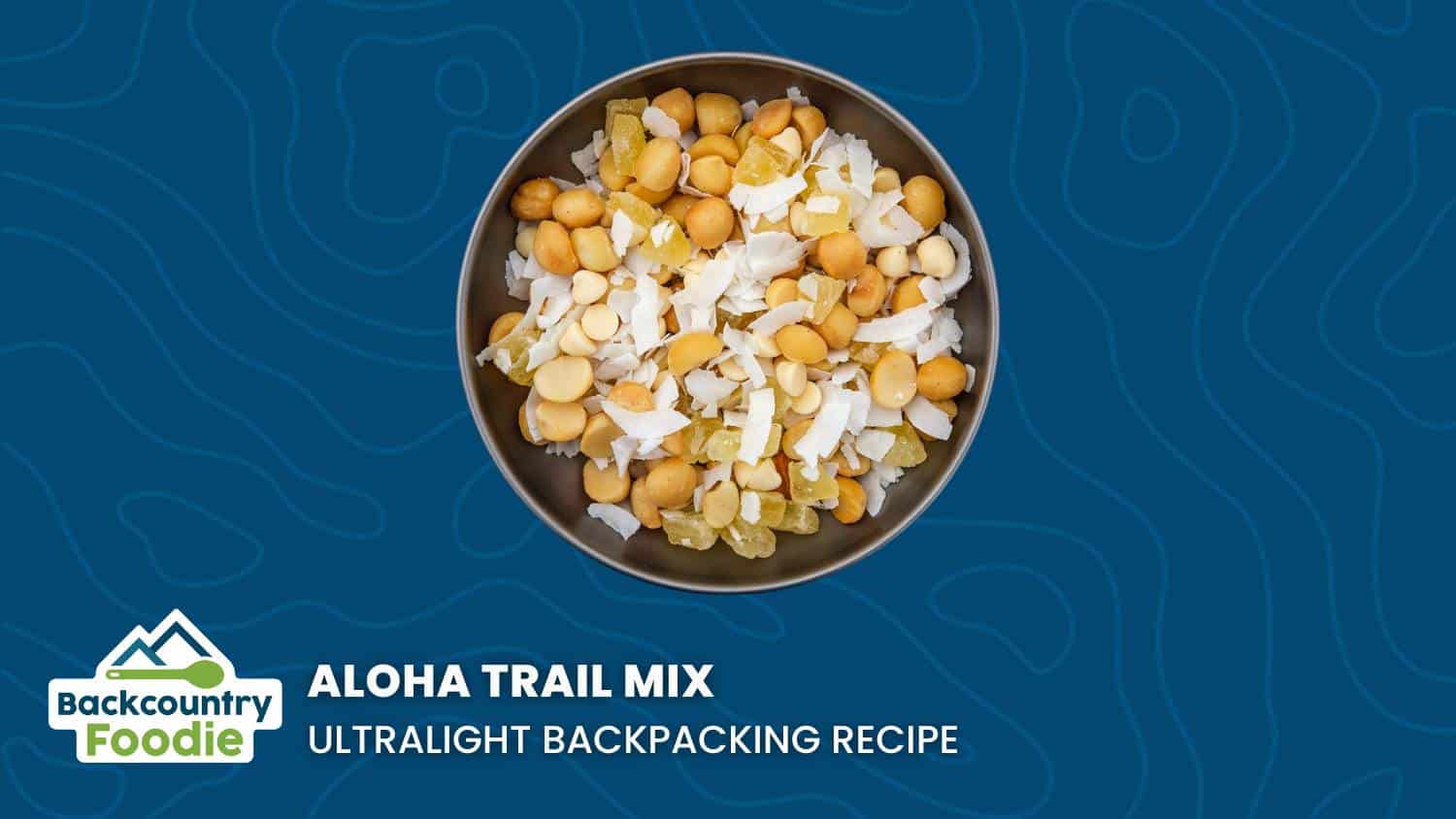 This calorie-bomb, backpacking trail mix recipe will leave you wanting more! Although, at 822 calories in just one serving, you may want to stick with only the one. Both calorie- and nutrient-dense, this combination of nuts, dried fruit, and white chocolate is sure to give you everything you want and need!
As backpackers and hikers, we look for the lightest, most nutrient-dense snacks and meals we can bring on the trail. So we've created this tropical, homemade trail mix that will leave you completely satisfied! This snack gives you a bright burst of flavors from the dried fruit mix, keeps you full due to the protein and fiber found in the macadamia nuts, and satisfies your sweet tooth with the addition of white chocolate chips.
A Calorie-Dense but Nutrient-Dense Snack
As mentioned, backpackers and hikers need lightweight foods that pack a big punch. They need the best foods to supply the energy needed to travel anywhere from 5 to 50 miles a day. This backpacking trail mix, which does just that, contains only four simple ingredients: macadamia nuts, dried coconut, dried pineapple, and white chocolate chips.
Macadamia Nuts:
Macadamia nuts are going to supply the most calories to this trail mix recipe (almost 500 calories in a half cup). However, they provide many other helpful nutrients, such as protein, fiber, and healthy monounsaturated fats.1 There are two different kinds of fat: saturated and unsaturated. Saturated fats are the "bad" fats that can lead to health problems such as high cholesterol and heart disease. On the other hand, unsaturated fats are "good" fats that we want to include in our diets. The fat found in macadamia nuts, monounsaturated, is a healthy fat. Thus, macadamia nuts come with some specific health benefits, such as helping to lower your risk for chronic diseases such as heart disease and diabetes.1,2
Dried Fruit Mix:
The dried coconut and dried pineapple give this homemade trail mix its bright flavors that will leave you craving more! Since the water has been removed, dried fruit will provide a concentrated amount of nutrients, including calories, versus their hydrated (fresh) counterparts. However, even though higher in calories, dried fruit contains many other important nutrients, such as fiber, antioxidants, and certain vitamins and minerals.3
White Chocolate:
The addition of white chocolate to our homemade trail mix gives the mix a simple richness and a touch of sweetness. Considering that white chocolate will contain mostly simple carbohydrates (i.e., sugar), it will supply your body with a quick boost of energy. You may question why white chocolate is added to the recipe when it doesn't supply much more than just calories. The answer: the joy of eating! You're working hard on the trail, and you deserve to treat yourself with this simple addition.
Is This a Healthy Backpacking Trail Mix?
You may wonder about the high amount of fat and added sugar in this recipe. While, yes, those nutrients are present in this recipe, this is a homemade trail mix, meaning it is customizable. By choosing specific trail mix ingredients and their amounts, such as a half cup of macadamia nuts (high in healthy monounsaturated fats) and only a quarter cup of dried coconut (higher in saturated fat), we can create a better-for-you, nutrient-dense snack for the backcountry. So where does that leave the added sugar from the white chocolate chips? When backpacking, our calorie needs are tremendously higher than our everyday needs. Consuming a relatively small amount of added sugars as a "treat" in your backpacking trail mix won't negatively affect you. Though, if you'd like to dive deeper into the topic of added sugars, check out our other blog post, Is Added Sugar Bad for Backpackers?. And as mentioned before, there are many other beneficial nutrients present in the trail mix!

Aloha Trail Mix
Here's a mouthwatering calorie bomb snack to replace those same old energy bars you've eaten mile after mile.
Rate This Recipe
View Comments / Leave A Review
NUTRITION (per serving)
INSTRUCTIONS (per serving)
HOME
Put all ingredients in a bag or container to be used in the backcountry.
NOTES
NUTRITION
Total sugar (per serving): 43 g, including 8 g of added sugar
For a no-added-sugar recipe, replace white chocolate chips with sugar-free white chocolate chips.

This recipe is calorically dense and low-volume.
Did you make this recipe? We'd love to see it!
Share photos from your kitchen or the backcountry below.

READY TO SEE MORE BACKPACKING TRAIL MIX RECIPES LIKE THIS ONE?
Backcountry Foodie is your go-to resource for more than 200 backpacking dietitian-created recipes and a one-of-a-kind automated meal planning tool. The meal planner even creates itemized shopping lists for you! Meal prep has never been easier.
Check out this video to see where all the magic happens.
---
DISCLOSURE: Some of the links on this page are affiliate links, which means we may receive a modest commission if purchases are made through those links. This adds no cost to our readers and helps us keep our site up and running. Our reputation is our most important asset, so we only include links for products that we use ourselves.
---
Did you enjoy this backpacking trail mix recipe?
Pin it and share it with your fellow hikers.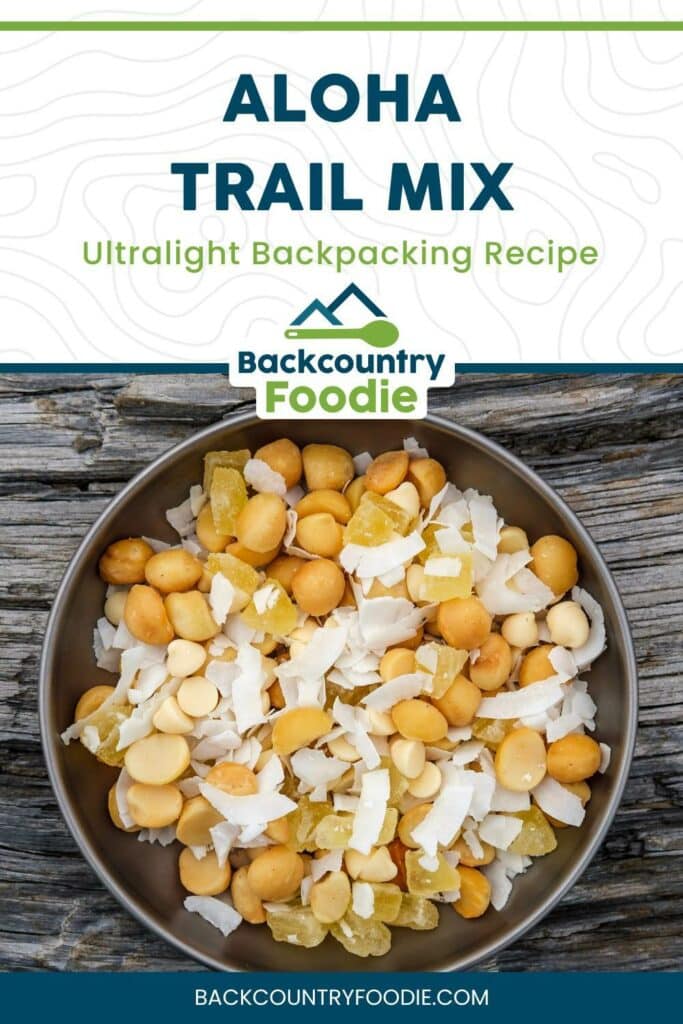 New to our blog?
Consider checking out these posts:
ABOUT THE AUTHOR:
Rick Harrison is an aspiring Registered Dietitian studying at Bastyr University in Kenmore, Washington. He grew up in the Ohio but moved to the Pacific Northwest in 2022 with only a car-full of items and a huge sense of adventure! With a background in culinary and pastry arts, Rick hopes to help shape people's relationship with food by making it more accessible through increased knowledge of cooking and confidence in the kitchen.
References:
What Are Macadamia Nuts Good For? Medical News Today. Published February 13, 2022. Accessed January 12, 2023. https://www.medicalnewstoday.com/articles/324233
Baby DP. Health Benefits of Macadamia Nuts. Nourish. Published 2022. Accessed January 12, 2023. https://www.webmd.com/diet/health-benefits-macadamia-nuts
Alasalvar C, Salvadó JS, Ros E. Bioactives and health benefits of nuts and dried fruits. Food Chem. 2020;314:126192. doi:10.1016/J.FOODCHEM.2020.126192