How to Dehydrate & Freeze-Dry Strawberries for Backpacking
Updated January 4, 2023
This post may contain affiliate links.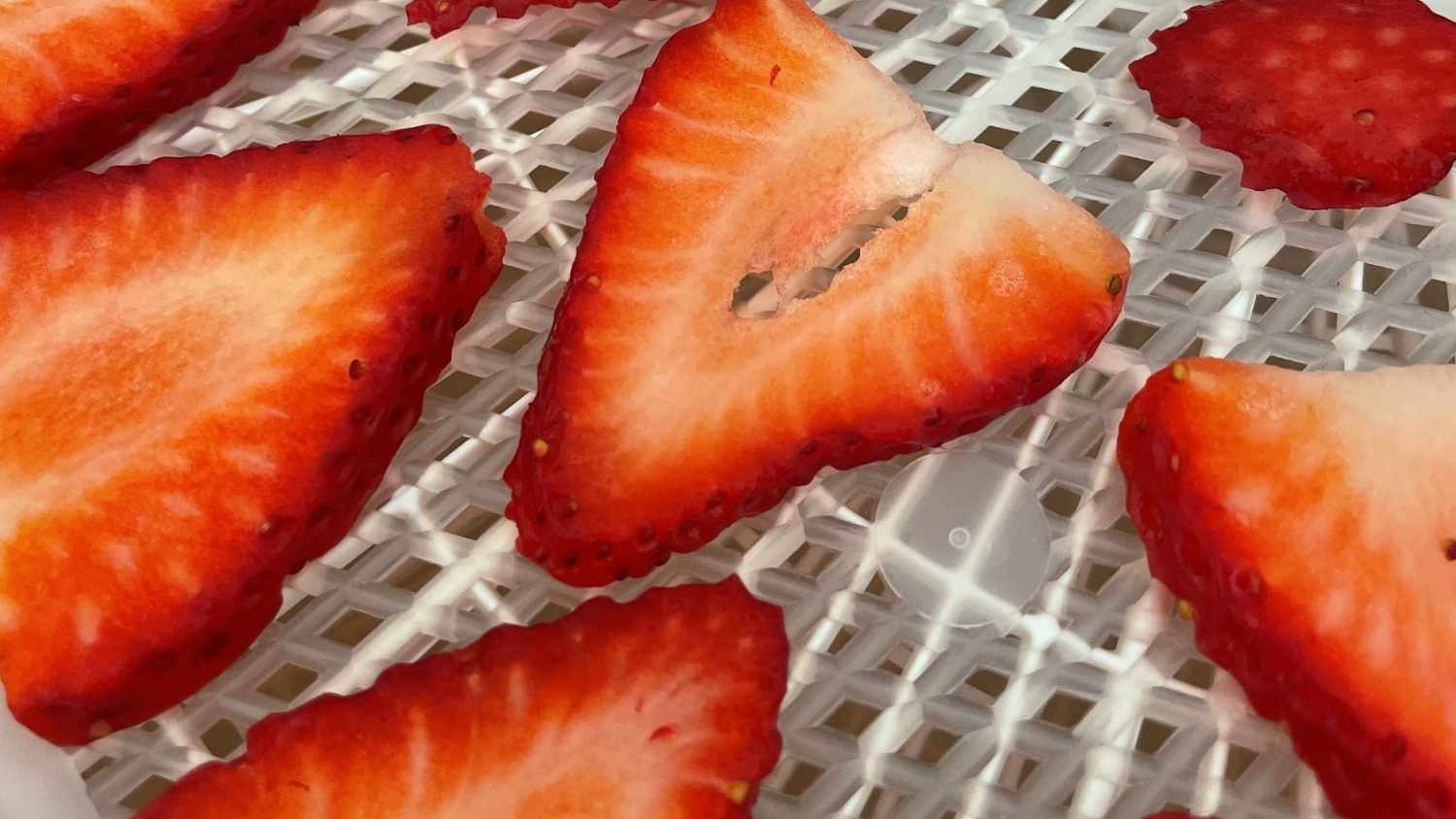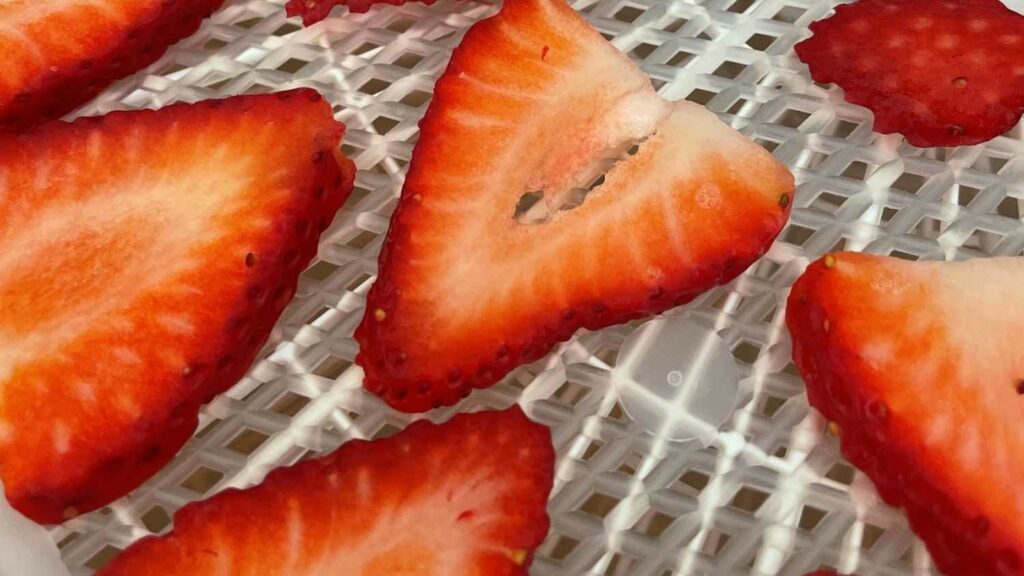 Pretreatment | Dehydration Process | Storage | Recipe
It's easier than you might think to dehydrate strawberries at home for snacks or add to breakfast cereal, desserts, smoothies, trail mixes, or other DIY backpacking meals. If you're a lucky owner of a home freeze-dryer, you can freeze-dry strawberries with minimal effort and open up limitless uses of the final product. Dried strawberries intensify sweet flavors and can be shelf-stable for many months.
What types of strawberries can you dehydrate or freeze-dry?
Fresh and frozen strawberries can be dehydrated or freeze-dried. It's best to dry strawberries at the peak of ripeness as unripe strawberries lack the sweetness, and overripe strawberries may be mushy.
Continue reading, and you'll see that drying strawberries is quite simple and worth the minimal amount of work required.
Should strawberries be pre-treated?
It's not required to pre-treat, but an acidic solution keeps strawberries from darkening (think about how apples or pears turn dark quickly) and improves safety.
The easiest and most accessible pre-treatment method is a quick soak in lemon juice.
To make a lemon juice solution, mix equal parts lemon juice and water.
Soak strawberries in the solution for 10 minutes.
Drain and dehydrate or freeze-dry. See drying instructions below.

How should strawberries be prepared?
Remove the caps and cut the strawberries into thin, uniform pieces. A mandoline or egg slicer can be very helpful for creating thin slices of 1/8 inch or less.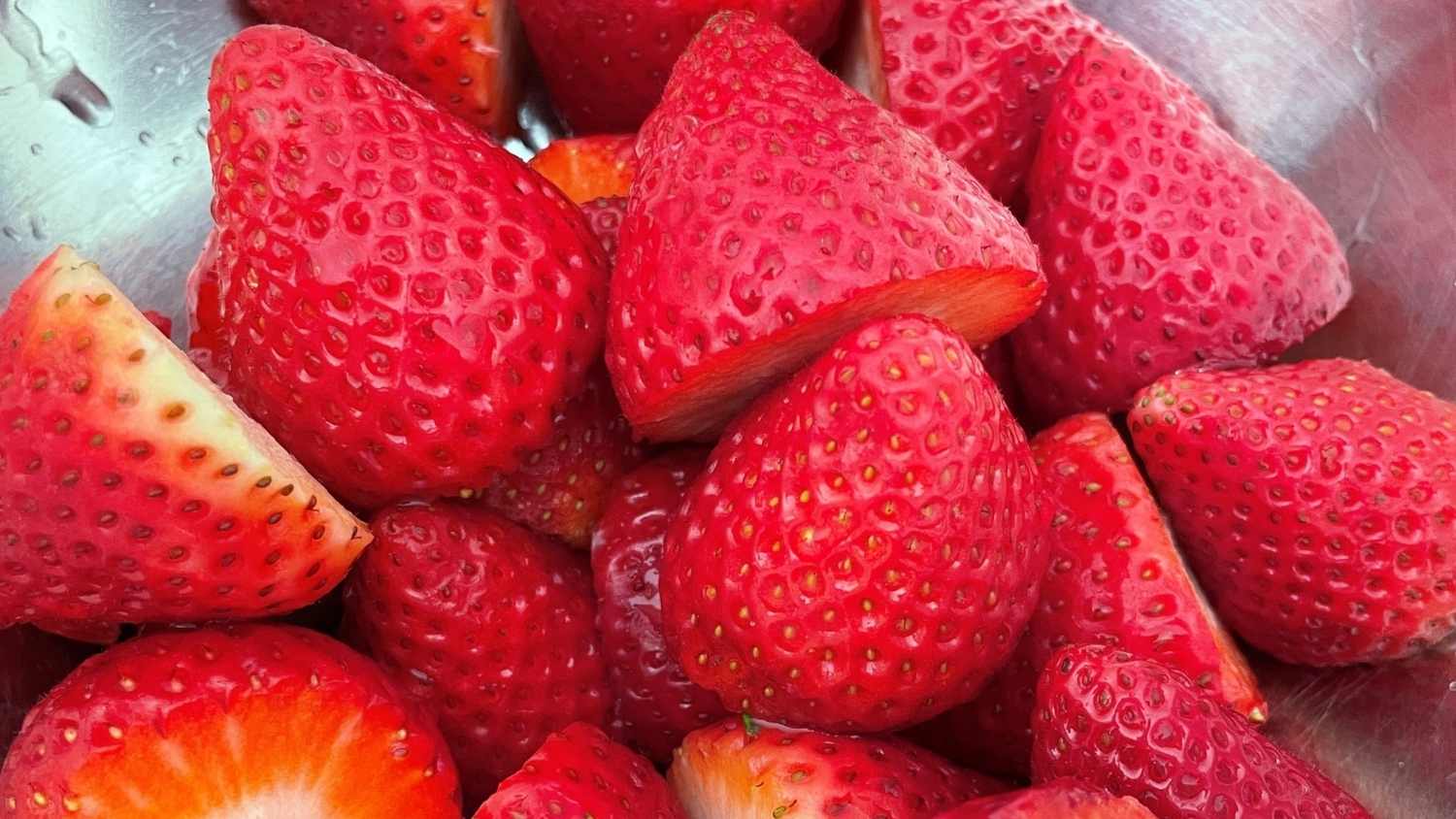 How do you dehydrate or freeze-dry strawberries?
Step 1:
Spread the fresh or frozen strawberries onto dehydrator or freeze-dryer trays.
Using mesh sheet liners or parchment paper on dehydrator trays isn't required but can make removing the strawberries from the trays easier.
Freeze-dryer trays do not require liners or parchment paper.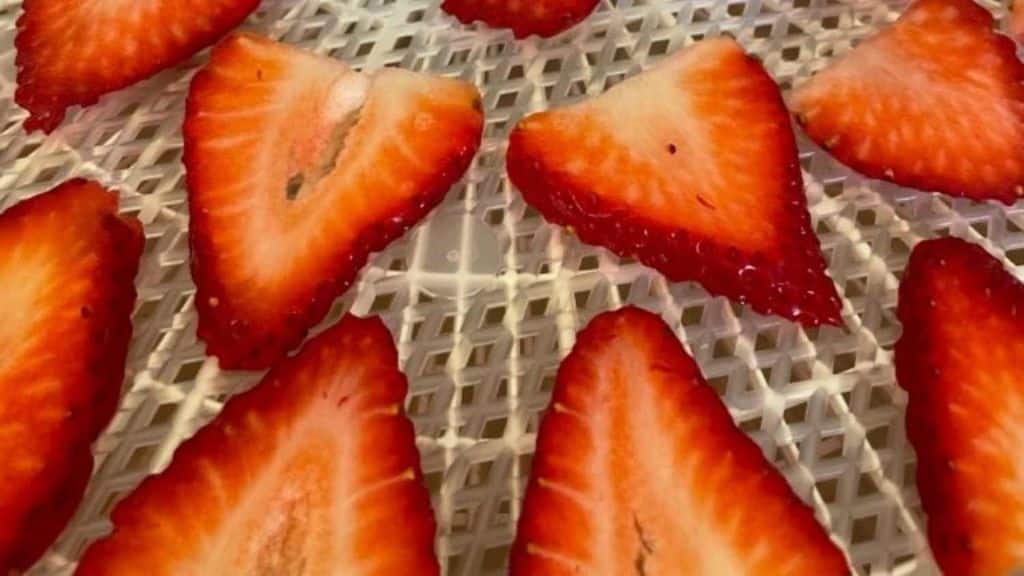 Step 2:
Dehydrate at 125℉ (50℃).
If freeze-drying, start the freeze-dryer and allow it to run its cycle.
Step 3:
Strawberries are done when completely dry.
Dehydrated strawberries will be pliable with no visible moisture, which may take 8-48 hours or longer.
The freeze-drying process typically takes between 12-24 hours, depending on whether fresh or frozen strawberries were used.
Freeze-dried strawberries will be brittle when completely dry.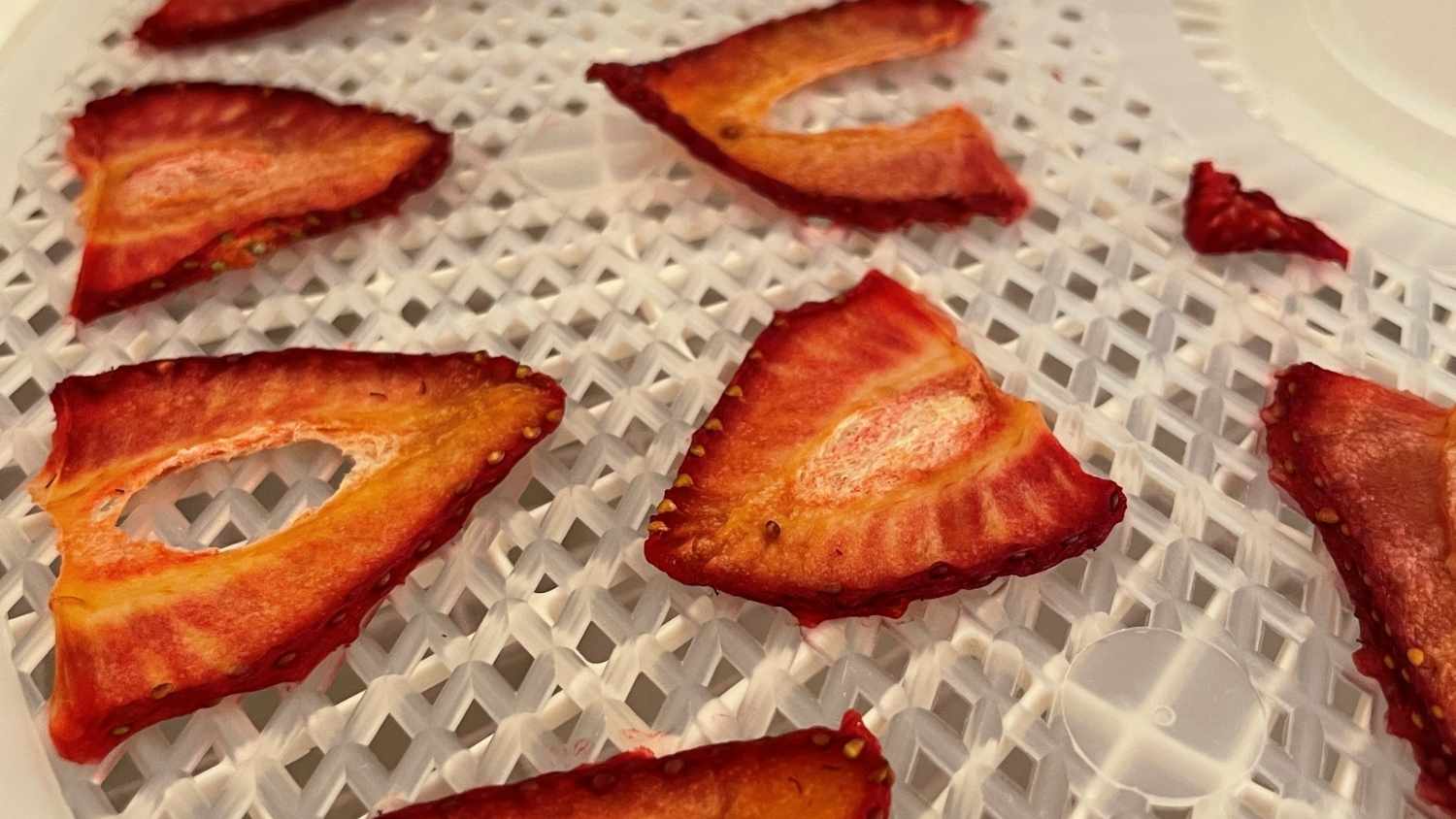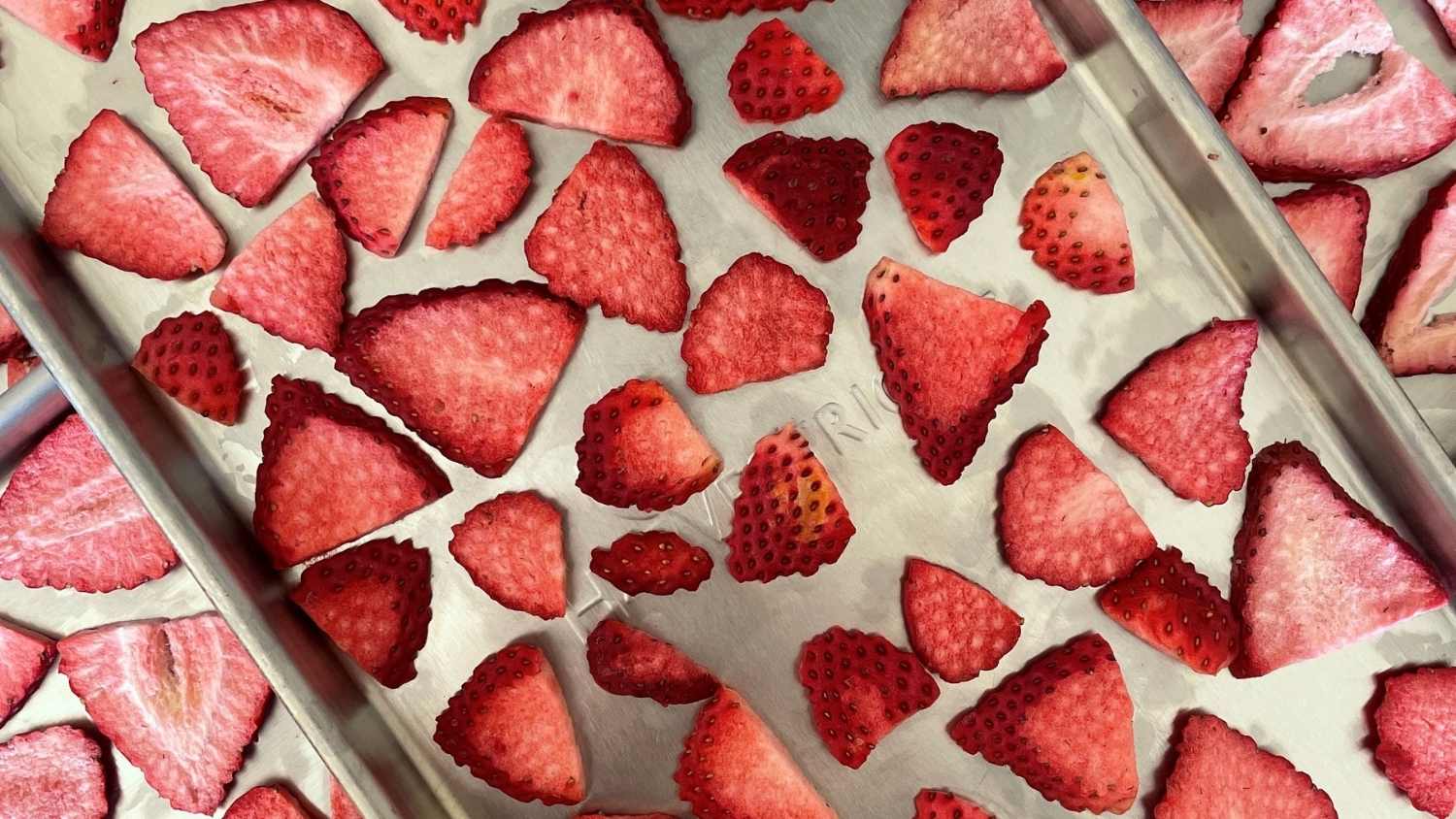 Step 4:
If using a dehydrator, allow the strawberries to cool for 30-60 minutes, then package them in an air-tight container.
If using a freeze-dryer, store the strawberries in an airtight container immediately.
Strawberries will reabsorb moisture from the air, so do not leave them out for more than an hour before packaging.
What is conditioning, and is it necessary?
Conditioning is a process that equalizes moisture before long-term storage to reduce the risk of mold. The moisture content of fruit should be about 20%, which is higher than vegetables or other foods. The moisture may not be evenly distributed, so conditioning is recommended.
Pack the dried and cooled strawberries loosely in plastic or glass containers.
Let the strawberries stand for 5-10 days.
Shake the container each day.
If condensation develops, the strawberries are not dry enough.
Return them to the dehydrator or freeze-dryer, continue drying and then repeat the conditioning process.
Long-Term Storage Techniques
To lengthen the shelf-life of the strawberries, consider vacuum sealing them in vacuum seal bags, mylar bags, or mason jars. You can purchase a mason jar vacuum sealer accessory online.
Also, consider adding an oxygen absorber. Oxygen absorbers will remove any extra oxygen from your container.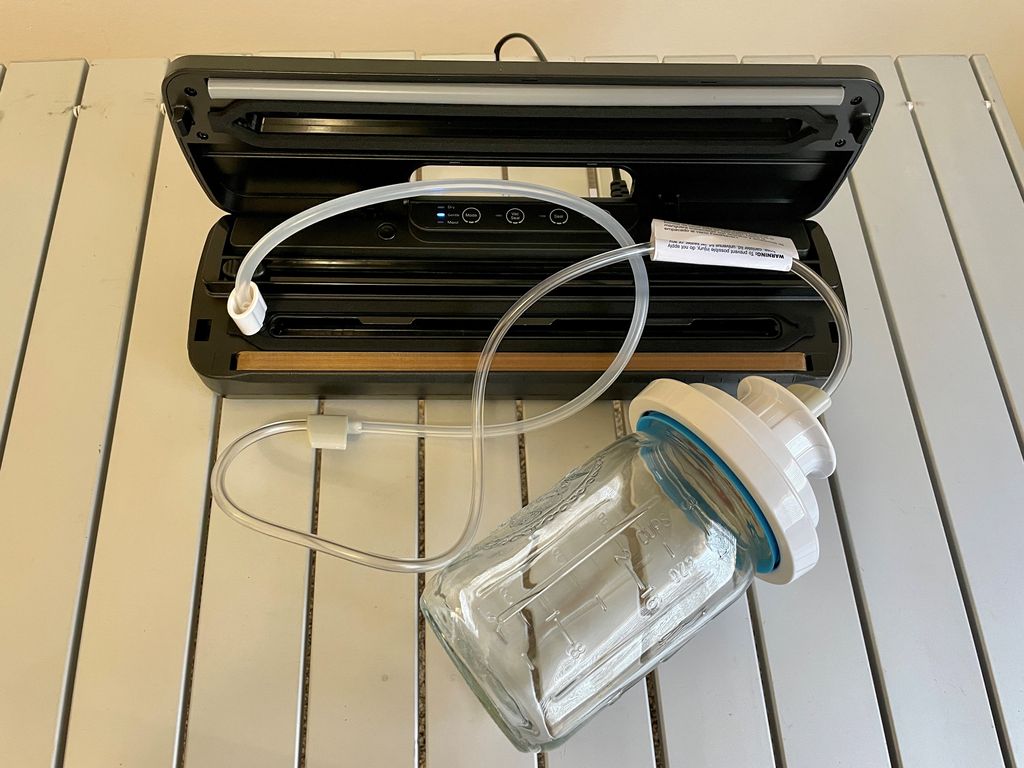 What is the yield?
Yields vary quite a bit.
One pound of fresh strawberries will be approximately 1 cup dehydrated with the usual range of ¾ – 1 ¼ cup.
The yield of freeze-dried strawberries will be similar to the same volume of fresh strawberries.
How do you rehydrate dried strawberries?
Strawberries are often eaten in their dehydrated form.
If desired, add hot water and cover for 10-20 minutes to make a strawberry compote.
Cold water can be used to rehydrate strawberries, but the rehydration process may take up to an hour.
Freeze-dried strawberries will rehydrate much faster than dehydrated strawberries.
How long will dehydrated or freeze-dried strawberries last?
Dehydrated strawberries can be stored for one year in an airtight container kept in a cool, dry, dark area.
You can store freeze-dried strawberries for 10-15 years when vacuum sealed with an oxygen absorber.

How do I use dehydrated or freeze-dried strawberries in backpacking meals?
Add dried strawberries to cold or hot breakfast cereals.
Powder freeze-dried strawberries using a coffee grinder.
Mix powdered strawberries with freeze-dried yogurt and granola to make a parfait.
Mix powdered strawberries with milk powder or non-dairy powder to make a fruit smoothie.
Mix with cream cheese powder to make shelf-stable DIY cream cheese for backpacking.
Create a hot strawberry compote using dehydrated or freeze-dried berries for topping dehydrated angel food cake.
Here are a few of our favorite recipes using dried strawberries.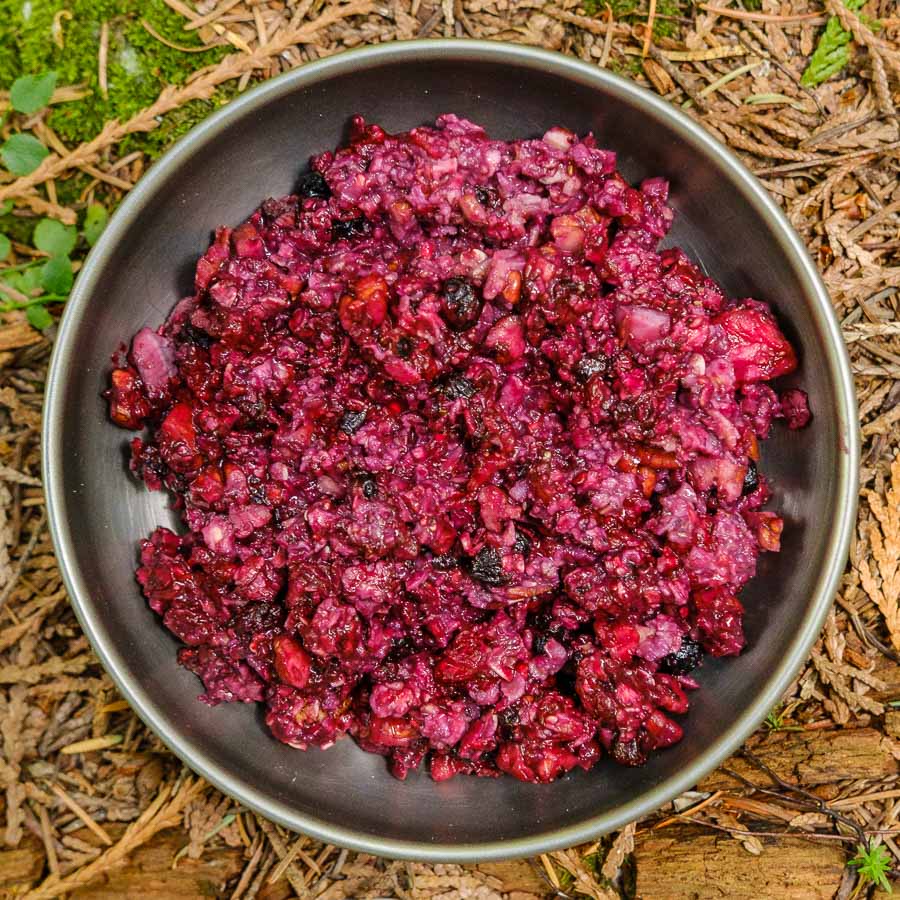 Give our Granola with Milk & Berries backpacking recipe with dried strawberries a try!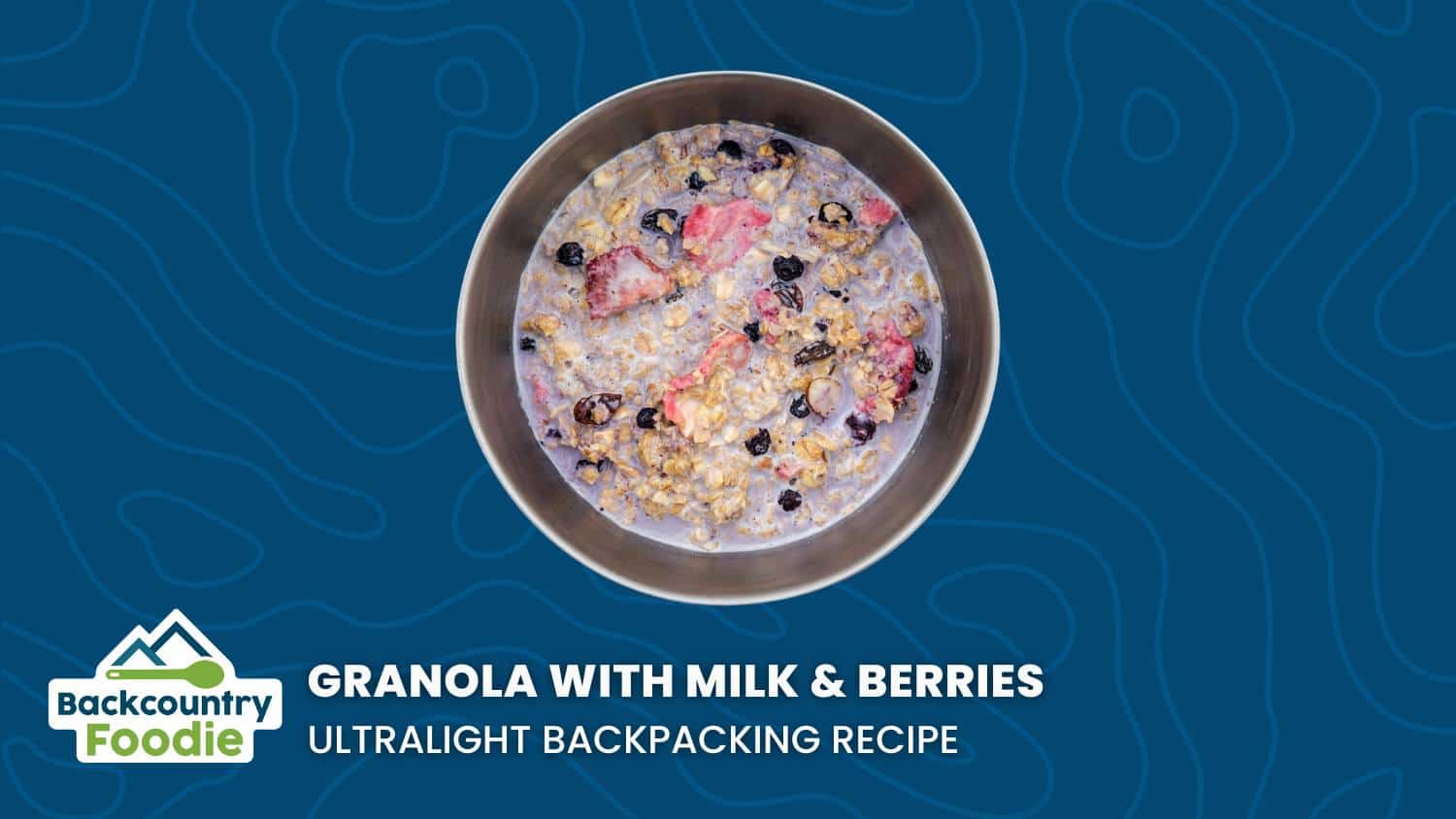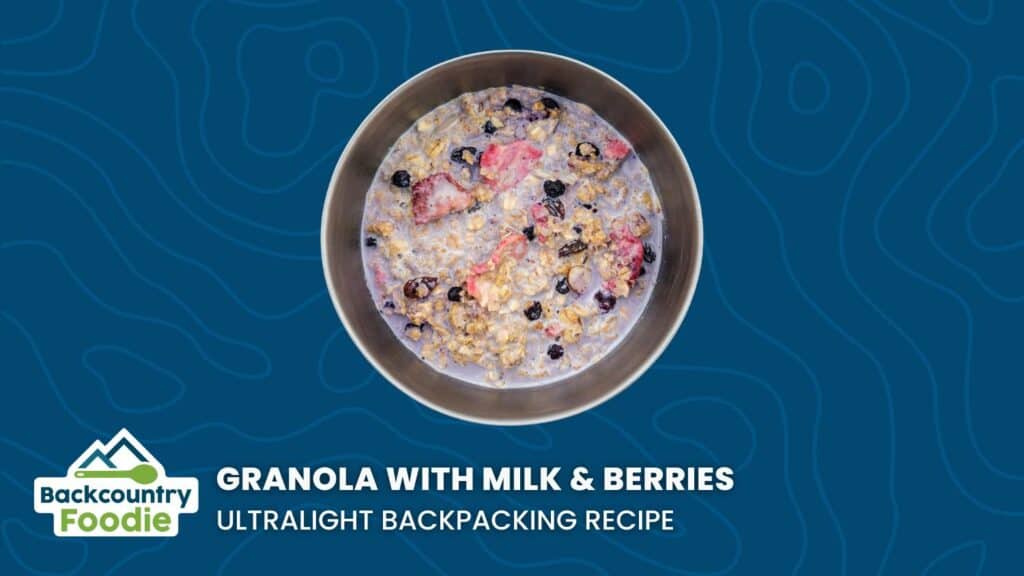 Ready to sample the dehydrated strawberry recipes listed above?
Backcountry Foodie is your go-to resource for more than 200 backpacking dietitian-created recipes and a one-of-a-kind automated meal planning tool. The meal planner even creates itemized shopping lists for you! Meal prep has never been easier.
Check out this video to see where all the magic happens.
---
DISCLOSURE: Some of the links on this page are affiliate links, which means we may receive a modest commission if purchases are made through those links. This adds no cost to our readers and helps us keep our site up and running. Our reputation is our most important asset, so we only include links for products that we use ourselves.
---
Did you find this post helpful?
Pin it and share it with your fellow hikers.
Are you new to dehydrating food for backpacking meals?
Consider checking out these posts:
---
ABOUT THE AUTHORS:
Resources:
Andress, Elizabeth, and Judy Harrison. So Easy to Preserve, 6th Edition. Cooperative Extension University of Georgia, 2014.
Kendall, P and J. Sofos. "Drying Fruits." Colorado State University Cooperative Extension.
McCallister, Glenn. Recipes for Adventure. Glenn McCallister, 2013.
Penn State Extension. "Drying and Freezing Foods for Preservation – Featuring Strawberries."