How to Dehydrate & Freeze-Dry Chickpeas for Backpacking Meals
Updated September 15, 2022
This post may contain affiliate links.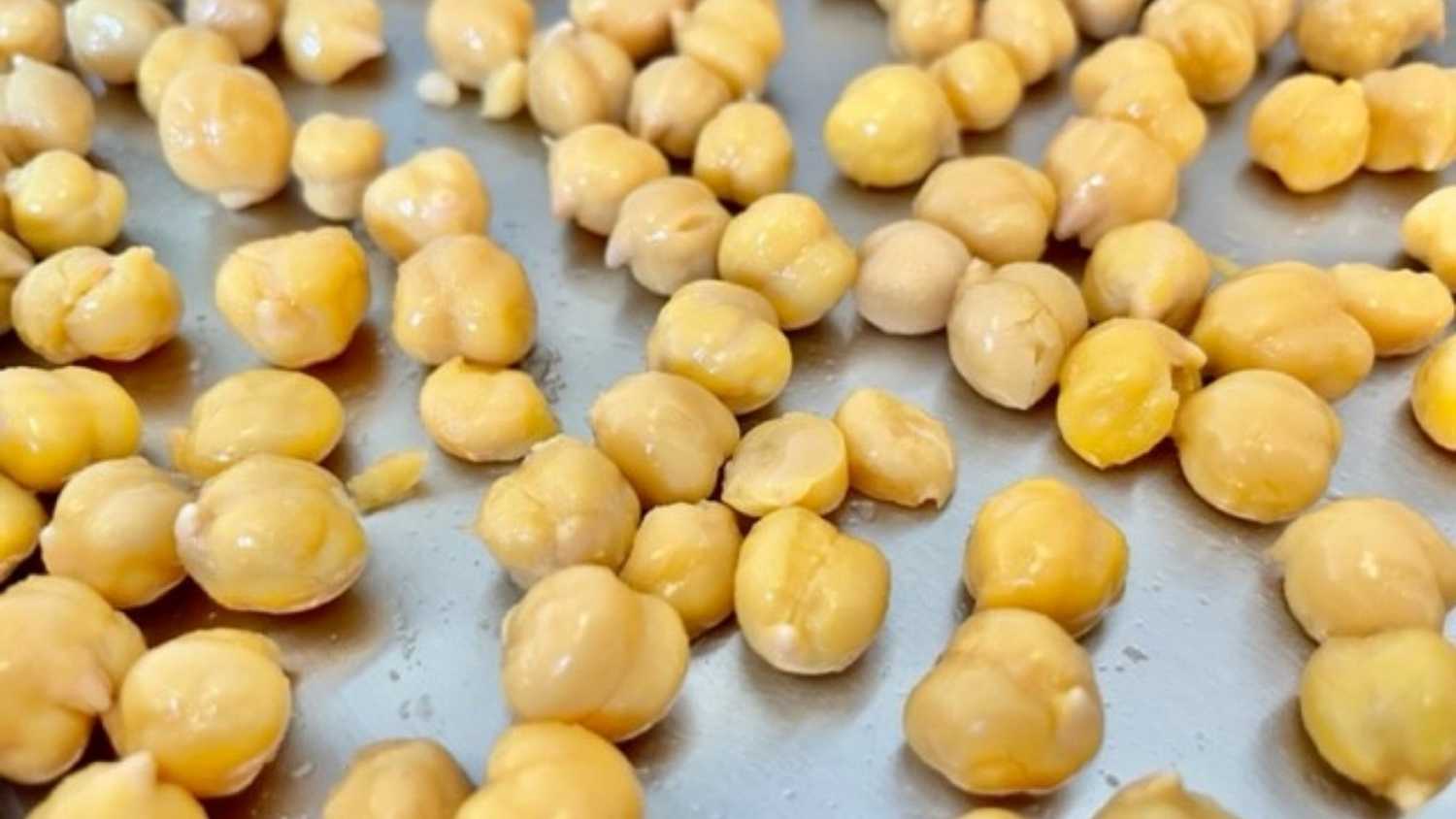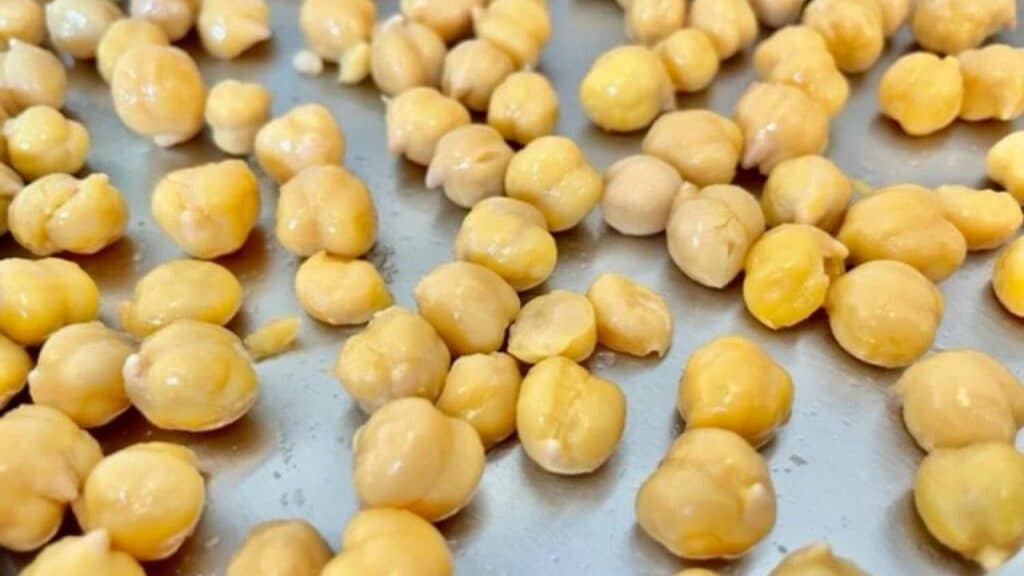 Chickpeas are versatile, healthy, and easy to love. You can eat them in dips, taco fillings, soups, and salads. They are a good source of carbohydrates and fiber. Furthermore, they are full of protein and make a complete protein when eaten with grains. This makes them a perfect foundation for plant-based diets. Most importantly, they rehydrate easily and taste great on the trail. With a few tips, you can successfully dehydrate chickpeas to use in your favorite backpacking meals.

What forms of chickpeas (garbanzo beans) can you dehydrate or freeze-dry?
You can dehydrate any plain, canned chickpeas. However, extra sugar and other ingredients may affect the final product if they are seasoned or flavored. Canned chickpeas do not have to be cooked before dehydrating.
You can also dehydrate raw chickpeas after cooking them at home. Soak them in water overnight to reduce the cooking time. Replace the water and simmer for 60-90 minutes until tender.
You can dehydrate whole chickpeas, but lightly mashing them first (just enough to break the skins) can be helpful. Fully mash them or puree if you're aiming for a creamy, consistent product like hummus. Pureed and powdered chickpeas are well suited for cold soaking.

How do you dehydrate or freeze-dry chickpeas?
Step One: Prepare the chickpeas for drying.
Drain the cooked or canned chickpeas.
Leave whole, mash, or puree.
PRO TIP
Removing the skins, before drying, greatly improves the quality of the final product. If skins are not removed they will separate from whole chickpeas during the rehydration process and create a "sludge". If skins are not removed prior to pureeing and dehydrating, the rehydrated product will have a somewhat gritty texture.
Step Two: Prepare the trays.
Spread the chickpeas onto dehydrator trays using mesh tray liners or parchment paper. Fruit roll sheets may also be used.
Tray liners are not necessary if using freeze-dryer trays.
Step Three: Begin the drying process.
Dehydrate at 145℉ (63℃).
After an hour or two, stir the chickpeas to ensure even drying on all surfaces.
If freeze-drying, start the freeze-dryer and allow it to run its cycle.

Step 4: The chickpeas are done when completely dry.
The dehydration process will take approximately 8-24 hours, depending on the humidity. They are done when they feel hard and dry to the touch. The chickpeas may crack open as the skins dry.
The freeze-drying process will take approximately 12-15 hours.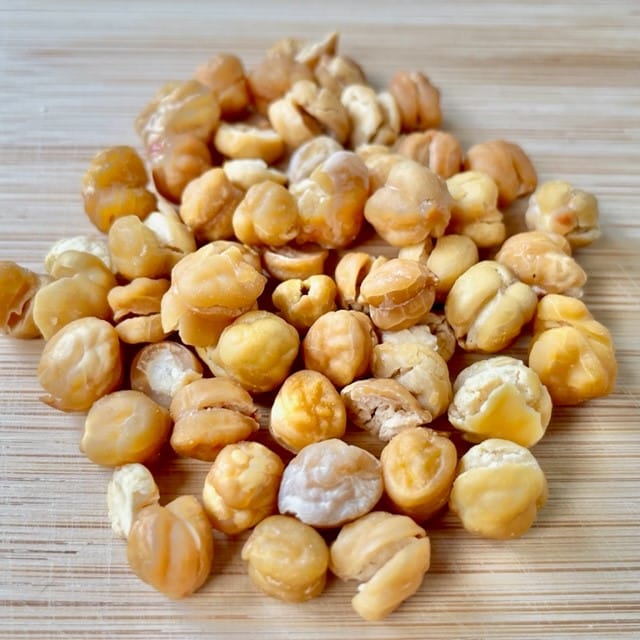 Step Five: Prepare the dried chickpeas for long-term storage.
For dehydrated chickpeas, allow them to cool for 30-60 minutes. Then package in an air-tight container.
For freeze-dried chickpeas, package them immediately in an air-tight container.
You can choose to grind dehydrated chickpeas to a powder using a coffee grinder or a bullet-type blender (optional). This may reduce the time needed to rehydrate.
Once dried, the chickpeas will reabsorb moisture from the air, so do not leave them out for more than an hour.
To lengthen the shelf-life of the chickpeas, consider vacuum sealing them in vacuum seal bags, mylar bags, or mason jars.
You can purchase a mason jar vacuum sealer accessory online.
Also, consider adding an oxygen absorber. Oxygen absorbers will remove any extra oxygen from your container.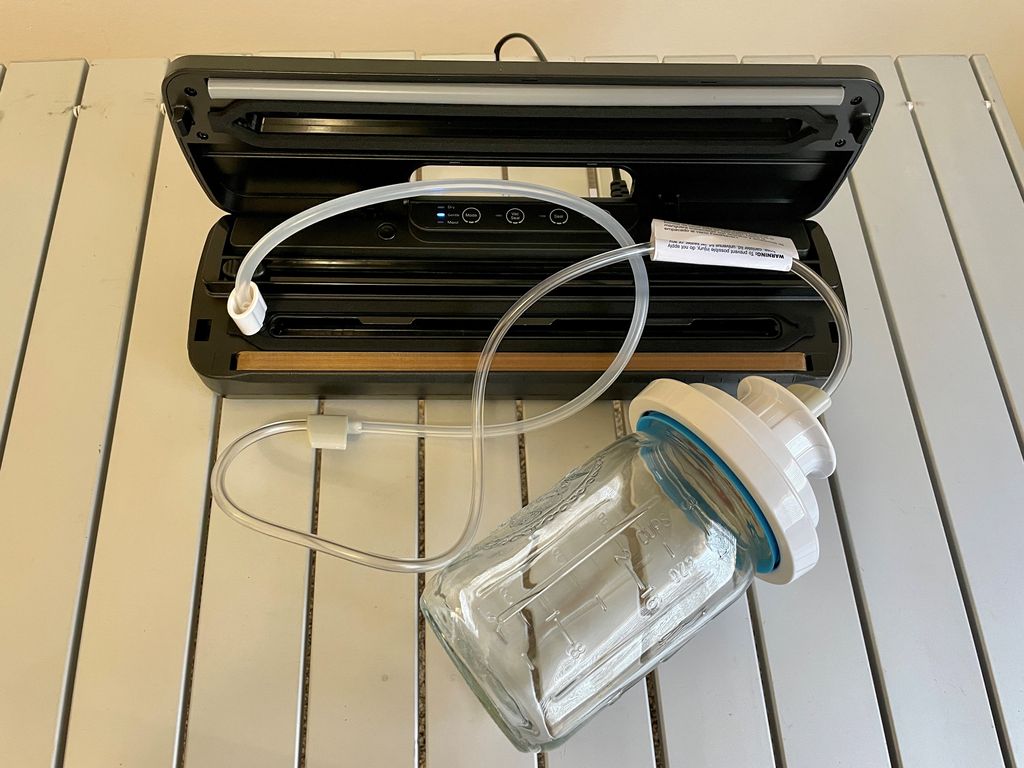 What is the yield?
A 15-ounce (425 g) can of chickpeas provides about 1 cup canned, 3/4 cup dehydrated and 1 cup freeze-dried.
How do you rehydrate dried chickpeas?
Add hot water and cover for 10-20 minutes for whole chickpeas.
Cold water can also rehydrate whole chickpeas, taking up to 2 hours.
Powdered chickpeas rehydrate almost instantaneously with hot or cold water.
How long will dehydrated or freeze-dried chickpeas last?
Dehydrated chickpeas can store well for six months in an airtight container. Keep in a cool, dry, dark area.
You can store freeze-dried chickpeas for 10-15 years when vacuum sealed with an oxygen absorber.
Safety Considerations
Legumes like chickpeas can be affected by a bacteria (bacillus cereus) that can survive cooking and cause food poisoning with vomiting and diarrhea.
This bacteria thrives at temperatures between 59 to 122℉ (15 to 50℃). For this reason, dehydrate chickpeas at no lower than 145℉ (63℃).
How do I use dehydrated or freeze-dried chickpeas in backpacking meals?
Dried chickpeas can be used in a wide variety of backpacking meals. They can replace freeze-dried meat as a protein, serve as the base for hummus (or variations like our Brownie Batter Hummus), or be enjoyed cold as part of a salad.
Here are a few of our favorite recipes using dried chickpeas: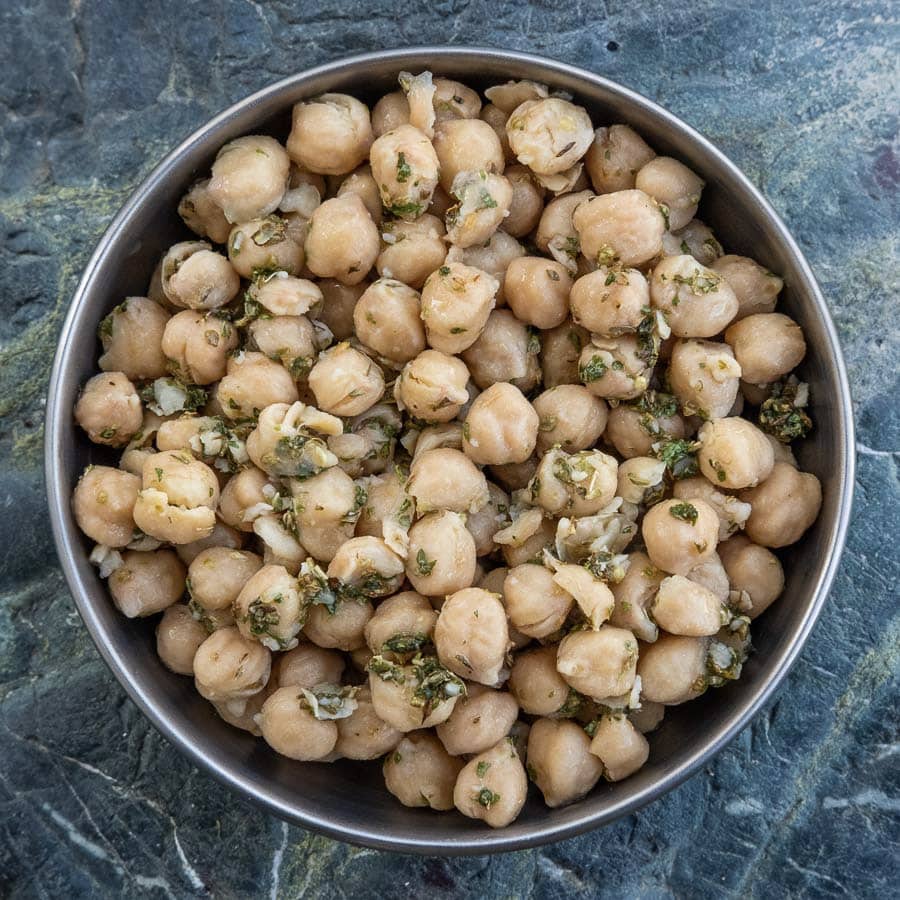 Give this Backcountry Foodie dehydrated chickpea recipe a try!

Ready to see more backpacking recipes like this one?
Backcountry Foodie is your go-to resource for more than 200 backpacking dietitian-created recipes and a one-of-a-kind automated meal planning tool. The meal planner even creates itemized shopping lists for you! Meal prep has never been easier.
Check out this video to see where all the magic happens.
---
DISCLOSURE: Some of the links on this page are affiliate links, which means we may receive a modest commission if purchases are made through those links. This adds no cost to our readers and helps us keep our site up and running. Our reputation is our most important asset, so we only include links for products that we use ourselves.
---
Did you find this post helpful?
Pin it and share it with your fellow hikers.
Are you new to dehydrating food for backpacking meals?
Consider checking out these posts:
---
ABOUT THE AUTHORS:
Resources: