How to Safely Dehydrate Canned Tuna for Backpacking Meals
Updated September 16, 2022
This post may contain affiliate links.
Some hikers love tuna as a backcountry staple, and others just bring it for their dogs. Either way, you might be wondering if you can dehydrate it at home. The answer is yes – you can safely dehydrate canned or pouch tuna for backpacking meals. You can also freeze-dry it using a home freeze-dryer. However, be forewarned that your house will smell like a fish processing plant! To minimize the odor, we recommend placing your dehydrator or freeze-dryer in a non-living space such as a garage.

What types of tuna can you dehydrate or freeze-dry?
You can dehydrate or freeze-dry canned or pouch tuna packed in water, but not oil. Tuna packed in oil will be more likely to go rancid due to the increased fat content. For the same reason, fattier fish like salmon is not a good option for dehydrating.
Commercially prepared freeze-dried fish can be challenging to find and is primarily used for pet treats. Your dog may enjoy Grandma Lucy's 100% freeze-dried Mahi, which is available on Amazon.
Continue reading, and you'll see that home-drying tuna is quite simple and worth the minimal amount of work required.
Is it safe to dehydrate or freeze-dry tuna?
Dehydrating or freeze-drying tuna is safe as long as you follow recommendations from food safety experts. Pay special attention to temperature and handling guidelines.
Canned or pouch tuna is pre-cooked, so it does not need to be heated before dehydrating. If you want to dry fresh tuna, you must first cook the fish to an internal temperature of 145 degrees F (63 C).

How do you dehydrate or freeze-dry canned tuna?
Step One: Drain the juice from the can or pouch.
Step Two: Transfer immediately to the dehydrator or freeze-dryer trays.
Break up the tuna into small bits and spread evenly in a single layer on dehydrator trays using fruit leather tray liners or parchment paper.
Freeze-dryer trays do not require liners or parchment paper.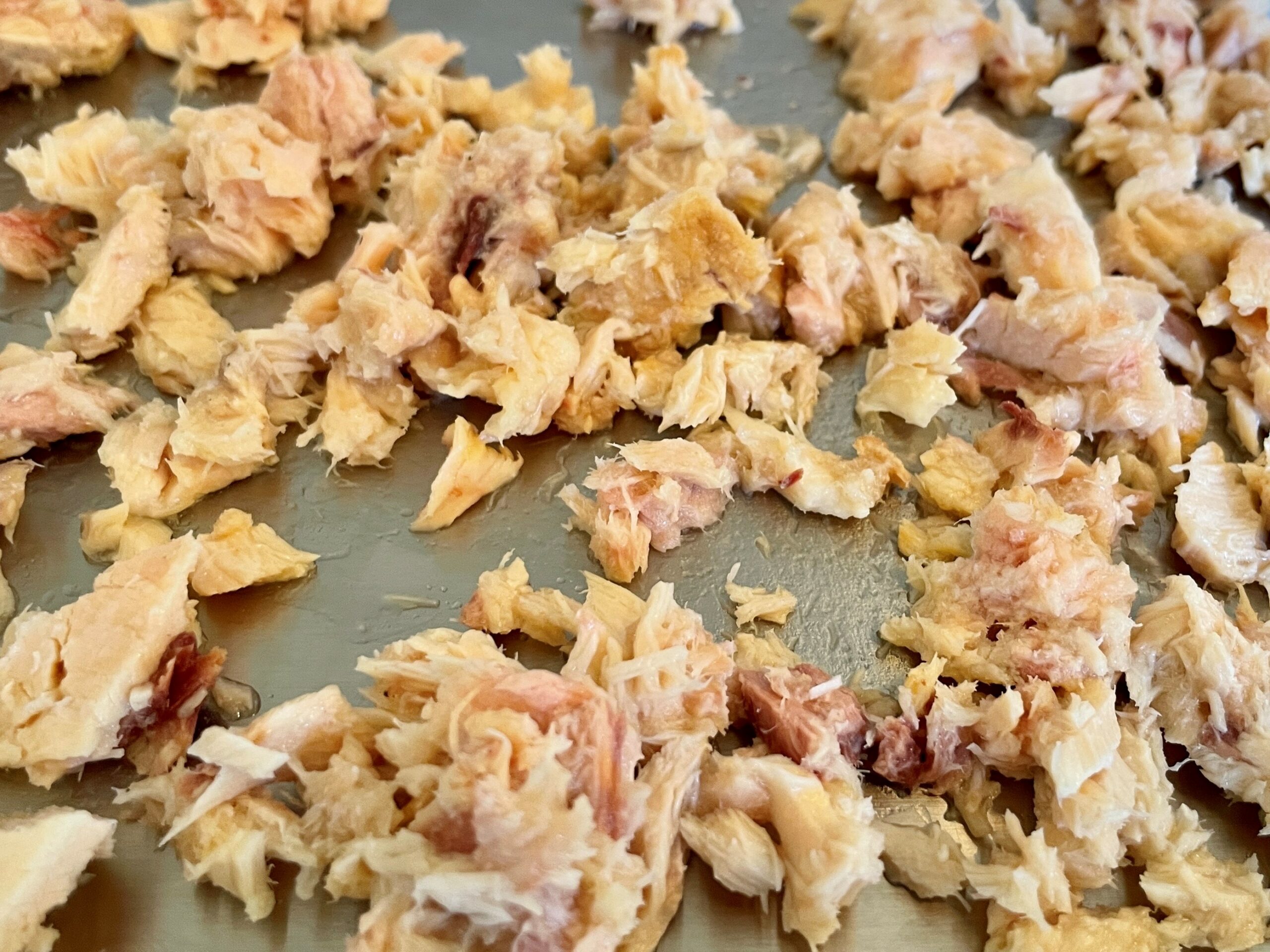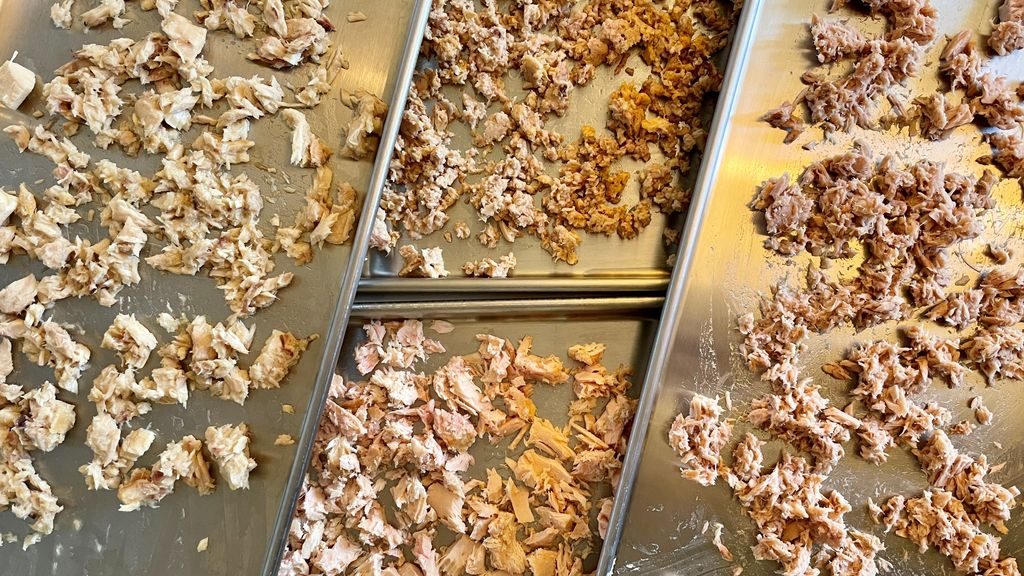 Step Three: Begin the drying process.
Dehydrate at 145-155℉ (62-68℃).
If freeze-drying, start the freeze-dryer and allow it to run its cycle.
Don't forget to put your dehydrator or freeze-dryer in a location away from the living area. Your home will smell like fish!

Step 4: The tuna is done when it is completely dry.
The dehydration process will take approximately 4-6 hours or longer, depending on the humidity.
The freeze-drying process will take approximately 12 hours.
Be aware that the tuna will turn into "fish dust" if not handled carefully.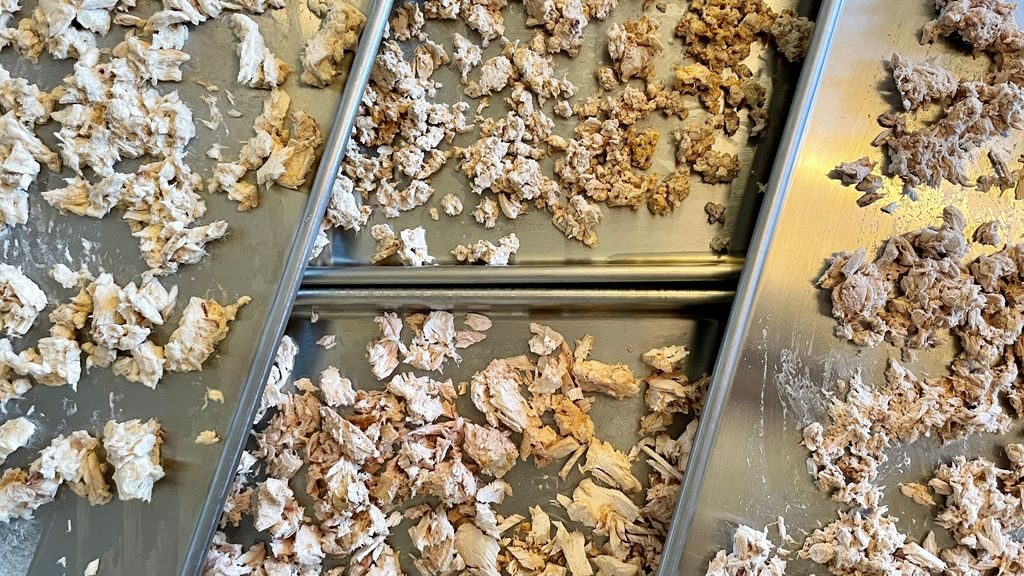 Step Five: Prepare the dried tuna for long-term storage.
For dehydrated tuna, allow the fish to cool for 30-60 minutes. Then package it in an air-tight container.
For freeze-dried tuna, package the fish immediately in an air-tight container.
Once dried, the tuna will reabsorb moisture from the air, so do not leave the tuna out for more than an hour.
To lengthen the shelf-life of the tuna, consider vacuum sealing it in vacuum seal bags, mylar bags, or mason jars.
You can purchase a mason jar vacuum sealer accessory online.
Also, consider adding an oxygen absorber. Oxygen absorbers will remove any extra oxygen from your container.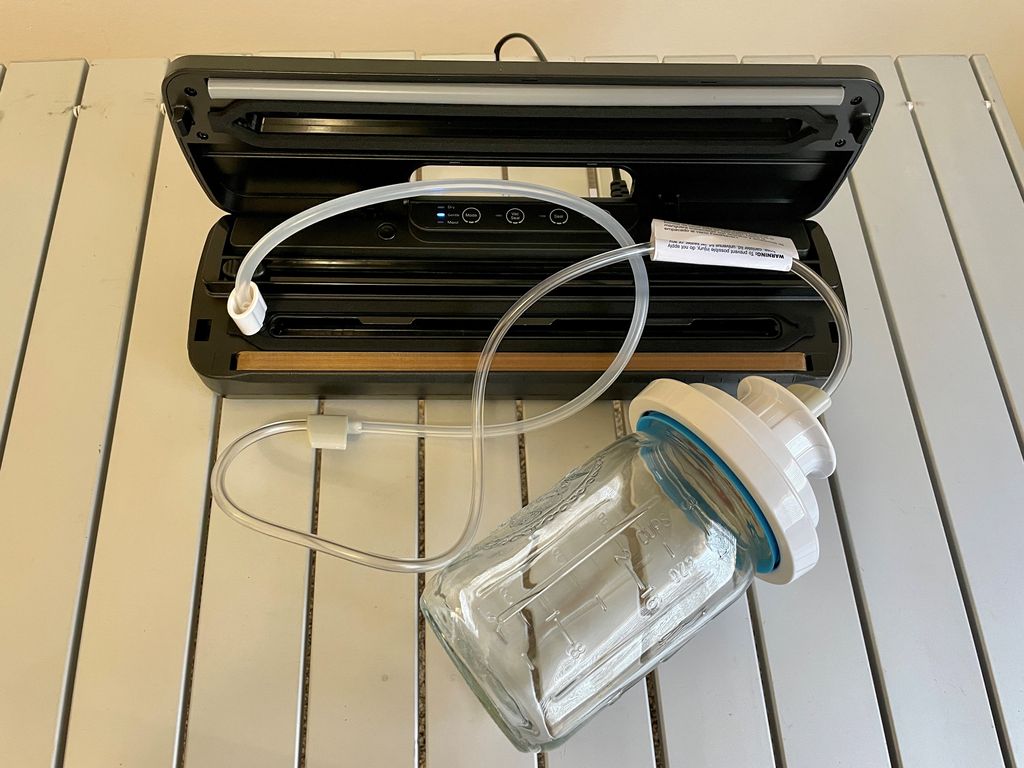 What is the yield?
A five-ounce can of tuna provides about 1/2 cup dehydrated and 1 cup freeze-dried.
The image above shows four 5 oz (142 g) cans of tuna stored in 16 oz mason jars after freeze-drying.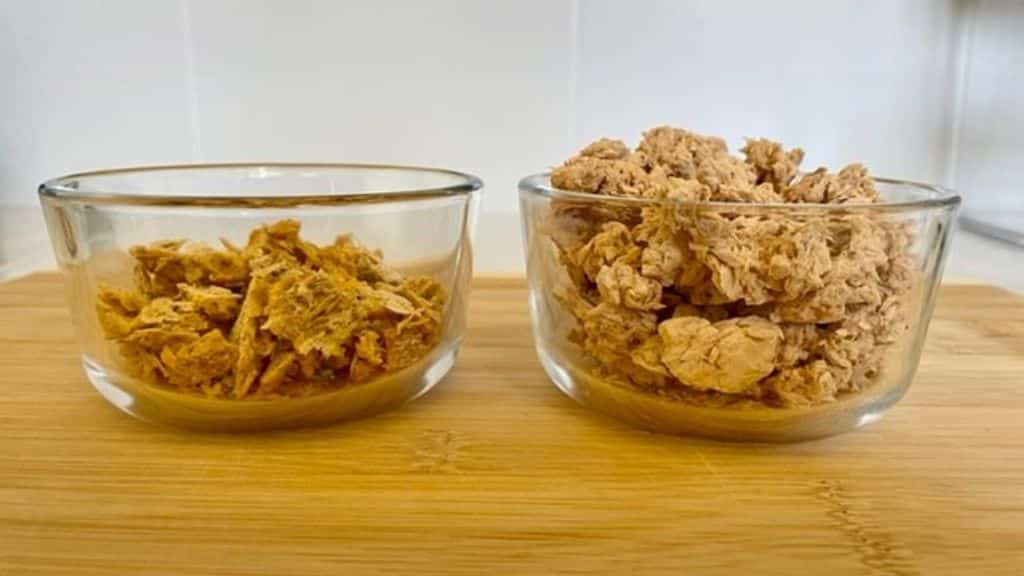 How do you rehydrate dried tuna?
Add enough hot water to cover the tuna and let stand for 10-20 minutes.
Dehydrated tuna will take longer to rehydrate. Whereas freeze-dried tuna will rehydrate quickly.
Rehydrate longer if the texture is still too firm.
You can use cold water, but rehydration will take longer (up to two hours).
Do not leave tuna rehydrating for more than two hours in moderate temperatures or one hour in temperatures over 90℉ (32℃).
How long will dehydrated or freeze-dried tuna last?
You can store dehydrated tuna in an airtight container for 1 to 2 months at room temperature, up to 6 months in the refrigerator, and up to one year in the freezer.
You can store freeze-dried tuna for 10-15 years when vacuum sealed with an oxygen absorber.

Give this keto-friendly dehydrated tuna recipe a try!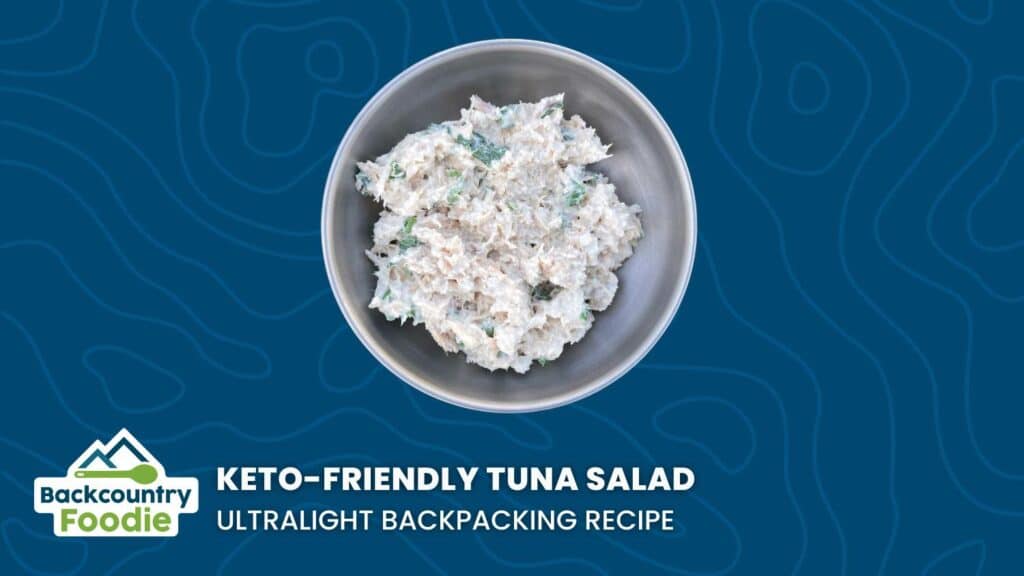 Ready to see more backpacking recipes like this one?
Backcountry Foodie is your go-to resource for more than 200 backpacking dietitian-created recipes and a one-of-a-kind automated meal planning tool. The meal planner even creates itemized shopping lists for you! Meal prep has never been easier.
Check out this video to see where all the magic happens.
---
DISCLOSURE: Some of the links on this page are affiliate links, which means we may receive a modest commission if purchases are made through those links. This adds no cost to our readers and helps us keep our site up and running. Our reputation is our most important asset, so we only include links for products that we use ourselves.
---
Did you enjoy this post?
Pin it and share it with your fellow hikers.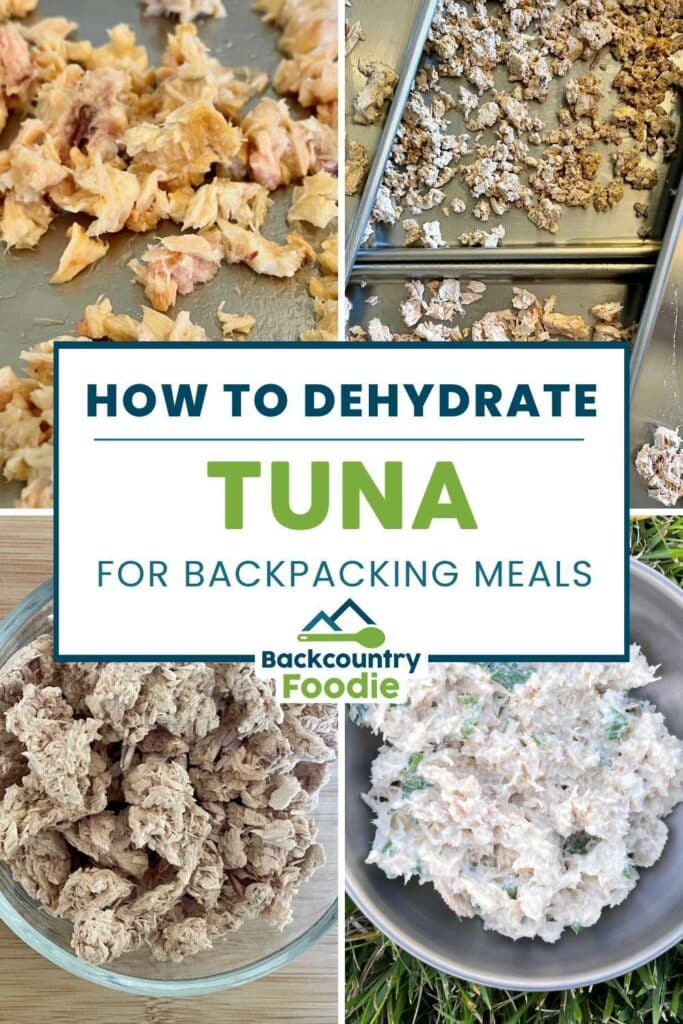 Are you new to dehydrating food for backpacking meals?
Consider checking out these posts:
---
ABOUT THE AUTHORS:
Resources: