Peanut Butter Protein Shake | Ultralight Backpacking Recipe
Updated May 16, 2022
This post may contain affiliate links.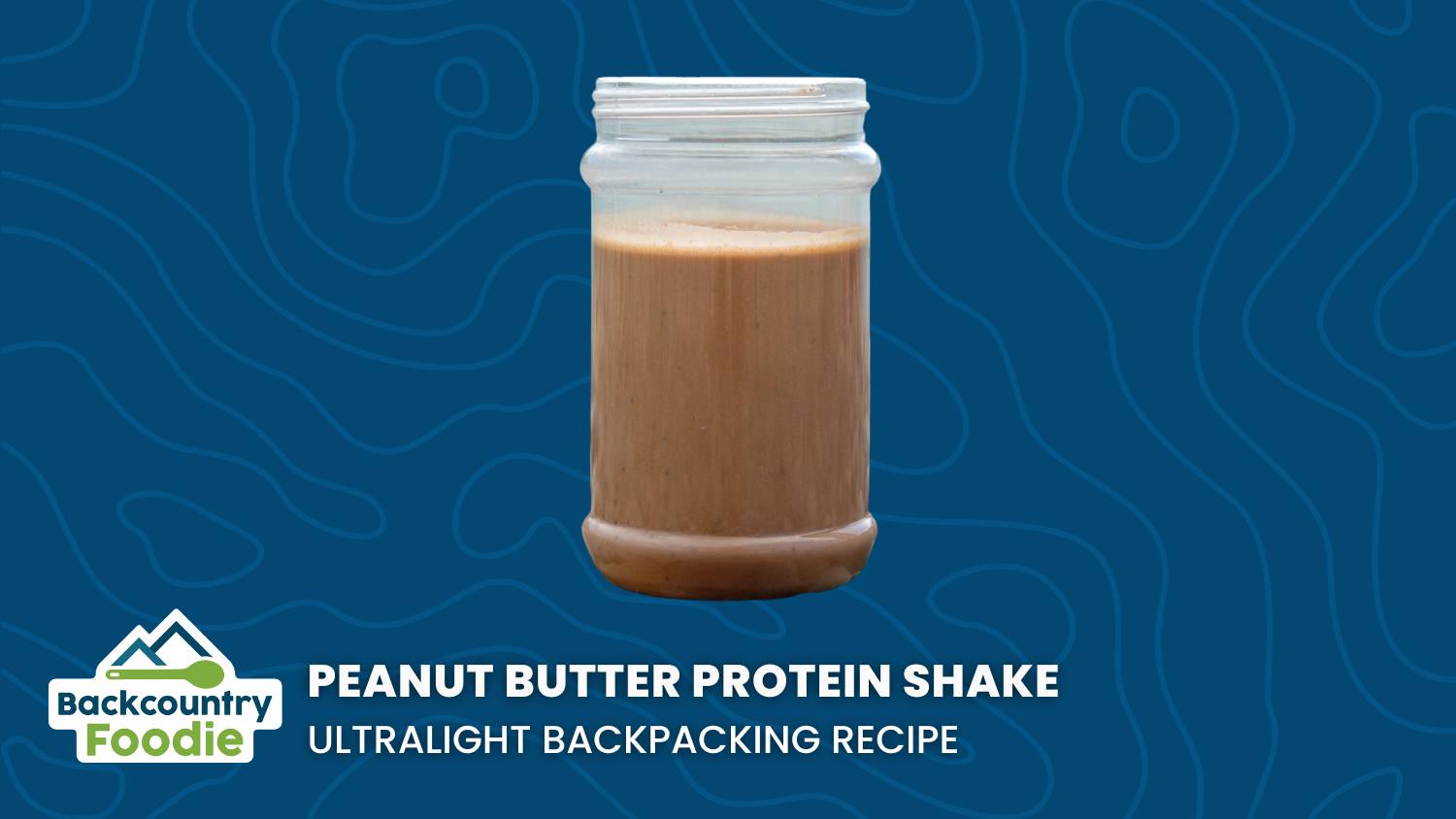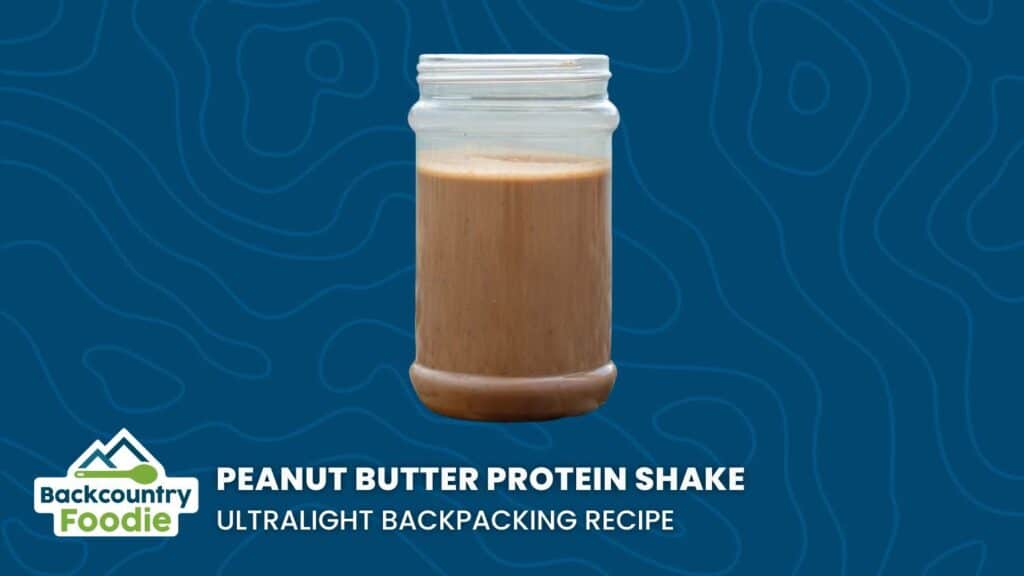 This delicious protein shake backpacking recipe makes for a perfect meal replacement! Yes, you read that right – protein shakes can be meals, too! You might think a shake could never fill you up on the trail. Actually, a well-balanced protein shake can be very satisfying and filling. Don't believe it?
Here's why you should consider Backcountry Foodie's Peanut Butter Protein Shake for your next backcountry breakfast, lunch, or even dinner:
✔️ It's fine to drink your meals as long as your drink counts as a complete meal.
That is, it contains sufficient calories and is a good source of protein, carbs, and fat.
With 33 g protein, 27 g fat, and 71 g carbs for a total of 625 calories, this one checks every box and rivels the nutrition profile of commercial freeze-dried hiker meals.
✔️ It's faster and easier for many hikers to drink their calories.
This is especially true if you hustle to cover the distance before sunset.
This protein shake recipe is ready in exactly 2 steps: add water and shake.
If you are one of the many hikers who struggle with a low appetite, a meal replacement drink is a great solution. Intense exercise, heat, and altitude can all blunt your appetite for heavy, solid foods. This shake makes consuming hundreds of calories a breeze.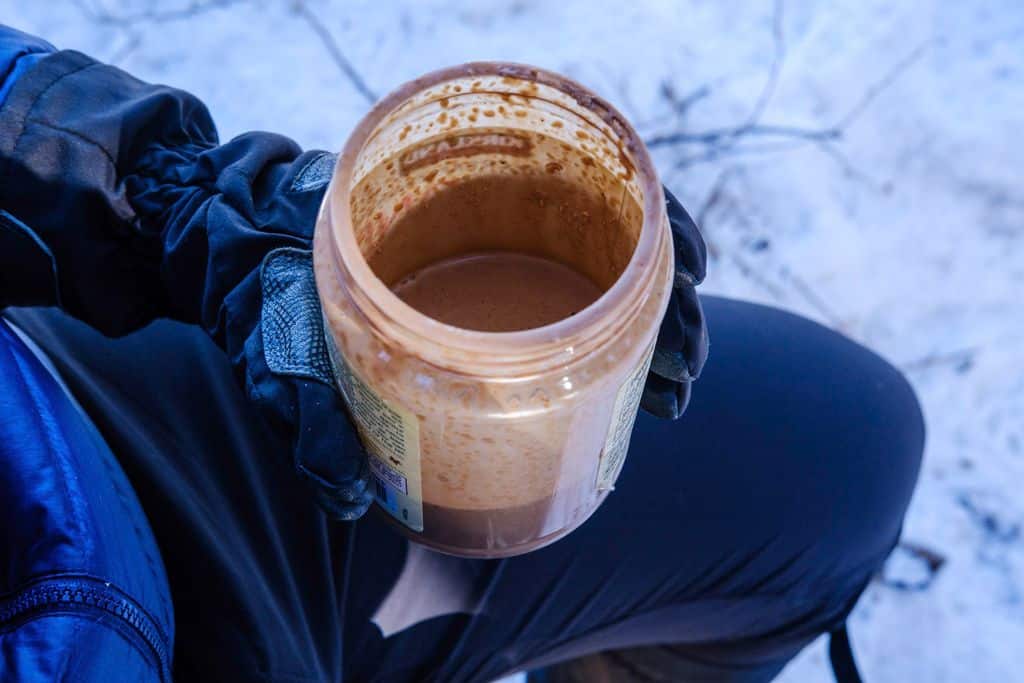 Still don't think you'd want to sip a whole meal? Bring it as a snack instead! Long-distance hikers should be snacking every 60-90 minutes to avoid hitting the wall. Your muscles will thank you.
Not a fan of chia seeds? Consider giving our Chocolate Peanut Butter Shake recipe a try instead.

Peanut Butter Protein Shake
If you're a fan of our Peanut Butter Mocha Smoothie, you're going to love this decaffeniated version. This meal replacement was used time and time again during my Colorado Trail thru-hike.
Rate This Recipe
View Comments / Leave A Review
NUTRITION (per serving)
INSTRUCTIONS (per serving)
HOME
Put oats in a coffee/spice grinder and blend until a fine powder forms.

Put oat powder and remaining ingredients in a bag or container to be used in the backcountry.
FIELD
Add 8 oz (240 mL) cold water to the bag or container.

Stir or shake vigorously to mix well and enjoy! See meal prep tip below.

For a thicker shake, let stand 5-10 minutes allowing the chia seeds to absorb water.
NOTES
MEAL PREP TIP
Meal replacement drinks often mix better when prepared in a hard-sided container.
NUTRITION
Total sugar (per serving): 40 g, including 13 g of added sugar
For a no-added-sugar recipe, replace brown sugar with a brown sugar substitute.
To reduce calories by 160, replace whole milk powder with non-fat milk powder.
This recipe may be used as a meal replacement when consumed entirely.
Did you make this recipe? We'd love to see it!
Share photos from your kitchen or the backcountry below.

Ready to see more ultralight backpacking recipes like this one?
Backcountry Foodie is your go-to resource for more than 200 backpacking dietitian-created recipes and a one-of-a-kind automated meal planning tool. The meal planner even creates itemized shopping lists for you! Meal prep has never been easier. Check out this video to see where the magic happens!
---
DISCLOSURE: Some of the links on this page are affiliate links, which means we may receive a modest commission if purchases are made through those links. This adds no cost to our readers and helps us keep our site up and running. Our reputation is our most important asset, so we only include links for products that we use ourselves.
---
Did you enjoy this recipe?
Pin it and share it with your fellow hikers.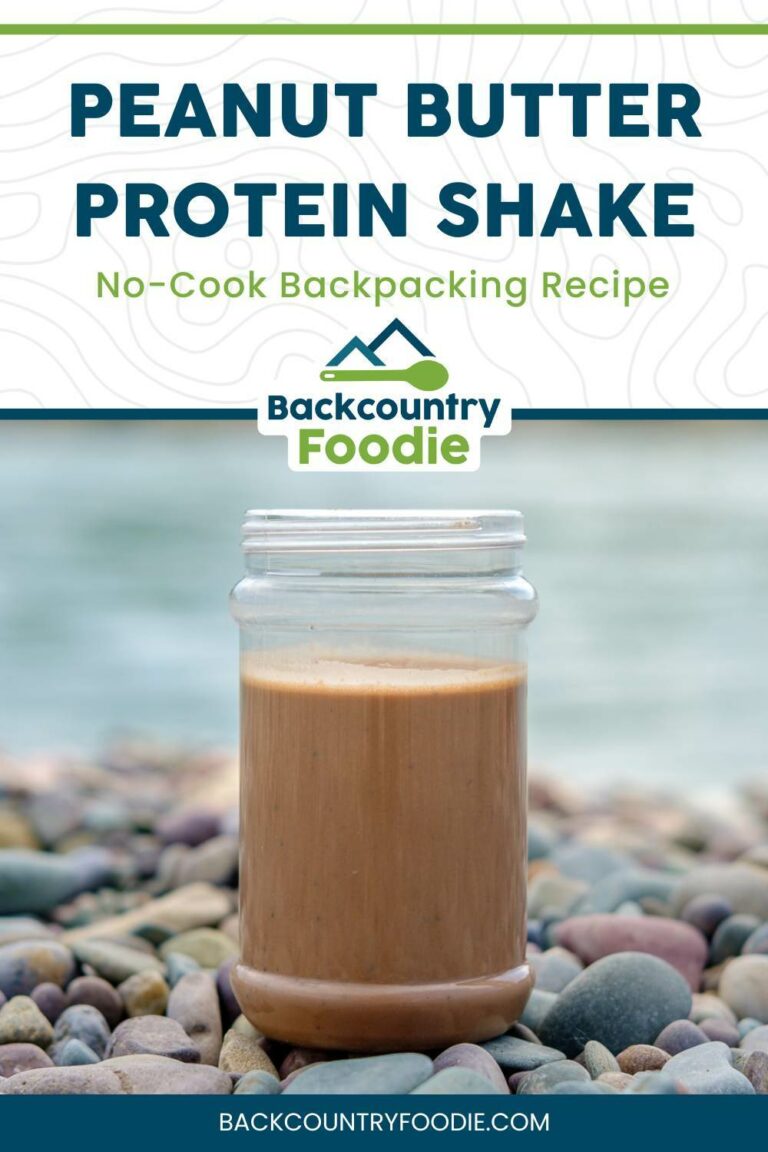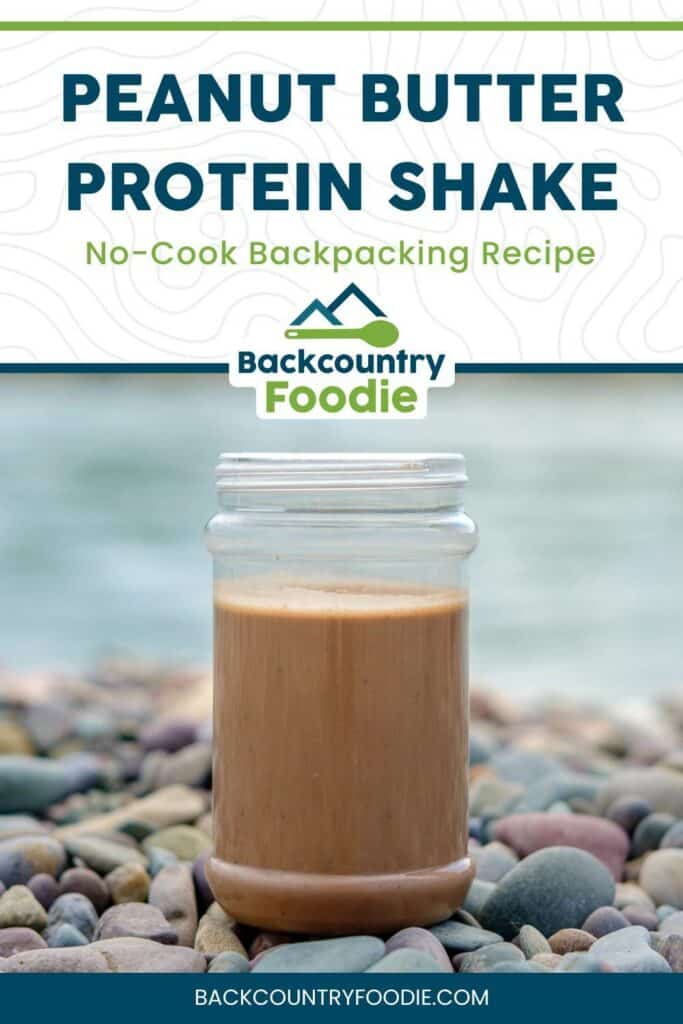 ---
ABOUT THE AUTHOR