Granola with Milk & Berries | No-Cook Backpacking Recipe
Updated September 16, 2022
This post may contain affiliate links.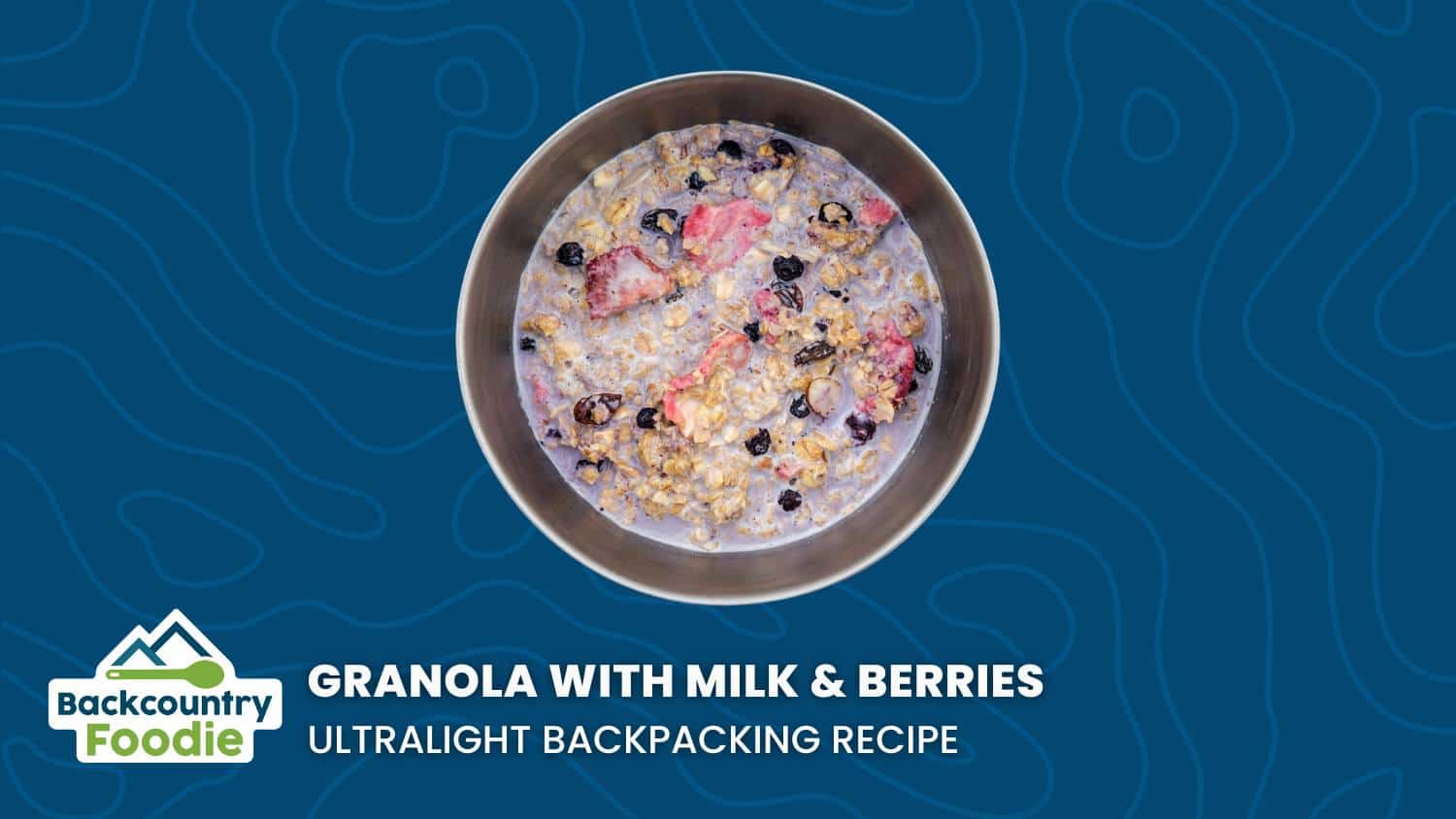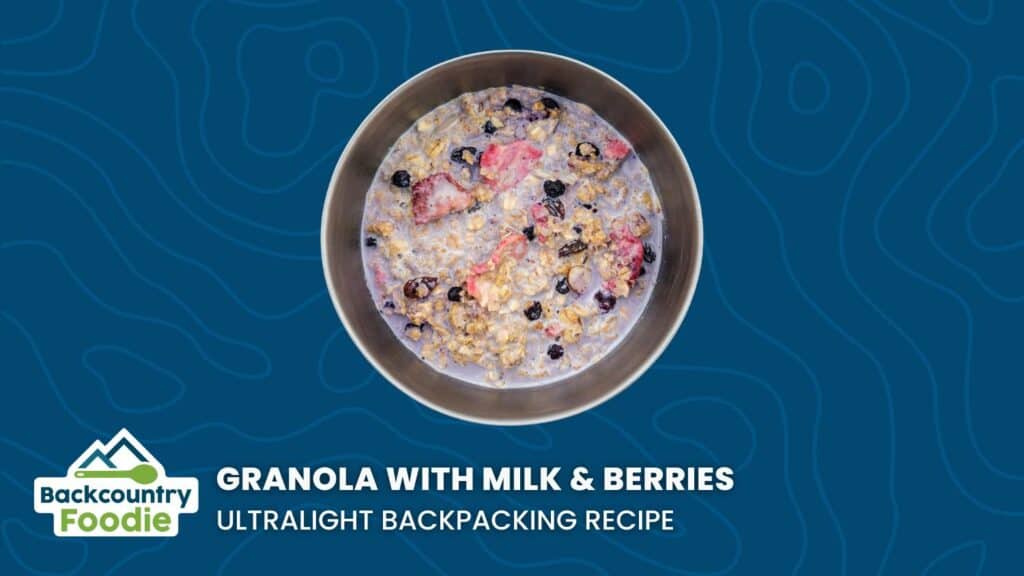 It may seem almost too easy to be true, but granola with milk powder and fruit is a complete meal and makes the perfect no-cook backpacking breakfast. Why?
Because it's one of the most efficient no-cook backpacking breakfasts for packing in carbohydrates.
For long-distance hikers, a high carbohydrate diet will keep your energy up for those long days on trail.
Pairing the granola and freeze-dried fruit with protein will help that energy last even longer.
You can even use granola as an evening snack to replenish glycogen stores to encourage recovery.
Luckily, no-cook backpacking granola's best friend is milk powder – a good source of protein. The berries contain antioxidants, which help to tame inflammation and speed recovery. Granola is as fast as it gets and almost impossible to mess up. We usually call it breakfast, but who says you can't have it for lunch or dinner too?
Looking for a way to use up those freeze-dried blueberries?
Consider trying our flavorful and nutrition-packed Lemon Blueberry Oatmeal ultralight backpacking breakfast recipe.
When you're ready to add to your no-cook meal repertoire, be sure to check out our favorite no-cook backpacking recipes.

Granola with Milk & Berries
When compared to the Mountain House® granola meal, our recipe provides an additional 200 calories and more than twice the protein per bag. Our recipe can also be prepared for a fraction of the cost. Win-win!
Rate This Recipe
View Comments / Leave A Review
NUTRITION (per serving)
INSTRUCTIONS (per serving)
HOME
Put all ingredients in a bag or container to be used in the backcountry.
FIELD
Add 4 oz (120 mL) cold water or to the desired flavor.

Let stand to allow the berries to rehydrate.

Stir to mix well and enjoy!
NOTES
NUTRITION
Total sugar (per serving): 39 g, including no added sugar.

To reduce calories by 100, replace whole milk powder with non-fat milk powder.

We recommend reading food labels and choosing full-fat granola without dried fruit to maximize the calories per weight ratio.
Did you make this recipe? We'd love to see it!
Share photos from your kitchen or the backcountry below.

Ready to see more no-cook backpacking recipes like this one?
Backcountry Foodie is your go-to resource for more than 200 backpacking dietitian-created recipes and a one-of-a-kind automated meal planning tool. The meal planner even creates itemized shopping lists for you! Meal prep has never been easier.
Check out this video to see where the magic happens!
---
DISCLOSURE: Some of the links on this page are affiliate links, which means we may receive a modest commission if purchases are made through those links. This adds no cost to our readers and helps us keep our site up and running. Our reputation is our most important asset, so we only include links for products that we use ourselves.
---
Did you enjoy this recipe?
Pin it and share it with your fellow hikers.
---
ABOUT THE AUTHOR