Membership Plans
Eat Well & Love Your Backpacking Meals!
All the ultralight backpacking recipes you'll need to put a pep in your step and avoid flavor fatigue.
Recipes plus your favorites at your fingertips, drag & drop meal planner, and auto-generated shopping lists.
Recipes plus all the tools and resources to meal plan with ease, dietitian moderated forum, plus live masterclasses.
$
3/month
(Billed annually)
Complete Nutrition Profile & Dry Weight

Metric and US Customary Measurements

Printable Field Instruction Labels
Basic
Ultralight Recipes Plus
Meal Planning Tools
$
4/month
(Billed annually)
All Recipe Features Plus

Favorite Recipes Collection

Add Custom Recipes, Meals & Snacks

100's of Commercial Meals & Snacks

Create Unlimited Multi-Day Meal Plans

Auto-Create Mobile-Friendly Shopping Lists
Premium
Sample Meal Plans, Community Forums, & Masterclasses
$
6/month
(Billed annually)
All Basic Features PLUS...

Dietitian Moderated Forums

Live Masterclasses (Over $120 value)

6 New Masterclass Topics per Year

Recipe Demos & Live Q&A Sessions

30-Days of Dietitian-Created Meal Plans
Complete Nutrition Profile & Dry Weight
Metric & US Customary Measurements
Field Instruction Labels for Packaging
Search by Ingredients & Sort by Calories per Ounce
Filter by Special Diet, Meal Type, Meal Prep, & More
Favorite Recipes Collection
Create Unlimited Custom Meal Plans
Meal Plans Auto-Tabulate Daily Nutrition Profile
100's of Commercial Meals & Snacks
Shopping Lists Auto-Generated & Mobile-Friendly
3-Day 3000, 4000, & 5000 Calorie Sample Meal Plans
7-Day Maximum Variety Sample Meal Plan
7-Day No-Cook Sample Meal Plan
7-Day Ultralight Thru-Hiker Sample Meal Plan
Dietitian Moderated Forums
Hiker to Hiker Discussions
Live Virtual Masterclasses
Dietitian Produced Live Masterclasses (over $120 value)
Recipe & Meal Prep Demonstrations
100% SATISFACTION GUARANTEED
WHAT OUR MEMBERS ARE SAYING
"These ultralight recipes are not only easy to make but are very nutritious! They save a ton of weight compared to traditional backpacking meals. I would recommend this to anyone seriously considering reducing their pack weight & taking their nutrition seriously on trail."
Jason E
Tahoe Rim Trail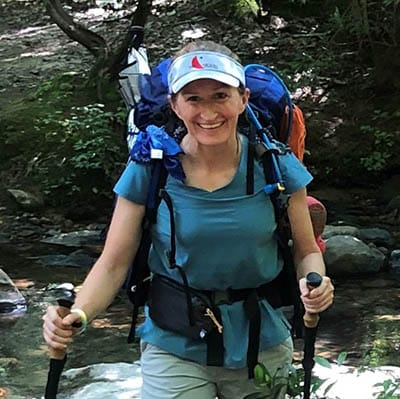 "I love what Aaron is doing! I firmly believe that nutrition is key to SO many parts of life and my biggest fear of a thru hike was not nourishing my body in a way that would help me have sustained energy, maintain muscle and stay mentally strong for 6 months. However, then I found Backcountry Foodie and I feel like it is TOTALLY possible."
Andrea M
Foothills Trail
"I eat a very healthy diet 'in real life' including being vegetarian, gluten free, and dairy light. I contacted Aaron and she put together a fantastic hike menu for me that achieved my goals of low weight, high nutrition, and avoidance of meat, gluten, and dairy. If you want to eat well in the backcountry, call Aaron."
Marvin K
Colorado Trail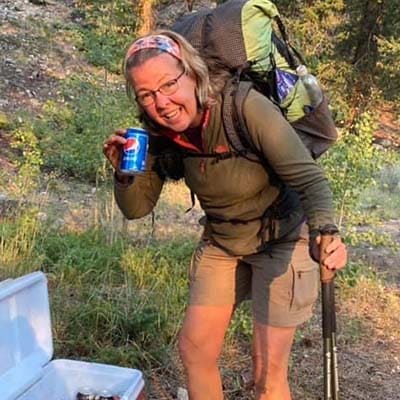 "Backcountry Foodie offers quick recipes that are easy to make, and they cover the sphere – cold soak, hot, gluten free, vegetarian, etc. You name it, they really do have something for everyone. As I get older and hike further, keeping my pack weight low while maintaining healthy nutrition is important." Read full review here.
Ellie
AVERAGEHIKER.COM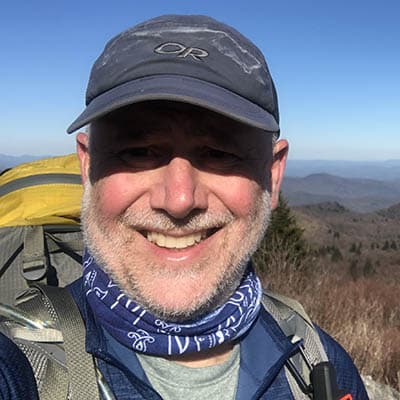 "On my five-day hike, your meals/recipes stood out. I look forward to them each day. In fact, for the meals where I did not use your recipes, I was disappointed in myself for not using your meals. You and your recipes definitely added to the quality of my trip!!!!!"
Paul H
Backpacker
"Even though my 2020 PCT hike was delayed, I greatly enjoyed preparing Aaron's recipes as they all sound really yummy and are so easy to put together. All of the ones I've sampled have been very tasty and I know they will help keep me going on trail in 2021! I have also really appreciated her personal response whenever I have a question."
Kim M
Prepping for PCT
"I am very pleased with Backcountry Foodie and the variety the website has. I personally use their resources for thru-hiking meal planning, and it has helped me out tremendously! Every long distance hiker should be looking into what Backcountry Foodie has to offer!"
John G
Backpacker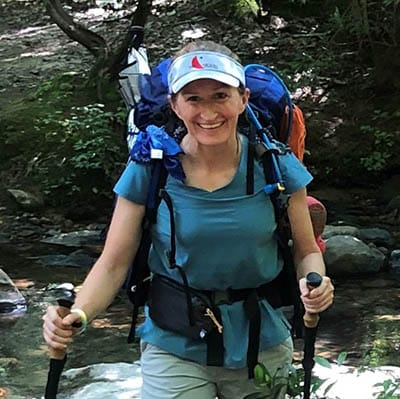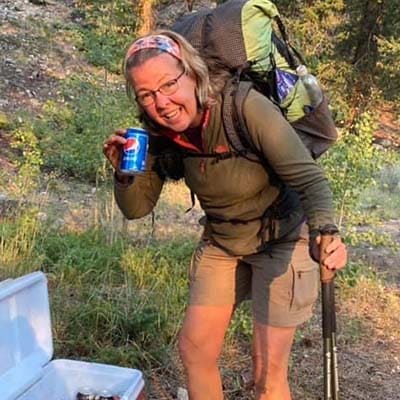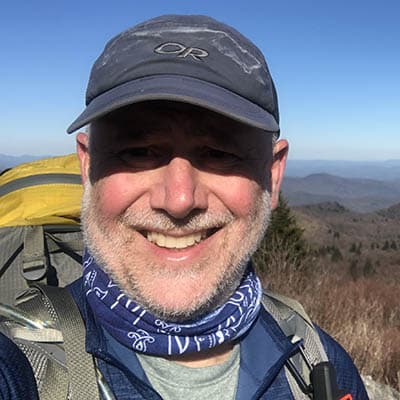 Gift memberships are available for your backpacking friends & family!
FREQUENTLY ASKED QUESTIONS
Enjoy 15% off our PREMIUM membership and attend masterclasses for FREE!
Receive our weekly newsletter and be the first to know when classes are scheduled.
Backcountry Foodie recipes and meal planning resources are developed by backpackers for backpackers. We're proud to have grown into an online community serving members in 20+ countries.
If you don't love your membership, you're covered by our 30-day money-back guarantee. No questions asked. You can also change your membership level at any time if you wish to add or remove features.
Please email us at support@backcountryfoodie.com or call/text 805-450-6722.
We're here for you and love helping fellow backpackers eat well on trail.