Chocolate Peanut Butter Shake | Backpacking Meal
This meal replacement shake is a Backcountry Foodie fan favorite. It's great for refueling on the go or when your appetite hits the road.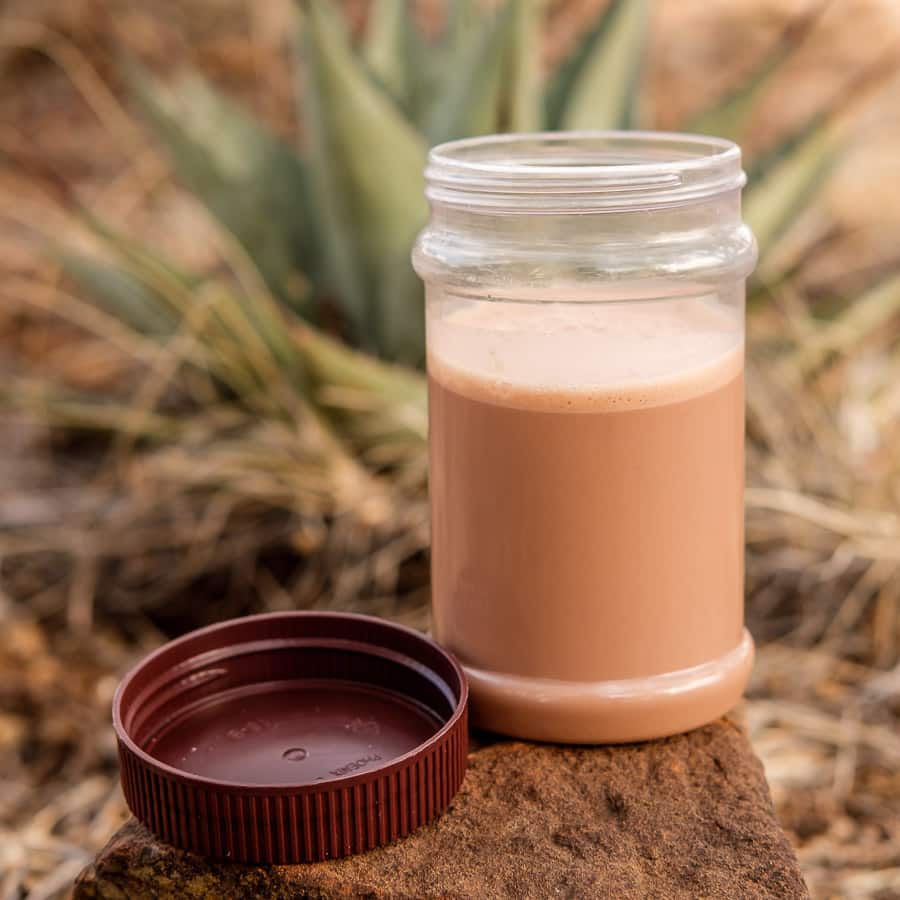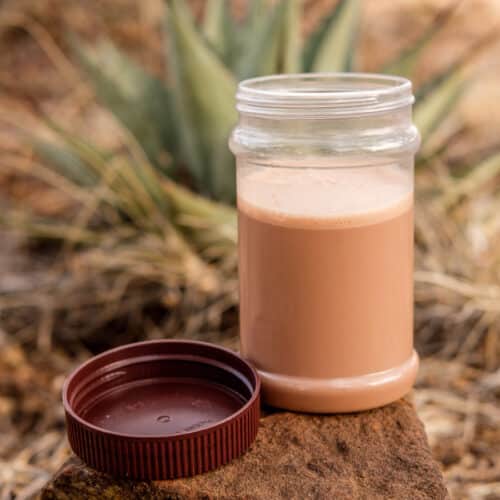 Chocolate Peanut Butter Shake
This delicious shake is a Backcountry Foodie fan favorite. It's quick & easy to prepare at home or while resupplying in town. Keep the shake mix in your hip belt pocket for refueling on the go. It's also a great meal replacement when you're not feeling hungry but need the calories and nutrition. Give this one a try!
Rate This Recipe
NUTRITION (per serving)
INGREDIENTS
OPTIONAL
½

cup

milk powder, non-fat (substitution),

reduced-calorie option

1

packet

Carnation Breakfast Essentials™ drink mix, Light Start chocolate powder (substitution)

,

no-added-sugar option
INSTRUCTIONS
HOME
Put all ingredients in a bag or container to be used in the backcountry.
FIELD
Add 8 oz (240 mL) cold water to the container. Add more or less water to reach the desired flavor.

Stir or shake vigorously to mix well.

Massage the bag with your fingertips or use a utensil to break up any lumps as peanut powder may clump.
NOTES
VOLUME OF MEAL WHEN PREPARED
Approximately 1 cup per serving (dry)
NUTRITION
Total sugar (per serving): 45 g, including 12 g added sugar
For a no-added-sugar recipe, use the Carnation Breakfast Essentials™ Light Start (sugar-free) product.

We recommend reading food labels and choosing peanut powder containing only peanuts. Many contain added sugar. 

To reduce calories by 200, replace whole milk powder with non-fat milk powder.
This recipe may be used as a meal replacement when consumed in its entirety.
MY NOTES
Did you make this recipe? We'd love to see it!
Share photos from your kitchen or the backcountry below.
Disclaimer: Backcountry Foodie is an Amazon Affiliate, which means that if you choose to purchase a product from a link on this page we could potentially receive a small commission to help support ongoing recipe development.
Did you enjoy this ultralight backpacking meal replacement recipe?
Click here to learn more about Backcountry Foodie's ultralight recipes and meal planning service.
Hungry for more?
Here are more recipes you'll likely enjoy…
ABOUT THE AUTHOR:
Aaron Owens Mayhew, MS, RDN, is a registered dietitian and ultralight long-distance backpacker with over 20 years of nutrition and backpacking experience. She's also the founder and owner of Backcountry Foodie, online ultralight recipes and meal planning platform for backpackers. She also enjoys teaching hikers, like you, about backpacking nutrition via live virtual masterclasses. You can follow Aaron's adventures in the kitchen and the backcountry via Instagram and Facebook.