Should backpackers be wary of ramen noodles?
By Aaron Owens Mayhew, MS, RDN, CD • Updated May 18, 2022
This post may contain affiliate links.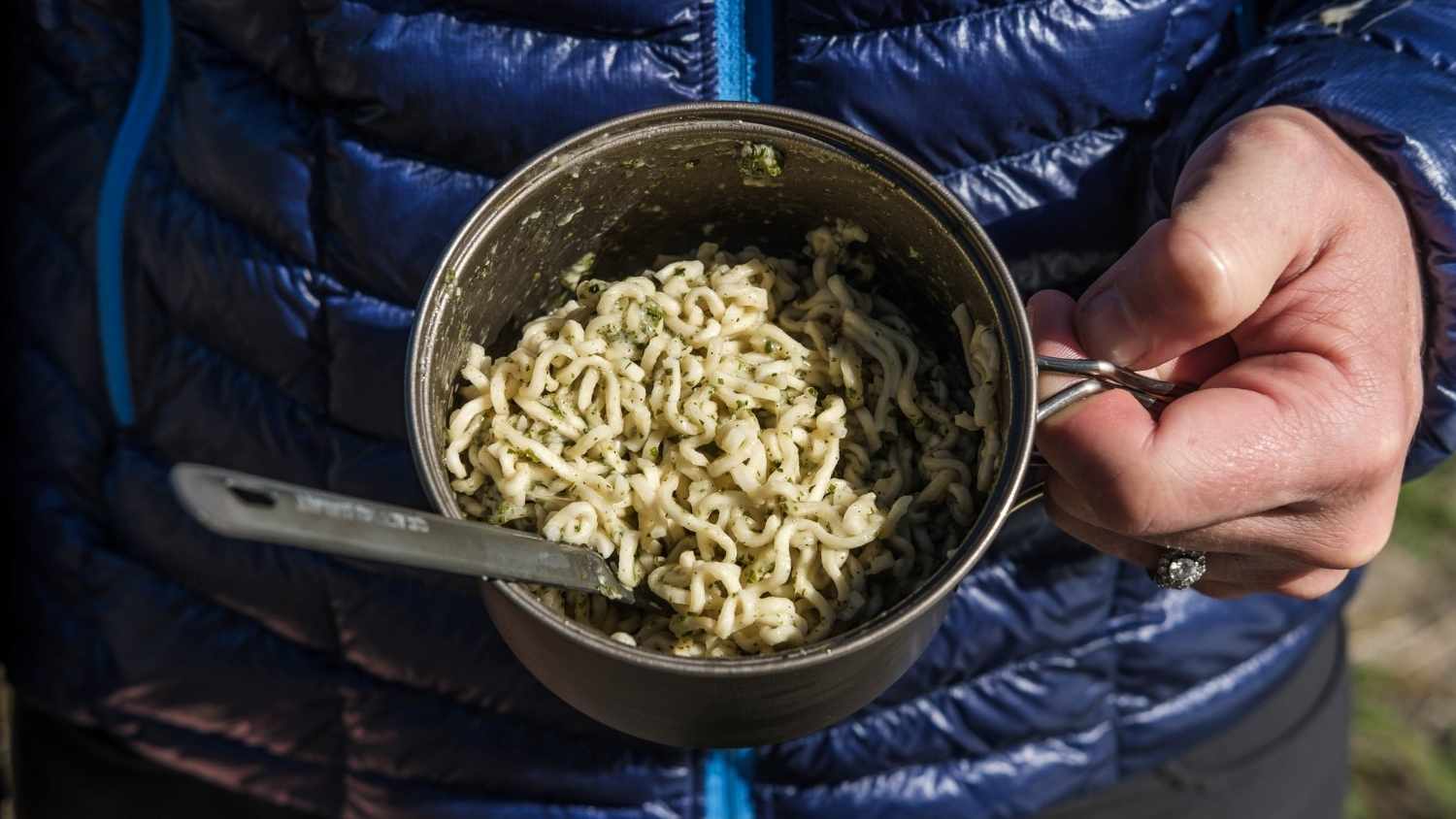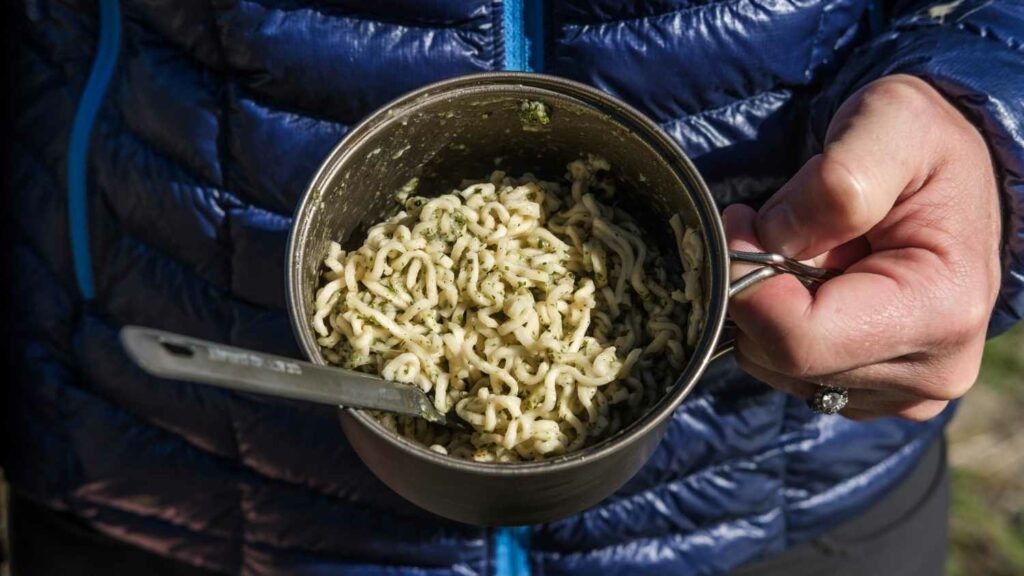 Jump to Recipe
History of instant ramen noodles
Did you know?
Ramen is a Japanese adaptation of Chinese wheat noodles believed to be introduced to Japan in 1859.
However, instant ramen noodles were not invented until 1958 by Momofuku Ando, the Taiwanese-Japanese founder of Nissin Foods, the producer of what is now Top Ramen.
According to a Japanese poll in 2000, it is believed that instant ramen was their greatest invention

of the twentieth century.
Why are instant ramen noodles considered to be so unhealthy?
The obvious answer to that is the presence of saturated fat, sodium, preservatives, and artificial flavorings. Although there's more to the story…
Saturated Fat
This is a controversial topic when it comes to instant ramen noodles. Research has clearly determined that saturated fat intake increases the risk of elevated lipid profiles. Elevated cholesterol can then increase the risk of cardiovascular disease.
Palm oil, a saturated fat, is the primary source of fat used to flash fry the noodles, extending their shelf life. Palm oil, however, does not behave like a typical saturated fat because it's comprised of 50% unsaturated fats, healthy fats. Therefore, researchers have had difficulty determining if palm oil truly puts consumers at risk of increased cardiovascular disease.
One research study in Korea determined that women who consume more than 2 servings of instant ramen noodles daily are at increased risk of heart disease.
If you believe in protecting our environment, the use of palm oil might be concerning for completely different reasons. Deforestation is a topic for another day.
Sodium
Instant ramen noodles are laden with sodium (salt) which can increase the risk of cardiovascular disease in some. However, if the spice packet is discarded, the amount of sodium ingested is significantly less. I don't know about you, but I automatically throw spice packets in the garbage. A variety of other ingredients (e.g., cheese, herbs, nuts) can be added to boost the flavor and nutrition profile of the noodles. Our garlic parmesan ramen recipe is an excellent example of this, but don't go there just yet!
Flavor Enhancers & Preservatives
Like many processed foods, instant ramen noodles contain ingredients like monosodium glutamate (MSG), a flavor enhancer, and tertiary butylhydroquinone (TBHQ), a preservative. Studies claim that these ingredients can be harmful to your health but to what degree is yet to be determined. A video produced by Dr. Braden Kuo of Massachusetts General Hospital shows how difficult ramen noodles are to digest. Despite the video results, Dr. Kuo states that his findings have not deterred him from continuing to consume instant noodles.
Now, wait just a minute!
If there are health risks associated with instant noodles, why are 103 billion servings of instant noodles consumed annually?
The answer to that is relatively easy…
Instant noodles are inexpensive, shelf-stable, easy to prepare, and, let's face it…they taste good.
Should backpackers stop including ramen noodles in their meal plans?
The answer to this is personal, but as a registered dietitian and backpacker, instant ramen noodles will continue to be included in my backpacking diet. Here's why:
The nutrition profile and ingredients list (not including the spice packet) is less concerning when compared to other frequently consumed backpacking foods. Next time you're at the grocery store, read the list of ingredients for pop-tarts and glazed honey buns.
Your intake of instant ramen noodles is likely

not

going to meet or exceed

the amount (2 servings daily) considered to be a risk factor for cardiovascular disease.

The remainder of your diet likely includes the nutrients

missing in instant noodles, making deficiencies less of a concern.
Discarding the spice packet reduces the intake of questionable ingredients with more nutritious ingredients (i.e., dehydrated vegetables, cheese, nuts) added by yourself.
Whole wheat air-dried noodles without flavorings or preservatives can be purchased at many Asian markets for a slightly higher price.
Instant noodles made with rice, millet, or organic buckwheat can be purchased as healthier alternatives.
Higher protein noodles and microwave dried noodles might even be made available in the future

.
Disclaimer: This is general nutrition advice, and you should talk with your physician before implementing any dietary or lifestyle changes. Always check nutrition labels and ingredient lists to ensure food items will work for you.

If you're still a fan of instant ramen noodles, enjoy this Backcountry Foodie fan favorite.
Garlic Parmesan Ramen
If you're new to making homemade backpacking meals, this is the perfect meal to start with. It's a Foodie fan favorite!
Rate This Recipe
View Comments / Leave A Review
NUTRITION (per serving)
INGREDIENTS
1

package

ramen noodles

1

Tbsp

parsley, dried

¼

tsp

garlic powder

¼

tsp

black pepper

⅛

tsp

table salt

3

Tbsp

olive oil

8

oz

water
INSTRUCTIONS
HOME
Discard ramen noodle spice packet.

Put noodles in a bag or container to be used in the backcountry.

Put the remaining dry ingredients in a separate bag to be stored inside the noodle bag or container. See meal prep tip below.

Pack 3 Tbsp (42 g) olive oil in a leakproof container to be added to the meal when consumed. We recommend double bagging the oil in the event there is a leak.
FIELD
Remove the parmesan herb packet.

Add 8 oz (240 mL) hot/cold water or enough to cover the noodles.

Let stand to allow the noodles to rehydrate. This will take approximately 7 minutes if cooking the meal and 30 minutes if cold soaking. Avoid over-soaking noodles as they will become mushy.

Consume or properly discard the noodle broth to practice the Leave No Trace principle.

Add parmesan herb packet and 3 Tbsp (42 g) olive oil to the noodles.

Stir to mix well and enjoy!
NOTES
VOLUME OF MEAL WHEN PREPARED
Heaping 1/4 cup pesto mix per serving (dry)
MEAL PREP TIP
If preparing the meal for long-term storage, we recommend not adding the parmesan cheese until just before consuming the meal. By doing so, the shelf-life of the meal will be lengthened significantly.
NUTRITION
Total sugar (per serving): 2 g, including no added sugar
To reduce sodium by 671 mg, replace the ramen noodles with angel hair pasta and table salt with a salt substitute as desired.

To reduce calories by 120, reduce olive oil volume by 1 Tbsp (14 g). We do not recommend leaving out all of the oil as some oil is required to create a pesto sauce.
MY NOTES
Did you make this recipe? We'd love to see it!
Share photos from your kitchen or the backcountry below.

Check out the video below for a meal prep demo, including time and money-saving tips.
READY TO SEE MORE ULTRALIGHT BACKPACKING RECIPES LIKE THIS ONE?
Backcountry Foodie is your go-to resource for more than 200 backpacking dietitian-created recipes and a one-of-a-kind automated meal planning tool. The meal planner even creates itemized shopping lists for you! Meal prep has never been easier.
Check out this video to see where all the magic happens.
---
DISCLOSURE: Some of the links on this page are affiliate links, which means we may receive a modest commission if purchases are made through those links. This adds no cost to our readers and helps us keep our site up and running. Our reputation is our most important asset, so we only include links for products that we use ourselves.
---
Did you enjoy this post?
Pin it and share it with your fellow hikers.
New to our blog?
Here are a few posts that you might find interesting…
---
ABOUT THE AUTHOR: