Garlic Parmesan Ramen | Ultralight Backpacking Recipe
Updated May 17, 2022
This post may contain affiliate links.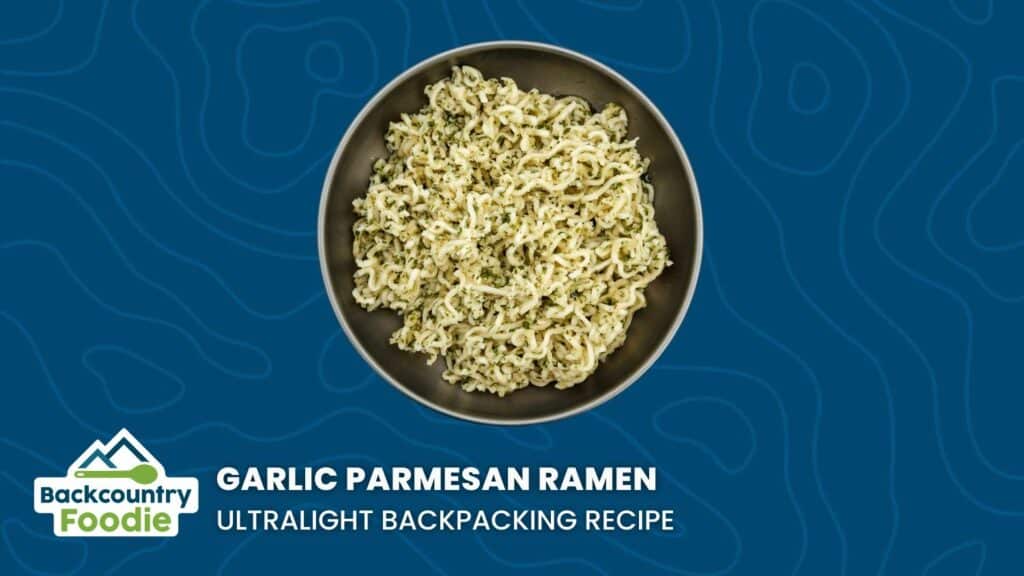 Are you new to making backpacking ramen recipes, or do you find preparing meals too time-consuming? For many reasons, Backcountry Foodie's garlic parmesan ramen ultralight backpacking recipe is a Foodie fan favorite. It takes less than 5 minutes to prepare at home and on trail, is hands down cheaper than commercially prepared meals, and is absolutely delicious! Our backpacking ramen recipe is the perfect recipe to get you started and is one of my go-to favorites. You're going to love it!
After you fall in love with our garlic parmesan ramen recipe be sure to check out our 10 favorite no-cook backpacking recipes.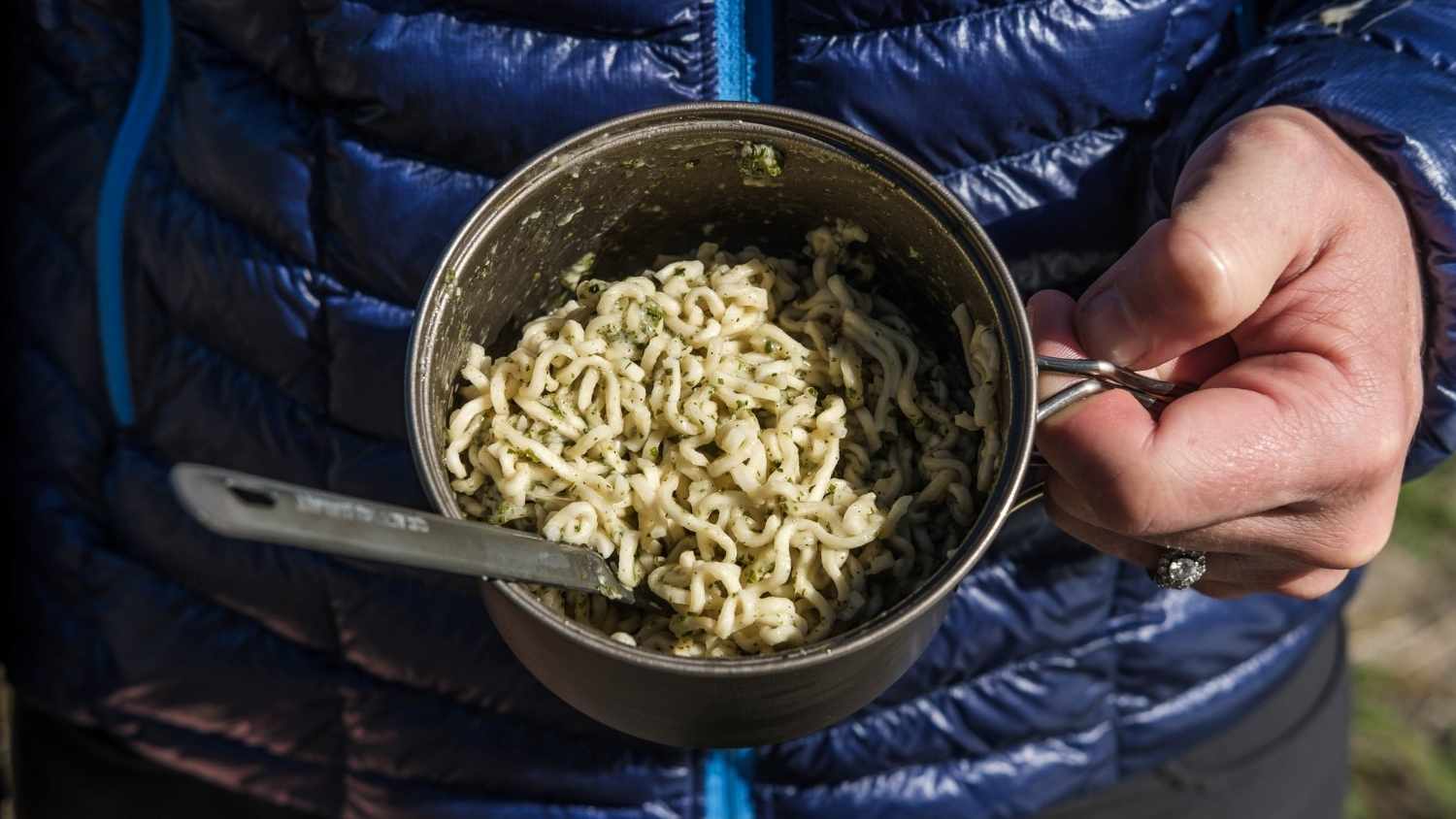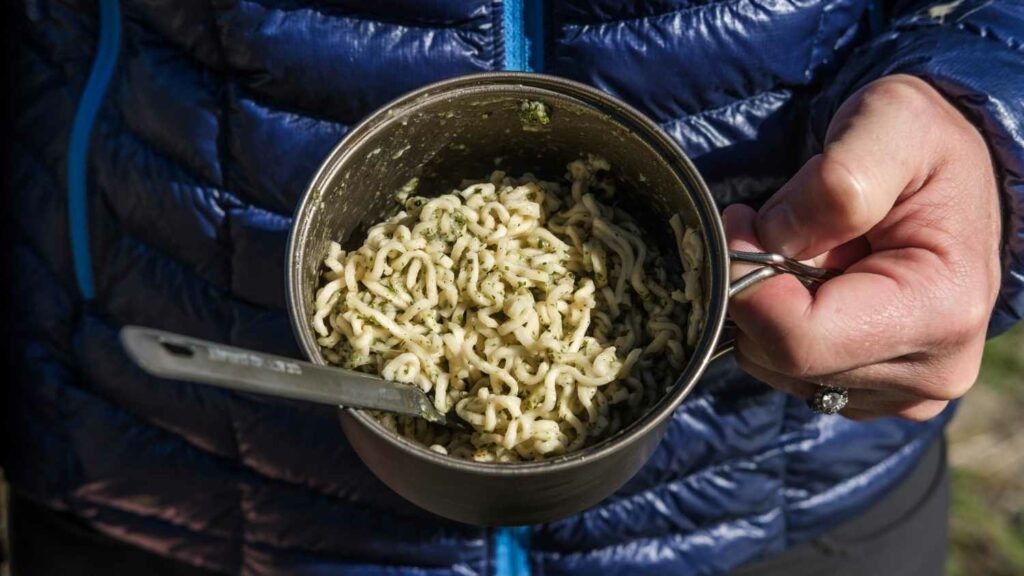 Garlic Parmesan Ramen
If you're new to making homemade backpacking meals, this is the perfect meal to start with. It's a Foodie fan favorite!
Rate This Recipe
View Comments / Leave A Review
NUTRITION (per serving)
INSTRUCTIONS (per serving)
HOME
Discard ramen noodle spice packet.

Put noodles in a bag or container to be used in the backcountry.

Put the remaining dry ingredients in a separate bag to be stored inside the noodle bag or container. See meal prep tip below.

Pack 3 Tbsp (42 g) olive oil in a leakproof container to be added to the meal when consumed. We recommend double bagging the oil in the event there is a leak.
FIELD
Remove the parmesan herb packet.

Add 8 oz (240 mL) hot/cold water or enough to cover the noodles.

Let stand to allow the noodles to rehydrate. This will take approximately 7 minutes if cooking the meal and 30 minutes if cold soaking. Avoid over-soaking noodles as they will become mushy.

Consume or properly discard the noodle broth to practice the Leave No Trace principle.

Add parmesan herb packet and 3 Tbsp (42 g) olive oil to the noodles.

Stir to mix well and enjoy!
NOTES
MEAL PREP TIP
If preparing the meal for long-term storage, we recommend not adding the parmesan cheese until just before consuming the meal. By doing so, the shelf-life of the meal will be lengthened significantly.
NUTRITION
Total sugar (per serving): 2 g, including no added sugar
To reduce sodium by 671 mg, replace the ramen noodles with angel hair pasta and table salt with a salt substitute as desired.

To reduce calories by 120, reduce olive oil volume by 1 Tbsp (14 g). We do not recommend leaving out all of the oil, as some oil is required to create a pesto sauce.
Did you make this recipe? We'd love to see it!
Share photos from your kitchen or the backcountry below.

READY TO SEE MORE ULTRALIGHT BACKPACKING RAMEN RECIPES LIKE THIS ONE?
Backcountry Foodie is your go-to resource for more than 200 backpacking dietitian-created recipes and a one-of-a-kind automated meal planning tool. The meal planner even creates itemized shopping lists for you! Meal prep has never been easier.
Check out this video to see where all the magic happens.
---
DISCLOSURE: Some of the links on this page are affiliate links, which means we may receive a modest commission if purchases are made through those links. This adds no cost to our readers and helps us keep our site up and running. Our reputation is our most important asset, so we only include links for products that we use ourselves.
---
Did you enjoy this recipe?
Pin it and share it with your fellow hikers.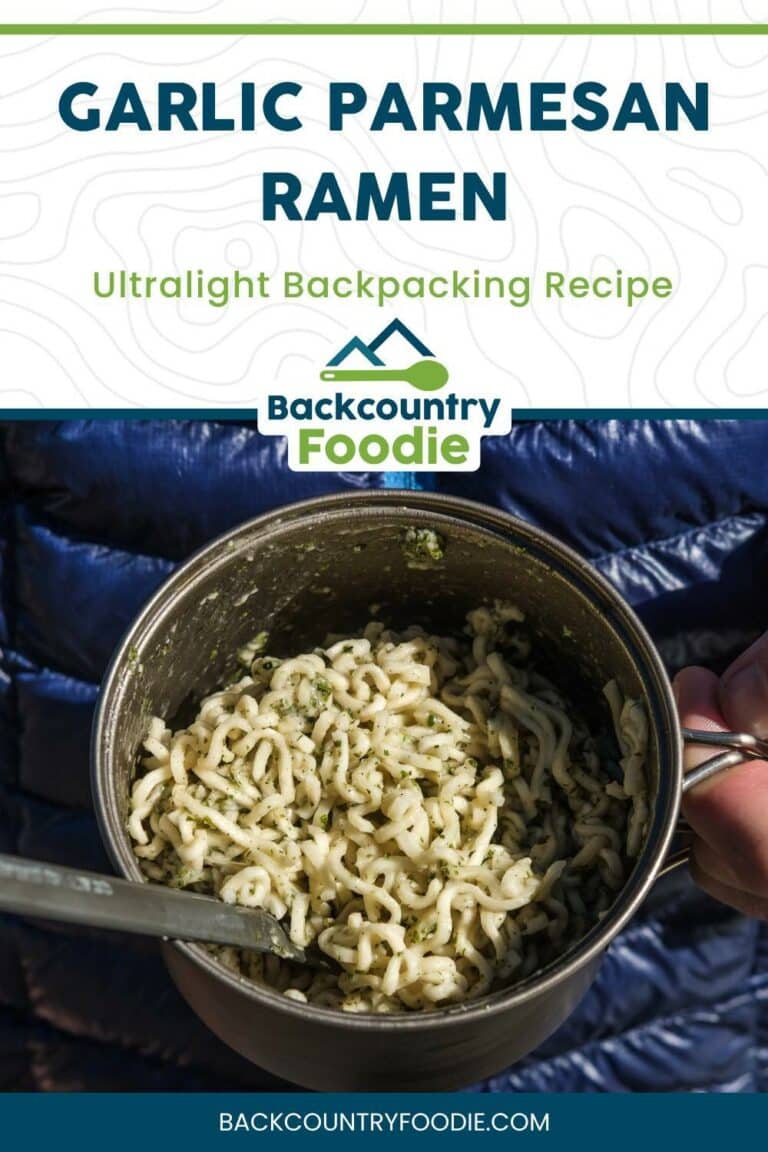 ---
ABOUT THE AUTHOR: