Backpacking Meal Plans: Not all are created equal
Updated November 1, 2022
This post may contain affiliate links.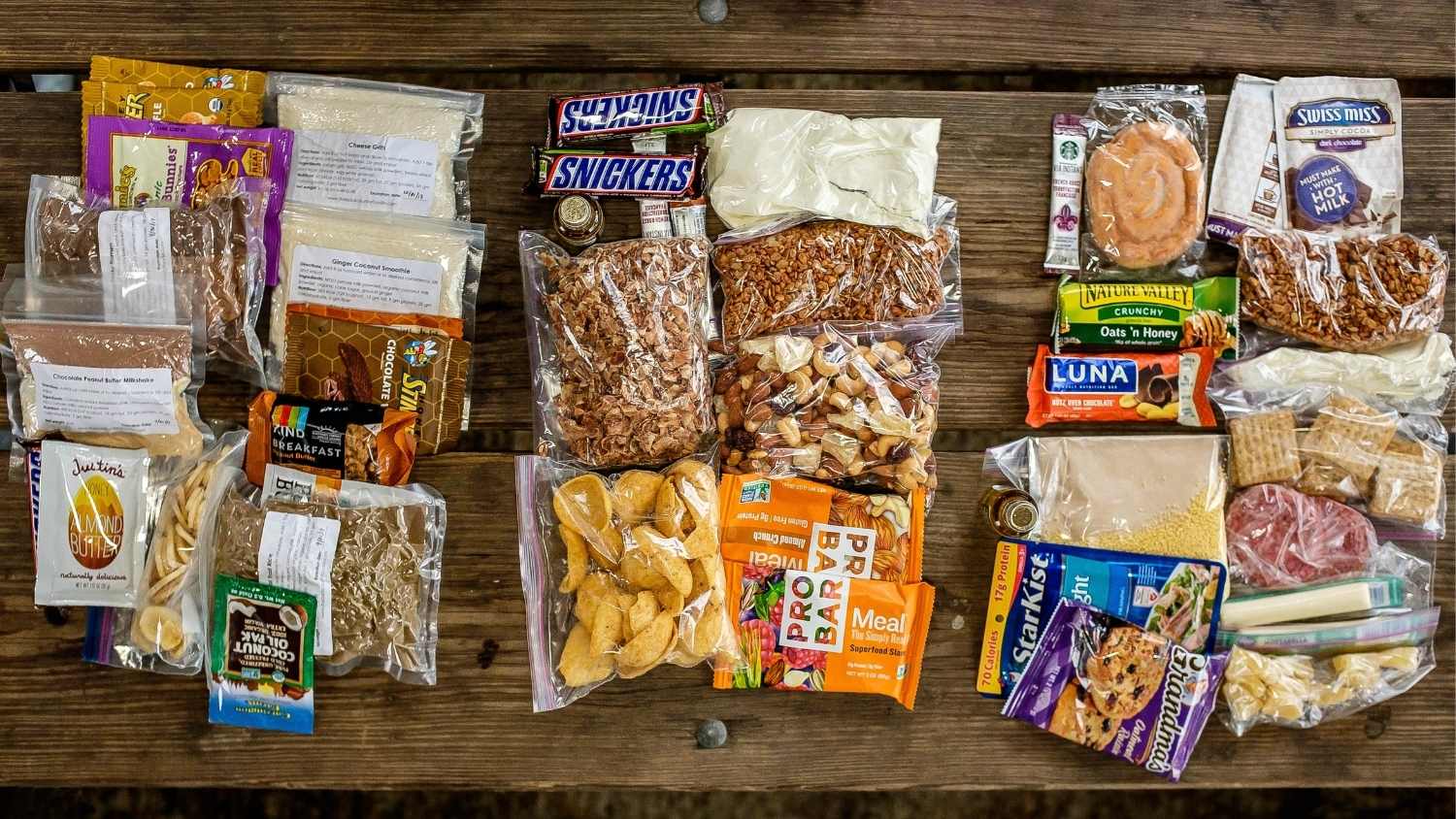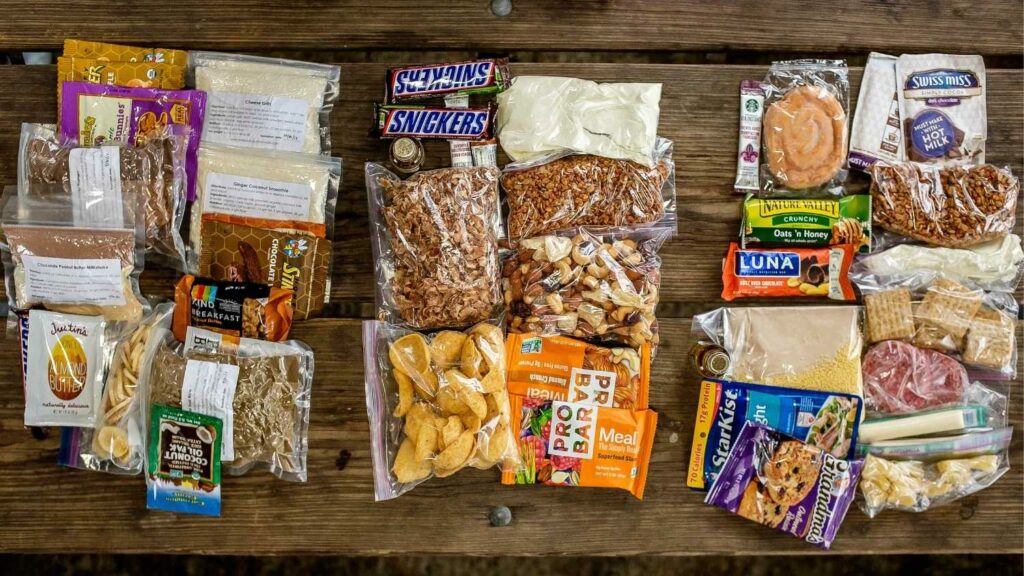 Have you ever pulled uneaten food from your pack after a backpacking trip? Or worse, found yourself racing down the mountain with nothing but food on your mind because you didn't pack enough? You're not alone if you answered "yes" to either of those questions.
Creating backpacking meal plans providing the perfect amount of food is tough!
Many people, even the most experienced hikers, struggle to pack the right amount of food for their hiking adventures. The good news is you don't have to choose between having enough to eat and carrying a lighter pack. Striking a balance between the right amount of food without adding unnecessary weight can be achieved!
Beware of The Golden Rule!
Perhaps you've heard of or practiced the recommendation of packing two pounds (1 kg) of food per person per day, also known as the Golden Rule. The problem with this generalized approach is that the nutritional content of two pounds (1 kg) of food can vary drastically. If you don't strategically plan what the two pounds of food will consist of, you risk falling short of meeting your nutritional needs. You will likely also pack an incorrect amount of food. This can have huge consequences on your hiking performance and overall enjoyment of the outdoors.
Backpacking foods are not created equal
For example, let's say you're planning which snacks you will take on your next hike and have to decide between goldfish crackers and almonds.
¼ lb (0.1 kg) goldfish crackers = 470 calories | 9 g protein | 2.5 g fiber
¼ lb (0.1 kg) almonds = 600 calories | 21 g protein | 11 g fiber
By choosing the almonds, you will have a snack that weighs the same as the goldfish crackers but is much higher in important nutrients like protein, fiber, and total calories to keep you going on the trail. Essentially, the almonds give you more bang for your buck (weight)!
The photos below show how the nutrition content of backpacking meal plans varies.
What does 2 pounds of food per day look like?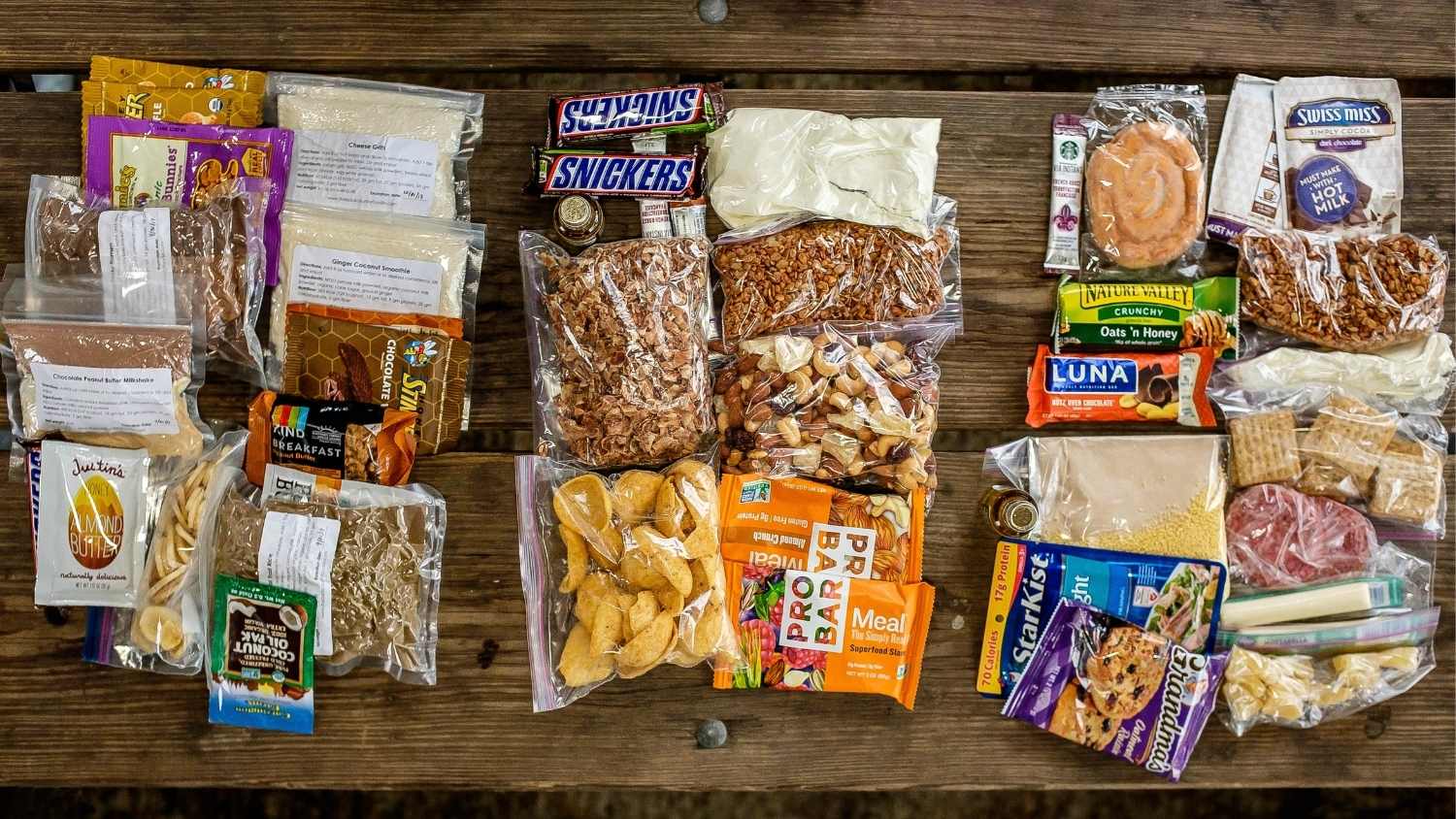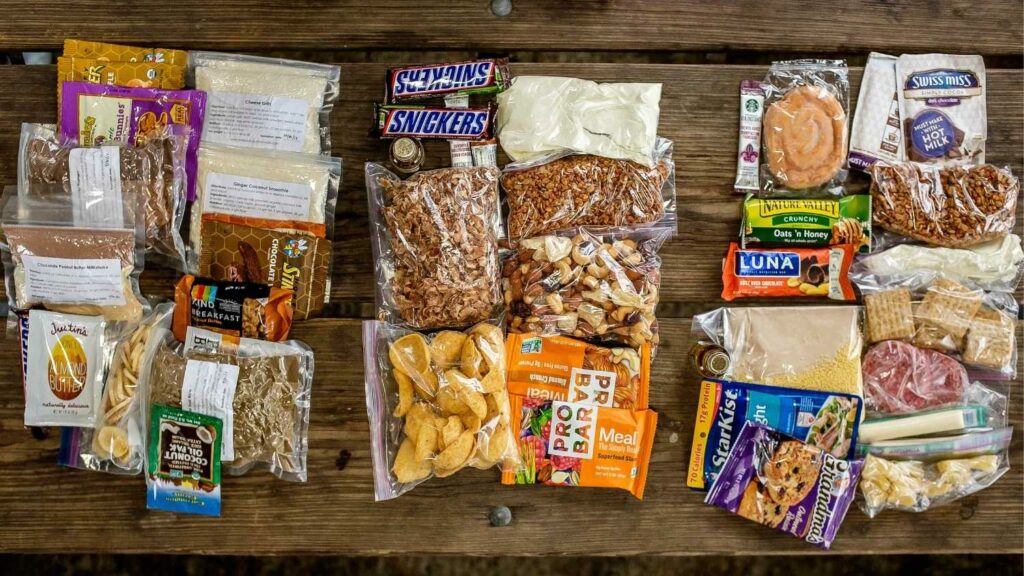 The backpacking meal plans in the photo above are examples used by three hikers weighing roughly two pounds (1 kg) each.
5000 Calorie Backpacking Meal Plan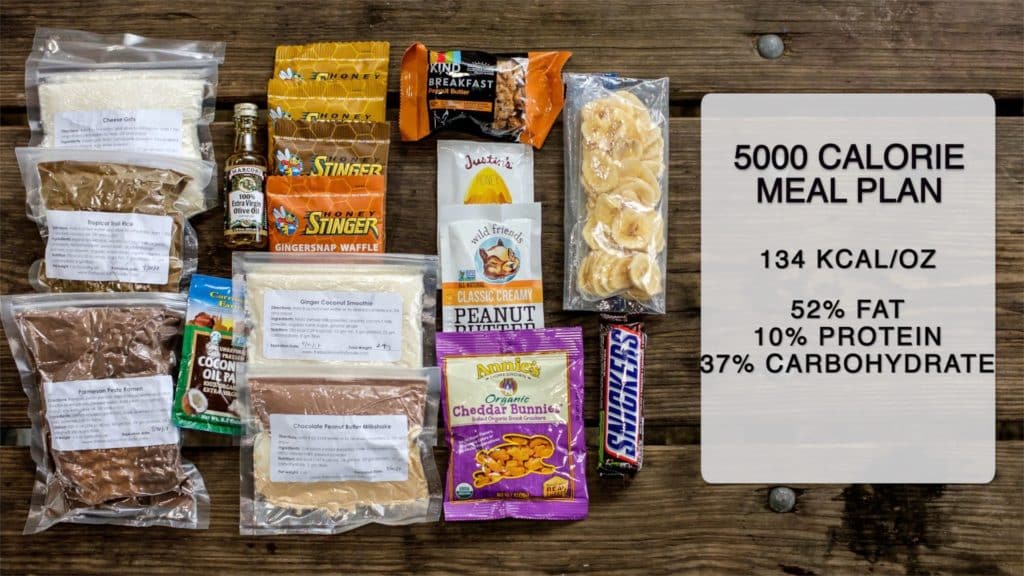 The above meal plan includes a variety of ultralight homemade recipes offered by Backcountry Foodie. The meal plan provides 100% of the daily recommended amount of calories, protein, and fiber. Daily recommendations for vitamins and minerals are also met, except for selenium which is common for vegetarian diets. By consuming one brazil nut a day, selenium intake will be met. This meal plan was used by a registered dietitian and ultralight long-distance backpacker, Aaron Owens Mayhew, MS, RDN, during her thru-hike attempt of the Pacific Crest Trail.
5200 Calorie Backpacking Meal Plan
The above meal plan is another example used by an ultralight backpacker. However, this meal plan lacks all vitamins and minerals except iron and sodium. This is not concerning for short-duration treks as the hiker will return to eating a normal diet before vitamin and mineral deficiencies become concerning. However, a long-distance hiker would risk malnutrition which could end a dream hike prematurely.
3500 Calorie Backpacking Meal Plan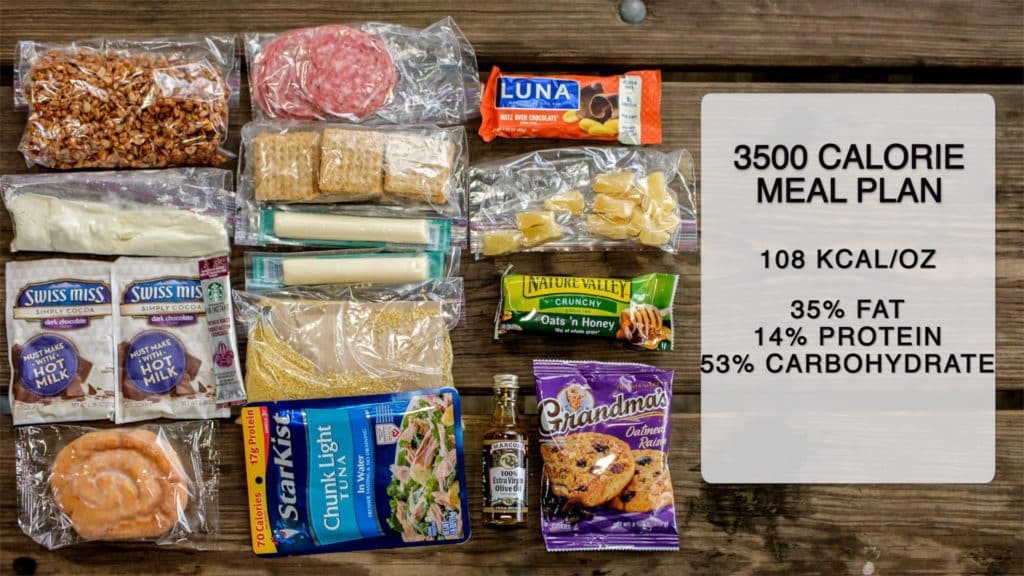 The above meal plan is an example of a hiking diet following the Golden Rule. The foods included are commonly consumed by hikers and meet nearly 100% of the daily recommended vitamins and minerals. However, note that this meal plan provides 3500 calories compared to the previous meal plans that provided 5000 and 5200 calories, respectively. This is because the foods included fewer calories for the same weight. If you're an ultralight backpacker, this meal plan is less desirable when trying to reduce your pack weight.
To learn about these sample meal plans in greater detail, check out our Thru-Hiker Diets video.
Beware of cookie-cutter backpacking meal plans using the Golden Rule.
Like every diet, what works for one person won't necessarily work for the next. Nutrition needs for a person's daily life should be individualized. The same can be said for nutrition needs on the trail. Your height, weight, gender, and fitness level all impact the number of calories and nutrients you need. Your preferences for certain foods will further differentiate your needs from other hikers.
Backpacking is a complex sport!
Understanding your nutrition needs on non-hiking days is challenging in and of itself. When estimating needs for an upcoming hike, certain factors can make determining needs even more difficult. Keeping the following factors in mind while meal planning is critical.
length of your hike
time spent on your feet
elevation gain
terrain type
weight of your pack
ambient temperature
Considering these different variables, overall calorie needs can vary immensely from hike to hike. Determining your nutrition needs will become easier with planning and preparation (and some trial and error).
Practice makes perfect!
Have I turned everything you know on its head and left you feeling overwhelmed? Let me assure you that there is a solution to finding what will work for you in the backcountry.
Learning what your hiking diet should consist of requires practice and patience. Each time you hit the trail can be a new opportunity to build on previous experience and continue improving and learning about what works best for your body. Being your own experiment is the fun part of this process!
Step 1: Complete a 24-hour food diary.
The first step to achieving adequate nutrition on the trail is to evaluate what you currently eat on a day at home off the trail. Tracking your intake on a typical non-hiking day using a 24-hour food diary will help you understand your daily calorie needs and what you typically eat.
A 24-hour recall asks you to record everything you eat for one day. This will give you a starting point for calories, the number of meals and snacks, and the types of food you want to incorporate on the trail.
Step 2: Start a hiking food journal.
A recollection of your food intake after a hike will provide valuable feedback. This means it is important to take some time after a long day on the trail and reflect on what you ate, how you felt, and the changes you might make next time. Doing so will help identify eating patterns and help you evaluate if you are packing the right amount of food.
Also, remember to consider environmental factors such as climate, terrain, and elevation gain. These factors can impact your needs from hike to hike. For example, you might notice that you need fewer calories for a shorter, less strenuous hike than for an all-day adventure with a large elevation gain. Be assured that the more you practice this, the better you will become at dialing in your nutrition on the trail.
Time well spent!
Food tracking might seem tedious, but it provides great insight and an opportunity to improve the nutritional content of your hiking diet. Gathering this information helps determine how close you are to meeting your needs. It also reveals where you may need to increase or decrease certain aspects of your diet. Collecting information about your food intake will provide a baseline moving forward. Then, you can make changes until you have achieved a meal plan that is enjoyable to eat while meeting your needs.
Disclaimer: This is general nutrition advice, and you should talk with your physician before implementing any dietary or lifestyle changes.
Interested in learning more about reducing your backpacking food weight…
…without sacrificing nutrition?!?
Backcountry Foodie offers a one-of-a-kind meal planning site that provides everything you need to prepare for your next backpacking adventure. The resources and recipes reduce your time spent on meal planning by including pre-made templates like the 24-hour food diary and hiking food journal discussed above. You can learn how to meal plan without using the Golden Rule by attending our Ultralight Meal Planning on-demand virtual masterclass.
---
DISCLOSURE: Some of the links on this page are affiliate links, which means we may receive a modest commission if purchases are made through those links. This adds no cost to our readers and helps us keep our site up and running. Our reputation is our most important asset, so we only include links for products that we use ourselves.
---
Did you find this post helpful?
Pin it and share it with your fellow hikers.
New to our blog?
Here are a few more posts that you might find helpful:
ABOUT THE AUTHORS:
Sadie Hitsky, MS was a dietetic intern mentored by Aaron Owens Mayhew, MS, RDN, CD. She has a Bachelor's and Master's degree in Nutrition from Bastyr University. Sadie is most interested in community-focused nutrition and plans to be a Certified Diabetes Educator (CDE) soon after becoming a registered dietitian. She loves cooking, gardening, and all things outdoors – snowboarding, soccer, and, most recently, backpacking!