Ultralight Backpacking Meal Planning Tips for Thru Hikers
Updated November 19, 2022
This post may contain affiliate links.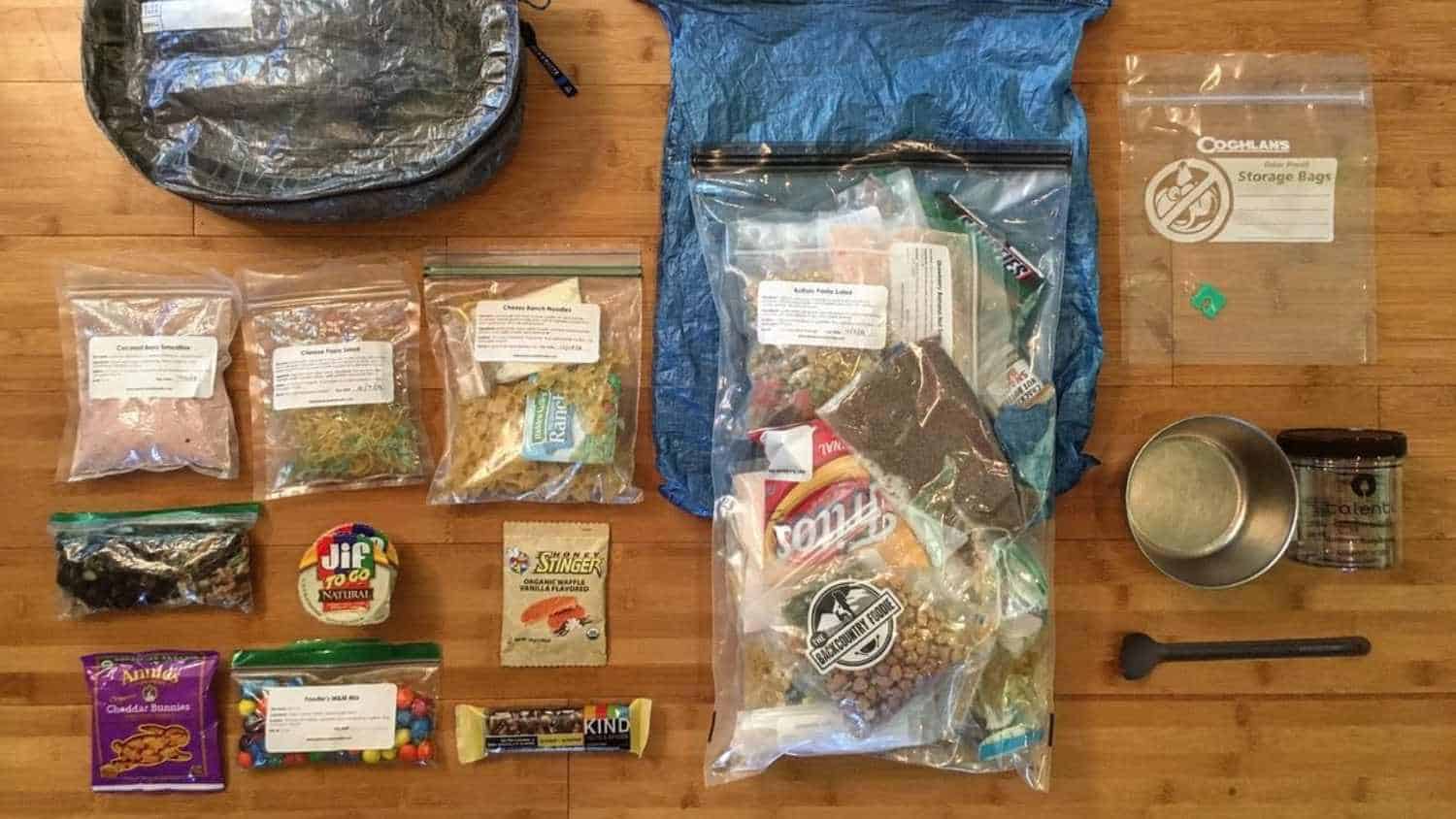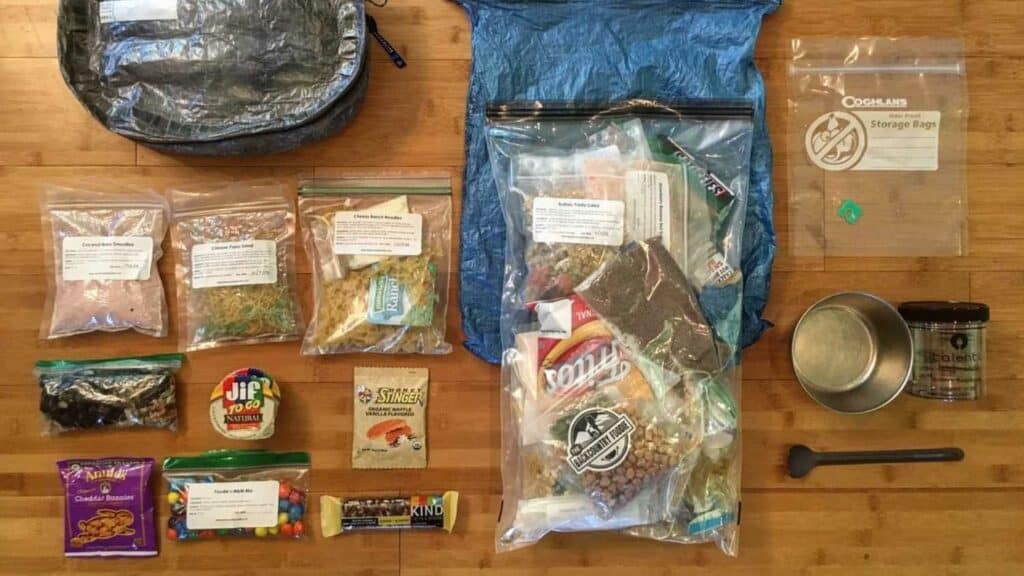 THIS ARTICLE ORIGINALLY APPEARED ON THE TREK.
For those who have followed previous posts, you know that I set a goal of preparing ultralight backpacking meal plans at 5000 calories per two pounds of food for my upcoming PCT thru-hike. I'm excited to share that I pulled it off!
After experimenting with more than one hundred ultralight recipes over the last year, forty-two of these will be going along with me on my trek. See my previous post for examples of ultralight recipes that made the final cut. Forty-one different bars, snacks, and treats are also included in the ultralight backpacking meal plans developed. It is my hope that the variety will prevent boredom, and I'll enjoy the food included in the resupply boxes over the course of the trek.
Ultralight backpacking meal plan breakdown:
Purchased energy bar, snack, and treat options:
Ultralight backpacking meal plans:
10 completely different 5000-calorie meal plans will be chosen based on food cravings, water availability, and fuel required
4 meal plans will be used specifically in the Sierra Nevada when space is at a premium in my bear can
A total of 345 pounds, equating to 795,389 calories of homemade and purchased foods, will be consumed over the course of the trek
Average nutrition content of each ultralight backpacking meal plan:
Carbohydrate: 480 g (39% total calories)
Fiber: 50 g (exceeding the daily recommended goal for adults)
Protein: 114 g or 1.7 g/kg (9% total calories, meeting the goal recommended for athletes)
Fat: 256 g (46% total calories)
For those familiar with daily recommended nutrition goals, you'll notice that the carbohydrate and fat content of menus is flip-flopped. This is due to the high-fat foods used to develop ultralight recipes. While only 39% of total calories will be coming from carbohydrates, the 480 g per day still meets my total daily carbohydrate goal (7 g/kg/day) as an endurance athlete.
Many have asked how I created such recipes. To be honest, I cannot take credit for the original recipes used, as they were obtained from various trail cookbooks, online forums, and online cooking web pages. The recipes were used as a base and adjusted accordingly to meet my ultralight backpacking goals. See the recipe adjustment suggestions below for tips on creating ultralight recipes.
Recipe adjustments to meet ultralight backpacking meal planning goals:
Key points to keep in mind when preparing backpacking meals for thru-hikes:
Use newly opened products whenever possible as the best-by date will be longer than that of a product that was opened several months ago
Document best buy dates either in a notebook or on the food bag to ensure that the meal is consumed before the expiration date.
Always sanitize countertops with either a disinfectant spray/wipe or bleach water.
Wash your hands frequently and wear gloves to ensure that bacteria exposure is limited as much as possible.
Ensure that meals are completely dry when packaged to prevent mold. Desiccant packets are not necessary if the meal is completely dry.
Fully vacuum seal bags to prevent exposure to oxygen.
Ziploc bags are not airtight. Therefore, oxygen absorbers are not useful.
Become familiar with the shelf life of various foods as the shelf-life of meat is significantly shorter than fruit and vegetables.
Avoid using ground nuts as they will go rancid much quicker than whole nuts.
Recipes, including oil, will potentially go rancid if consumed several months after preparation.
Freeze meals, if space allows, until just before consumption. If freezer space is unavailable, store meals in a cool, dark, dry location, such as a Rubbermaid tote in a garage.

Meal preparation and menu planning recommendations for future thru-hiker classes:
Experiment and fine-tune recipes now as you would with gear. This will greatly reduce the stress associated with meal planning before your trek.
As soon as you find recipes that you enjoy, prepare several additional servings and store them for various time periods. Check for shelf stability at one, three, and six months after preparation. By doing this, you will feel confident in the recipes chosen.
Begin dehydrating fruit and vegetables months in advance. If properly dehydrated and stored, they will be shelf-stable for your trip. This will also reduce stress before your trip when time spent preparing is at a premium.
Refrain from buying bars, chews, and snacks on sale months in advance. Oftentimes the products will expire before the completion of your trek.
Begin tracking calorie intake during backpacking trips now to better estimate a calorie goal for your thru-hike. This doesn't have to be complex. A simple notebook with an estimated intake will suffice.
Ultralight backpacking meal plans can be accomplished with a little forethought and organization. I hope the information shared will help others improve their nutrition intake while thru-hiking, reduce the likelihood of excessive weight loss, retain strength, and potentially increase the likelihood of completing the trek.
Does preparing resupply boxes for your thru-hike feel completely overwhelming?
Backcountry Foodie offers a Resupply Coordination Service that can be tailored to your specific needs. Let Aaron do all of the hard work for you!
Hire Aaron to be your…
✔️ Personal Shopper
✔️ Personal Chef
✔️ Resupply Box Packer
✔️ Shipment Coordinator
✔️ Personal Dietitian
---
DISCLOSURE: Some of the links on this page are affiliate links, which means we may receive a modest commission if purchases are made through those links. This adds no cost to our readers and helps us keep our site up and running. Our reputation is our most important asset, so we only include links for products that we use ourselves.
---
Did you find this post helpful?
Pin it and share it with your fellow hikers.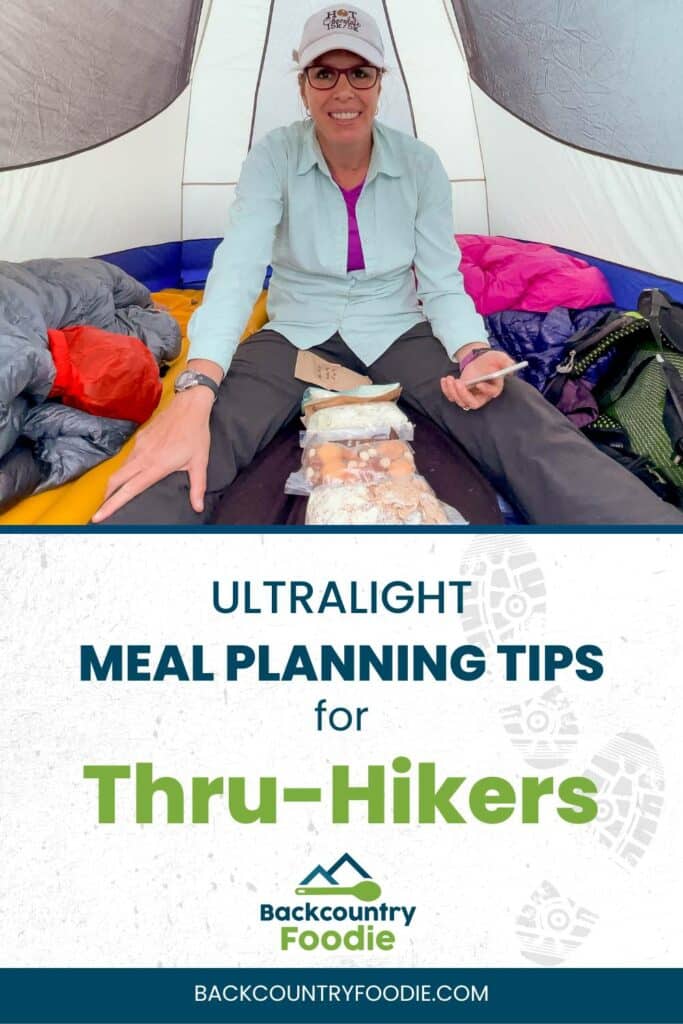 New to our blog?
Here are additional posts that you might find helpful…
---
ABOUT THE AUTHOR: