Buffalo Pasta Salad | Backpacking Lunch Recipe
This vegetarian cold soak backpacking lunch recipe was one of the easiest to prepare during my thru-hike of the Oregon Coast Trail. Freezer bag-style recipes, such as this one, can be prepared in a matter of minutes at home and just as easily while backpacking. Add ingredients to a baggie or container at home and add cold water on the trail. It's truly that easy!
Protein Boost:
For the meat-eaters, add a foil pouch or freeze-dried chicken to boost the protein content of the recipe. Be aware; however, that foil pouch chicken provides approximately 90 calories and 19 grams protein per 3 oz pouch at 30 calories per ounce. On the other hand, freeze-dried chicken provides 170 calories and 25 grams of protein per 3/4 cup serving at 140 calories per ounce. Also, keep in mind that the smell from an opened foil pouch will be harder to conceal than freeze-dried chicken while in bear country.
Long-term Shelf Life:
Another perk of this cold soak backpacking recipe is that the ingredients will remain shelf-stable for many months without the need for vacuum sealing. It's a great option for thru-hikers or those of us who like to prepare meals in the offseason to spend our time outside during the summer. I hope you enjoy the recipe as much as we do!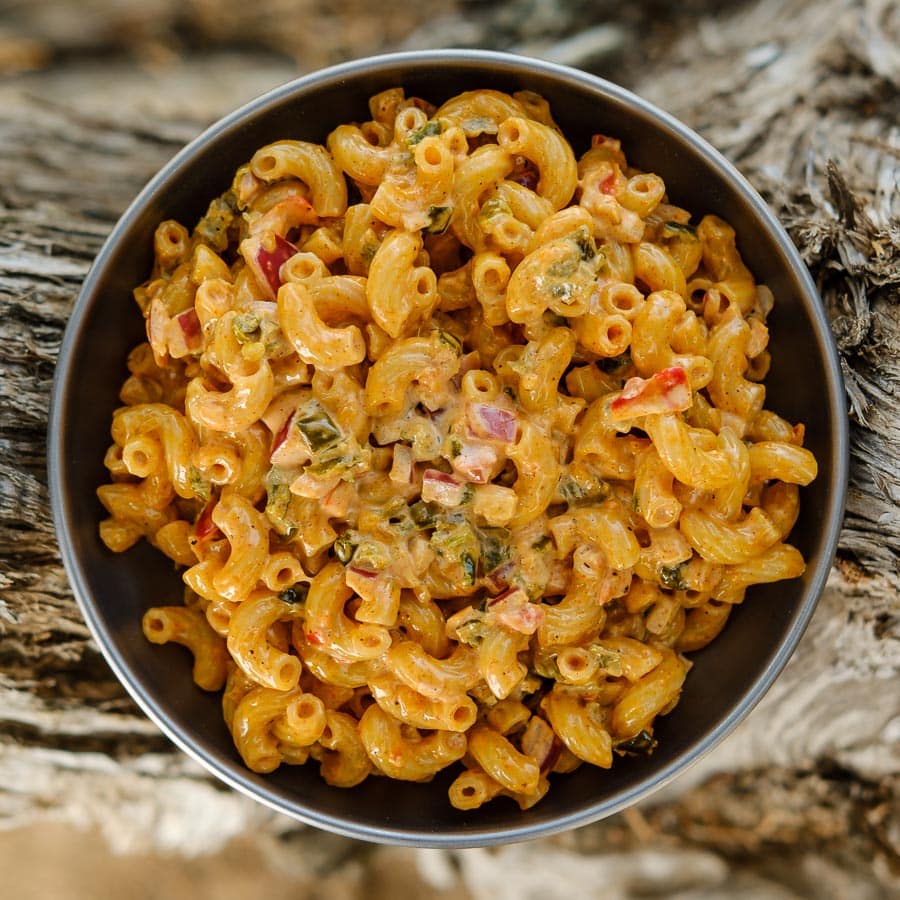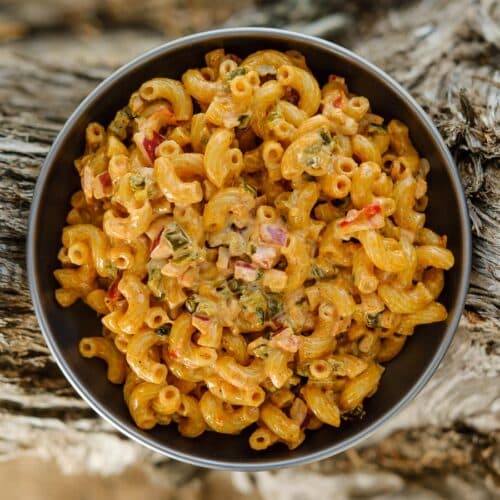 Buffalo Pasta Salad
Pack a little extra heat (and a lot more flavor) in your bear bag with this pasta salad.
Rate This Recipe
NUTRITION (per serving)
INGREDIENTS
OPTIONAL
½

tsp

red onion, dehydrated (substitution)
INSTRUCTIONS
HOME
Put noodles, bell pepper, jalapeno, and red onion in a bag or container to be used in the backcountry. See meal prep tip below.

Pack buffalo sauce powder in a separate bag or container to be stored with the noodle bag.

Pack 6 x 0.4 oz packets (67 g) of mayonnaise to be added at the time the meal is consumed.
FIELD
Add 8 oz (240 mL) hot/cold water to the noodle bag.

Let noodles and vegetables stand until fully rehydrated.

Consume or properly discard the remaining broth to practice the Leave No Trace principle.

Add buffalo sauce powder and 6 packets (67 g) mayonnaise.

Stir to mix well and enjoy!
NOTES
VOLUME OF MEAL WHEN PREPARED
1 cup n per serving (dry)
MEAL PREP TIPS
Any mini-shaped pasta can be used for this recipe, with larger shapes not rehydrating as quickly.

Powdered buffalo sauce mix can be found in the salad dressing or sauce mix aisles in grocery stores.
NUTRITION
Total sugar (per serving): 3 g with no added sugar
MY NOTES
Did you make this recipe? We'd love to see it!
Share photos from your kitchen or the backcountry below.
Disclaimer: Backcountry Foodie is an Amazon Affiliate, which means that if you choose to purchase a product from a link on this page we could potentially receive a small commission to help support ongoing recipe development.
Did you enjoy this backpacking lunch recipe?
Click here to learn more about Backcountry Foodie's ultralight recipes and meal planning service.
Hungry for more?
Here are more recipes you'll likely enjoy…
ABOUT THE AUTHOR:
Aaron Owens Mayhew, MS, RDN, is a registered dietitian and ultralight long-distance backpacker with over 20 years of nutrition and backpacking experience. She's also the founder and owner of Backcountry Foodie, online ultralight recipes and meal planning platform for backpackers. She also enjoys teaching hikers, like you, about backpacking nutrition via live virtual masterclasses. You can follow Aaron's adventures in the kitchen and the backcountry via Instagram and Facebook.