Keto-Friendly Tuna Salad | Ultralight Backpacking Recipe
Updated September 16, 2022
This post may contain affiliate links.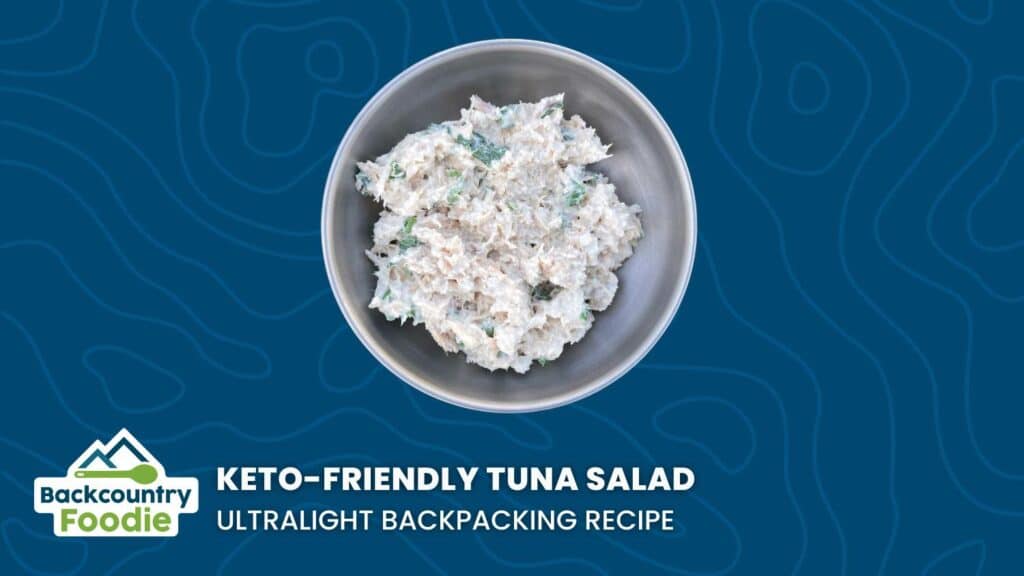 Four words… 205 calories per ounce.
Do we have your attention now?? If you're a keto backpacker, this tuna salad is not your average keto backpacking meal.
Sorry to nerd out there . . .
We know not everyone gets as excited about ultralight meals as we do. But this one has a lot going for it. Not only is it ULTRA ultralight, but it's very low volume (great bear can stuffer) and an excellent source of protein with 19 grams per serving.
Looking for a keto-friendly backpacking meal?
With less than 1 gram of carbohydrate per serving, this recipe is a keto-friendly tuna salad option. If you're a keto backpacker, you know exactly how hard it is to find tasty backpacking recipes that won't blow your carb goal out of the water. Pile it onto parmesan crisps or your favorite low-carb wrap, and you have an easy-to-prepare no-cook lunch option.
This DIY backpacking meal makes for a perfect no-cook backpacking lunch that goes one step beyond your everyday tuna packet. Non-keto backpackers will want to pair it with crackers, pita bread, or tortillas.
Looking for more no-cook and cold soak backpacking recipes?
Take a look at our 10 favorite no-cook backpacking recipes and our cold soaking guide for stoveless backpackers.
Interested in learning how to make tuna packets ultralight?
Did you know that tuna packets, on average, provide only 16 calories per ounce? That's because of the significant amount of water in the packets. By dehydrating canned tuna or tuna packets, the caloric density of the tuna is increased to 125 calories per ounce! Check out our How to Safely Dehydrate Tuna for Backpacking Meals post for dehydration instructions and proper storage techniques.


Keto-Friendly Tuna Salad
Rate This Recipe
View Comments / Leave A Review
NUTRITION (per serving)
INSTRUCTIONS (per serving)
HOME
Put the dry ingredients in a bag or container to be used in the backcountry. See meal prep tips below.

Pair with 1 packet (14 g) of mayonnaise to be added when the meal is rehydrated.
FIELD
Add enough water to cover the tuna mixture and stir to mix well.

If using cold water, let the meal stand for 30-60 minutes, allowing the meal to rehydrate fully. If using hot water, let the meal stand for 10-15 minutes. Rehydration times will be much shorter if freeze-dried tuna is used.

Once the meal is rehydrated, properly drain any excess water following the Leave No Trace (LNT) principles.

Add 1 packet (14 g) of mayonnaise and stir to mix well.

Pair with your favorite crackers, wrap, or pita bread and enjoy!
NOTES
MEAL PREP TIPS
If preparing the meal for long-term storage, we recommend packing the parmesan cheese in a separate container just before leaving for the trip. This will greatly lengthen the shelf-life of the meal.

Single-serving packets, such as those used by pizza restaurants work well.
This is a low-volume meal. Consider making two batches for a hungry hiker.
INSTRUCTIONS FOR DEHYDRATING TUNA
Drain the juice from the can or pouch.
Transfer immediately to dehydrator trays.
Dehydrate at 145-155℉ (62-68℃) until completely dry.
Allow the dried tuna to cool for 30-60 minutes.
Package in an airtight container.
Dehydrated tuna is shelf-stable at room temperature for 1-2 months, 6 months in the refrigerator, or up to one year in the freezer. Freeze-dried tuna stored in an airtight container is shelf-stable for 10-15 years.
NUTRITION
Please note that the nutrition information above does not include crackers, pita bread, or a wrap.
Total sugar (per serving): 0.3 g with no added sugar
Did you make this recipe? We'd love to see it!
Share photos from your kitchen or the backcountry below.

Ready to see more ultralight backpacking recipes like this one?
Backcountry Foodie is your go-to resource for more than 200 backpacking dietitian-created recipes and a one-of-a-kind automated meal planning tool. The meal planner even creates itemized shopping lists for you! Meal prep has never been easier.
Check out this video to see where all the magic happens.
---
DISCLOSURE: Some of the links on this page are affiliate links, which means we may receive a modest commission if purchases are made through those links. This adds no cost to our readers and helps us keep our site running. Our reputation is our most important asset, so we only include links for products we use ourselves.
---
Did you enjoy this recipe?
Pin it and share it with your fellow hikers.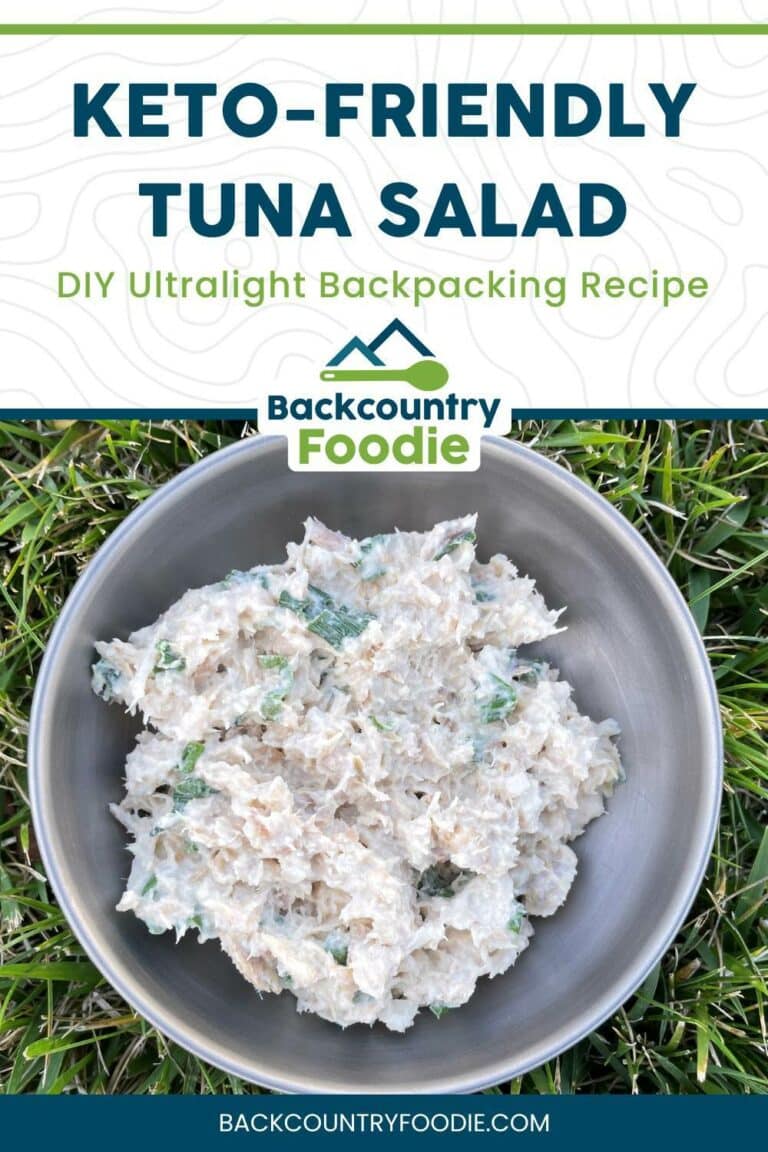 ---
ABOUT THE AUTHOR