Veggie Pho Noodle Soup | Backpacking Recipe
Updated September 16, 2022
This post may contain affiliate links.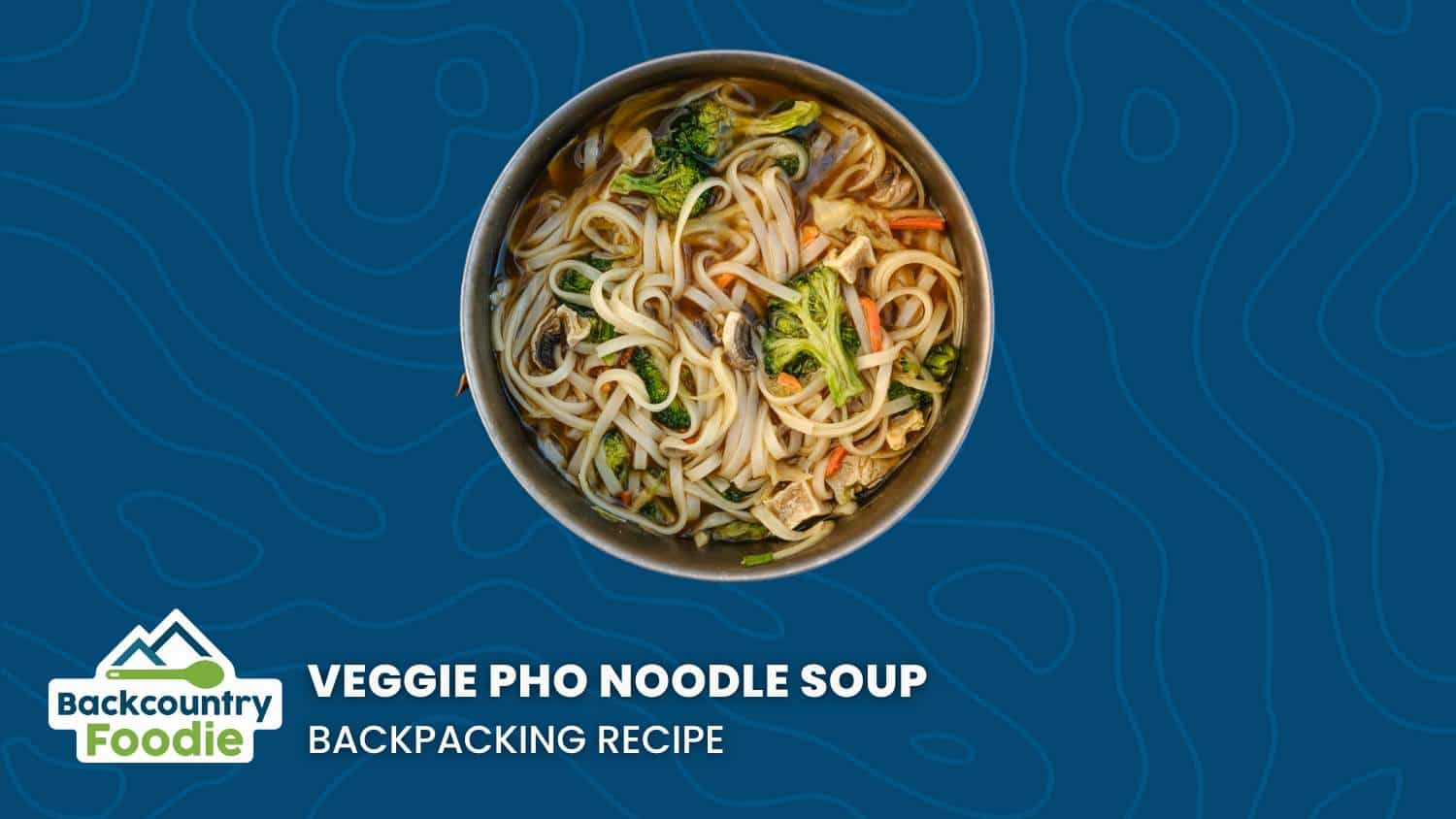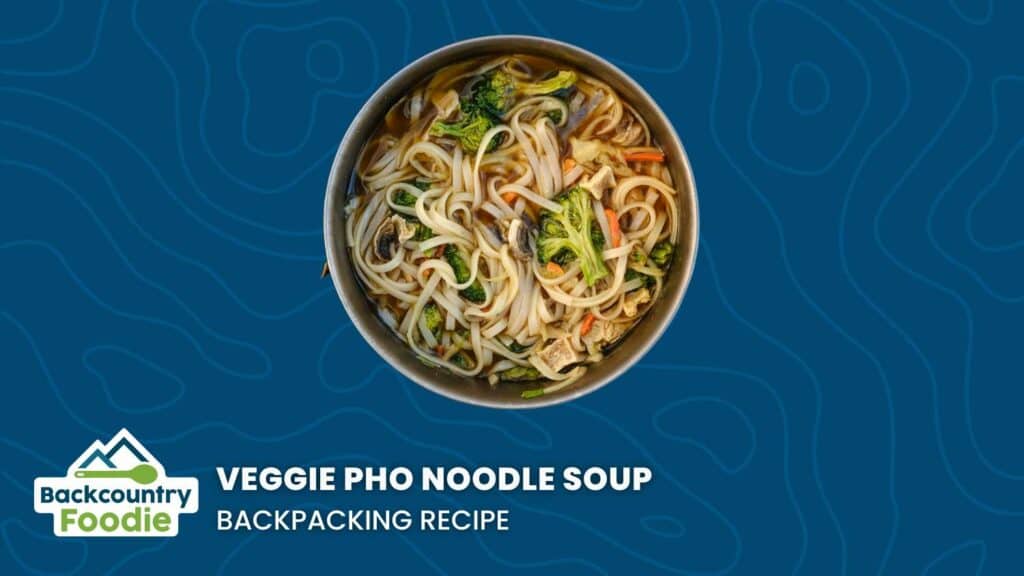 Have you ever looked back over several days of hiking and wondered if you've eaten a single vegetable? Bringing a few servings of this veggie pho noodle soup will completely solve that problem. Get all your veggies for the day in one cozy little package. Warming and delicious, this veggie pho noodle soup uses only grocery-friendly ingredients (no beef bones required). It's a great choice for fall or winter hikes, or for chilly summer evenings at high altitude.

Veggie Pho Noodle Soup to the rescue!
I don't know about you, but there are certainly nights that I'm craving a healthy meal but am too tired to cook. This is when our veggie pho noodle soup recipe saves the day! Believe it or not, we eat this veggie pho noodle soup regularly for dinner at home. It's tasty and quick enough to compete with whatever else happens to be in my fridge or pantry.
If you're new to dehydrating foods for your own backpacking meals, this noodle soup recipe is a good place to start. We'll walk you through dehydrating the tofu here and dehydrating green onions here. Not quite ready to purchase a dehydrator? Find quality dehydrated veggies from Mother Earth Products.

Veggie Pho Noodle Soup
This recipe is a staple in my backpack and at home on weeknights. It's that good!
Rate This Recipe
View Comments / Leave A Review
NUTRITION (per serving)
INGREDIENTS
INSTRUCTIONS (per serving)
HOME
Bring a stockpot of water to a boil.

Add the broccoli, cabbage, and carrots to the stockpot.

Blanch the vegetable mix for 3-4 minutes after returning to a boil.

Drain the vegetable mixture and rinse with cold water to stop the cooking process.

Spread the mixture onto two dehydrator trays.

Spread the sliced yellow onion, green onions, and mushrooms onto separate dehydrator trays.

Dehydrate vegetables at 125℉ (52℃) for 4-8 hours or until completely dry. The time required to dry the vegetables will vary based on the humidity in your home.

Divide the dried vegetables into two servings and store them in two bags or containers to be used in the backcountry.

Divide the noodles into two servings. Add one serving of noodles to each serving of vegetables.

Divide the dry broth ingredients into two servings. Add one serving of broth to each serving of vegetables.

Pack the soy sauce, hoisin sauce, and sriracha (optional) separately.
FIELD
Bring 16 oz (480 mL) of water to a boil.

Remove the pot from the stove and add the soup mixture, soy sauce, hoisin sauce, and sriracha (optional) to the pot.

Stir to mix well and cover the pot with a lid.

Let the soup stand for 5 minutes to allow the vegetables and noodles to rehydrate.

Stir occasionally to make sure the noodles are completely covered with hot water.

Once fully rehydrated, stir to mix well, and enjoy!
NOTES
MEAL PREP TIPS
Dehydrated or freeze-dried tofu is a great way to add protein and calories to this meal.
Instructions for dehydrating tofu:

Freeze the tofu overnight in the container that was purchased.
Allow the tofu to thaw completely in the refrigerator.
Cut the tofu into 1/2″ cubes and place on dehydrator trays.
Dehydrate at 135℉ (57℃) for 4-8 hours or until completely dry. The tofu should break in half easily, rather than bending.
Dehydrated tofu can be stored for 1-2 weeks in an airtight container kept in a cool, dark, dry place, 6 months in the refrigerator, or 12 months in the freezer. The short shelf-life is due to the fat content of the tofu.
NUTRITION
Be aware that this recipe prepares two large, low-calorie servings of soup.
Total sugar (per serving): 13 g, including 6 g of added sugar from the hoisin sauce
To reduce sodium by 1638 mg, use sodium-free bouillon and low-sodium soy sauce.
Did you make this recipe? We'd love to see it!
Share photos from your kitchen or the backcountry below.

Ready to see more ultralight backpacking recipes like this one?
Backcountry Foodie is your go-to resource for more than 200 backpacking dietitian-created recipes and a one-of-a-kind automated meal planning tool. The meal planner even creates itemized shopping lists for you! Meal prep has never been easier.
Check out this video to see where all the magic happens.
---
DISCLOSURE: Some of the links on this page are affiliate links, which means we may receive a modest commission if purchases are made through those links. This adds no cost to our readers and helps us keep our site up and running. Our reputation is our most important asset, so we only include links for products that we use ourselves.
---
Did you enjoy this recipe?
Pin it and share it with your fellow hikers.
---
ABOUT THE AUTHOR