Is Added Sugar Bad for Backpackers?
Updated November 16, 2022
This post may contain affiliate links.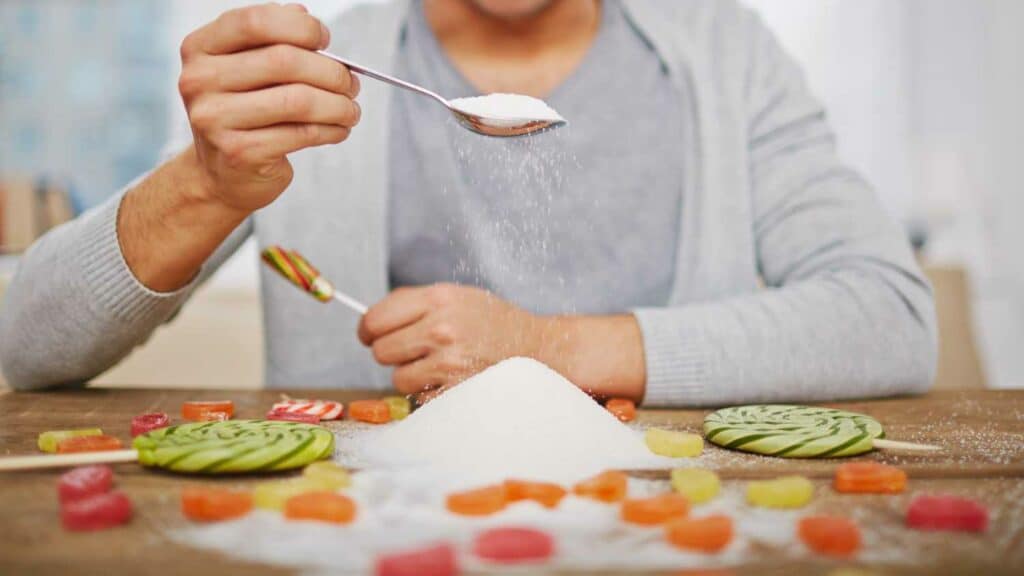 As a backpacker, you might be health-conscious or wondering if added sugar is bad for your hiking performance on the trail. The added sugar found in backpacking meals and snacks might raise concern. Is added sugar really that bad for you? That's a great question because there is a lot of conflicting information about the health effects of eating sugar. Here's our take on added sugar in backpacking diets.
What are Added Sugars?
Added sugars are different from natural sugars because they are added either during the processing or preparation of foods. According to the American Diabetes Association, naturally occurring sugar found in fruit and dairy are not included in this category. However, honey, agave, and table sugar are because they are typically added to other foods.1
Glucose
Fructose
Galactose
Sucrose
Lactose
Maltose
Raw sugar
Brown sugar
Cane (table) sugar
Fruit nectars
Corn syrup
Honey
Maple syrup
Molasses
Malt syrup
Why Added Sugar Can Be Bad for Your Health
Researchers have not confirmed that eating sugar directly causes chronic diseases like diabetes and heart disease, but there is an association because eating too much can cause weight gain.2 In fact, eating too many calories in any form may cause you to gain weight.
Additionally, there are concerns that eating too much sugar can cause insulin resistance, leading to diabetes regardless of weight gain. But these studies were done on the general population, not on athletes. Furthermore, research has shown that exercise improves insulin sensitivity, increasing glucose tolerance.3
When you are backpacking, you're typically physically active for many hours, several days in a row. This makes weight gain unlikely – backpackers often need all the calories they can get!
Can added sugar be helpful for backpackers?
Yes, absolutely!
Glucose (simple sugar) is an essential fuel source for our brain, muscles, and red blood cells. Any unused glucose can be stored as glycogen, a fuel source you can tap into when you're running low on energy.
Hike Stronger Longer
Endurance athletes regularly consume sugary foods (sports drinks, energy gels, chews) while training and competing, and guess what?!? Backpacking is an endurance sport!
Foods with sugar and carbohydrates in any form have been shown to improve endurance sports performance. Foods that are mostly simple sugar can become more helpful as the intensity of your hike increases or you are very hungry because they provide a quick boost of energy.
Mood Booster
Simple sugars, like glucose, are also known to trigger the creation of serotonin, a mood-lifting hormone. A sweet treat can give you a much-needed pep in your step and a mood boost when the going gets tough on the trail.
However, if you rely heavily on added sugars to keep your energy level up, it might indicate that you need to take a closer look at your diet. You might be consuming inadequate calories and/or carbohydrates for fuel.
Situations where foods with added sugar could be a good choice:
If you are actively hitting the wall and need to bring up your blood glucose level
When the day feels like it will never end, you're tired and grumpy
Before a difficult section of the trail, and you haven't eaten for a few hours
You put off eating lunch until you get to the top of the mountain, but it's well past lunchtime
---
Which Hiking Snack Foods Have Added Sugar?
Quick Energy Snacks
Gatorade
Honey Stinger Energy Chews
Licorice
Welch's fruit snacks
Clif Blocs
Sour Patch Kids
Gummy bears
Honey packets or sticks
Jelly beans
Sustained Energy Snacks
Whereas backpacking snacks that are mostly simple sugars provide a quick burst of energy, there are other snacks that contain added sugar but will be a source of more sustained energy because they contain other sources of carbohydrates, as well as protein. Sweet foods, like meal replacement shakes and desserts, can also be used to provide additional nutrition to supplement lower-calorie meals.
Chocolate bars
Honey Stinger Waffles
Instant Pudding
Energy/Protein bars
Granola bars
Snickers bar
Is there another option for quick energy snacks without added sugar?
If you are concerned about your sugar intake, dried fruit will give you a similar boost of energy. But the fiber in fruit slows digestion, slightly delaying your body's response. In our blog post Best Backpacking Foods for Energy, we discuss the relationship between different foods and energy.
---
Sugar as Part of a Healthy Backpacking Diet
Experts recommend limiting the amount of added sugar you eat to 5-10% of your total daily calories.2,4
When backpacking, your calorie requirements will likely be higher than they are when you're at home. This means you can eat more sugar than you might typically consider part of a healthy diet at home and still be within the recommended range.
Added sugar recommendations for some common daily calorie goals for backpackers:
| | | |
| --- | --- | --- |
| Daily Calories | Calories from added sugar (5-10% of total calories) | Added Sugar |
| 2000 calories | 100-200 calories | 25-50 g |
| 3000 calories | 150-300 calories | 37.5-75 g |
| 5000 calories | 250-500 calories | 62.5-125 g |
Wondering what 100 calories (25 grams) of sugar looks like?
6 teaspoons of cane sugar
Should I Use Sugar Substitutes for Backpacking Meals?
Sugar substitutes, also known as artificial sweeteners, include non-nutritive sweeteners and sugar alcohols. They usually have fewer to no calories and are many times sweeter than granulated sugar. In recipes, they will not be a one-to-one substitution. A quick Google search will present you with many helpful charts with substitution equivalents. Sugar substitutes will not give you the same energy boost as added sugars.
Sugar substitutes undergo a rigorous approval process before they can be sold to the general public in the United States. The US Food and Drug Association (FDA) considers them safe to eat as long as you are not eating excessive amounts on a daily basis.5 So it is really a matter of personal preference if you choose to use them in your backpacking meals.
Consuming more than 15 grams per day of sugar alcohol may cause gastrointestinal distress.
---
Our Peanut Butter Protein Shake is an example of how added sugar can be part of a healthy backpacking diet.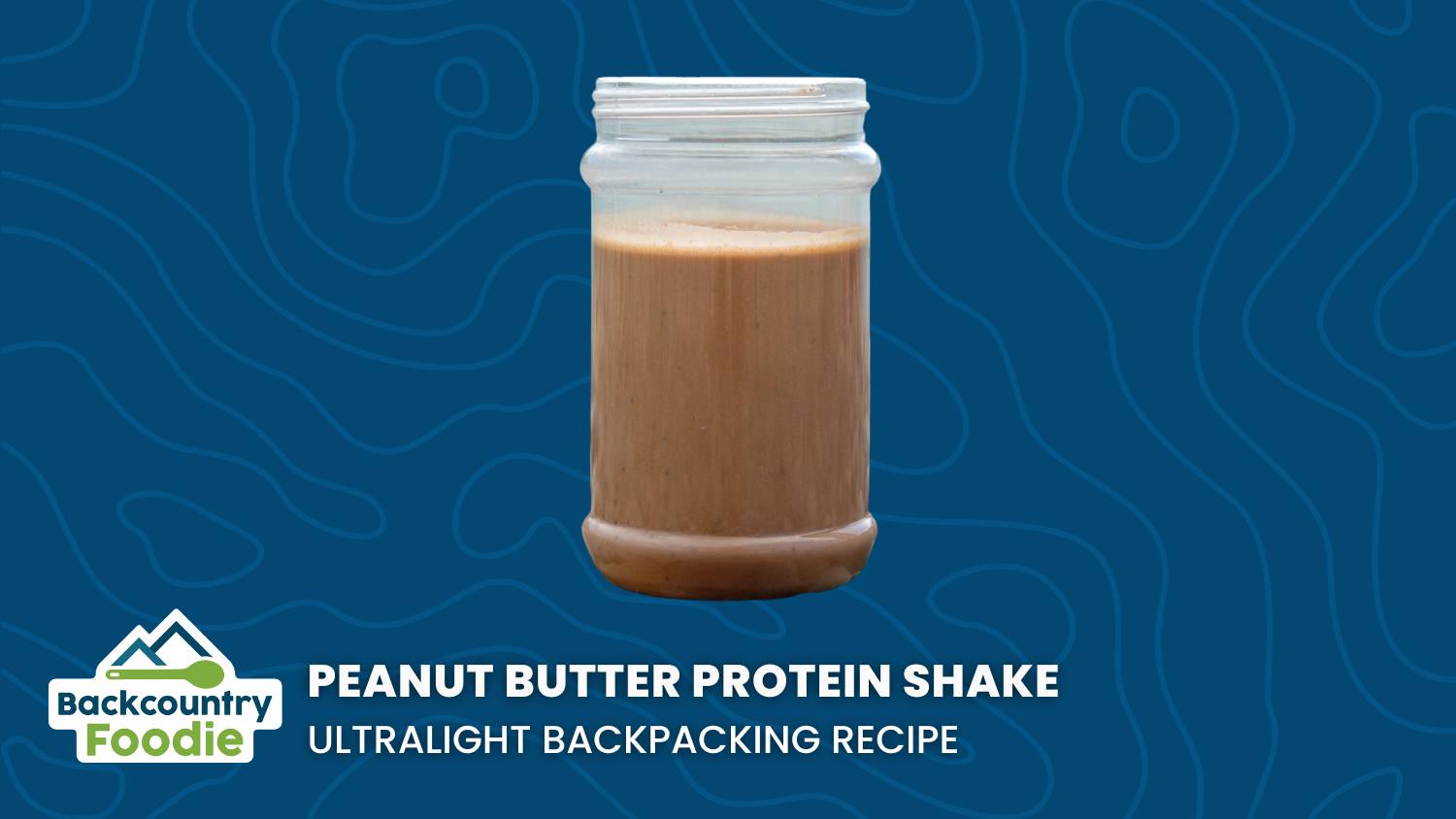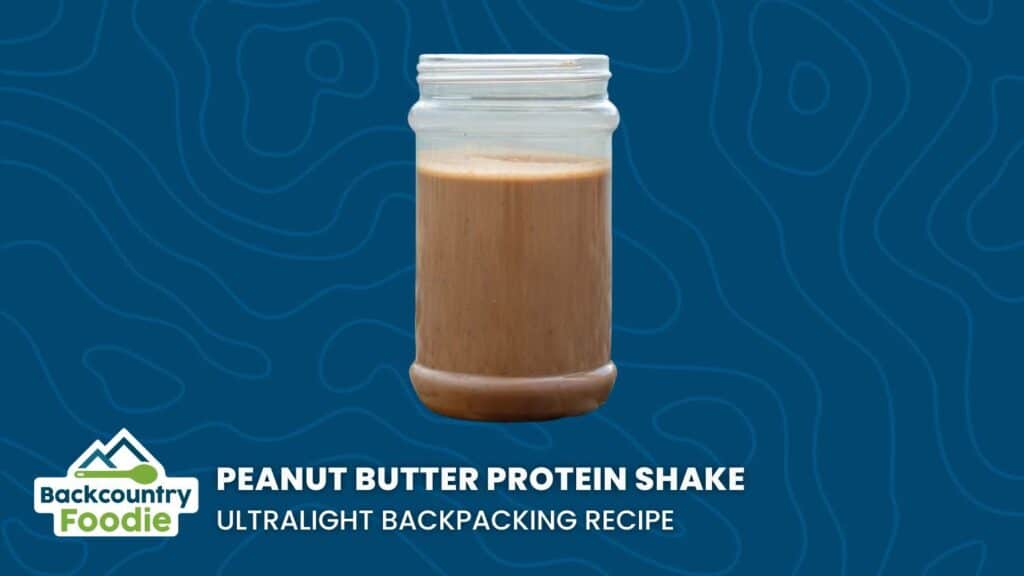 Ready to see more backpacking recipes like this one?
Backcountry Foodie is your go-to resource for more than 200 backpacking dietitian-created recipes and a one-of-a-kind automated meal planning tool. The meal planner even creates itemized shopping lists for you! Meal prep has never been easier.
Check out this video to see where all the magic happens.
---
DISCLOSURE: Some of the links on this page are affiliate links, which means we may receive a modest commission if purchases are made through those links. This adds no cost to our readers and helps us keep our site up and running. Our reputation is our most important asset, so we only include links for products we use ourselves.
---
Did you find this post helpful?
Pin it and share it with your fellow hikers.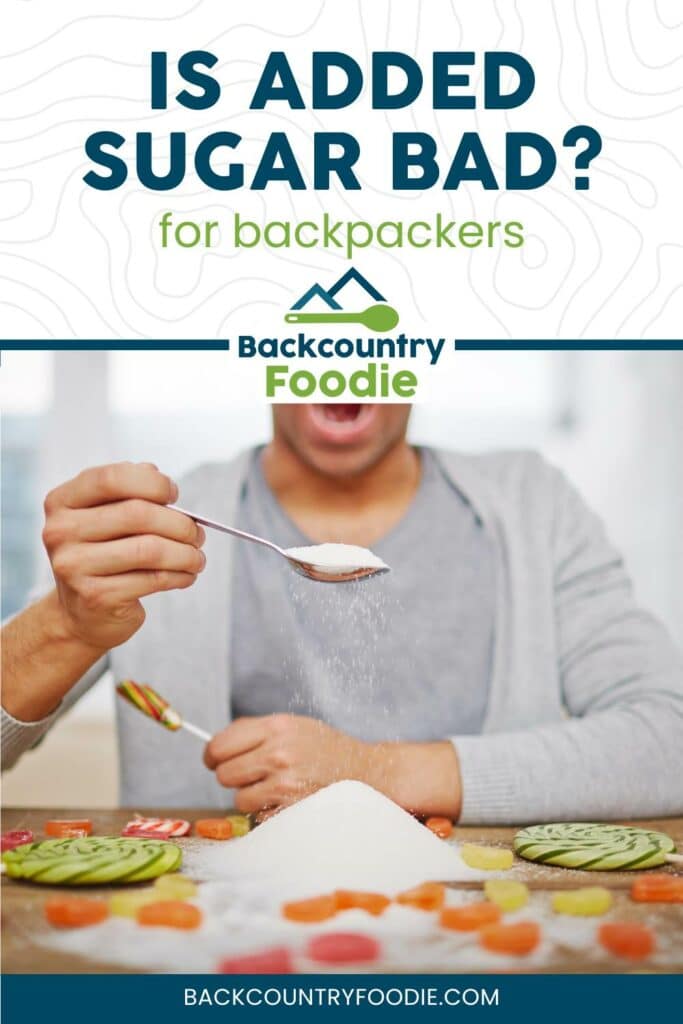 Are you new to our blog?
Consider checking out these posts:
---
ABOUT THE AUTHORS:
Sarah Coupal is a Dietetic Intern at Illinois State University mentored by Aaron. She holds a BS in Nutritional Sciences from Cornell University and spent two summers as the Trails Food Coordinator for the Adirondack Mountain Club. She enjoys hiking/backpacking, canoeing, cross-country skiing, and running in her free time.
References: