What to Eat and Drink While Hiking in Hot Weather
Updated September 23, 2022
This post may contain affiliate links.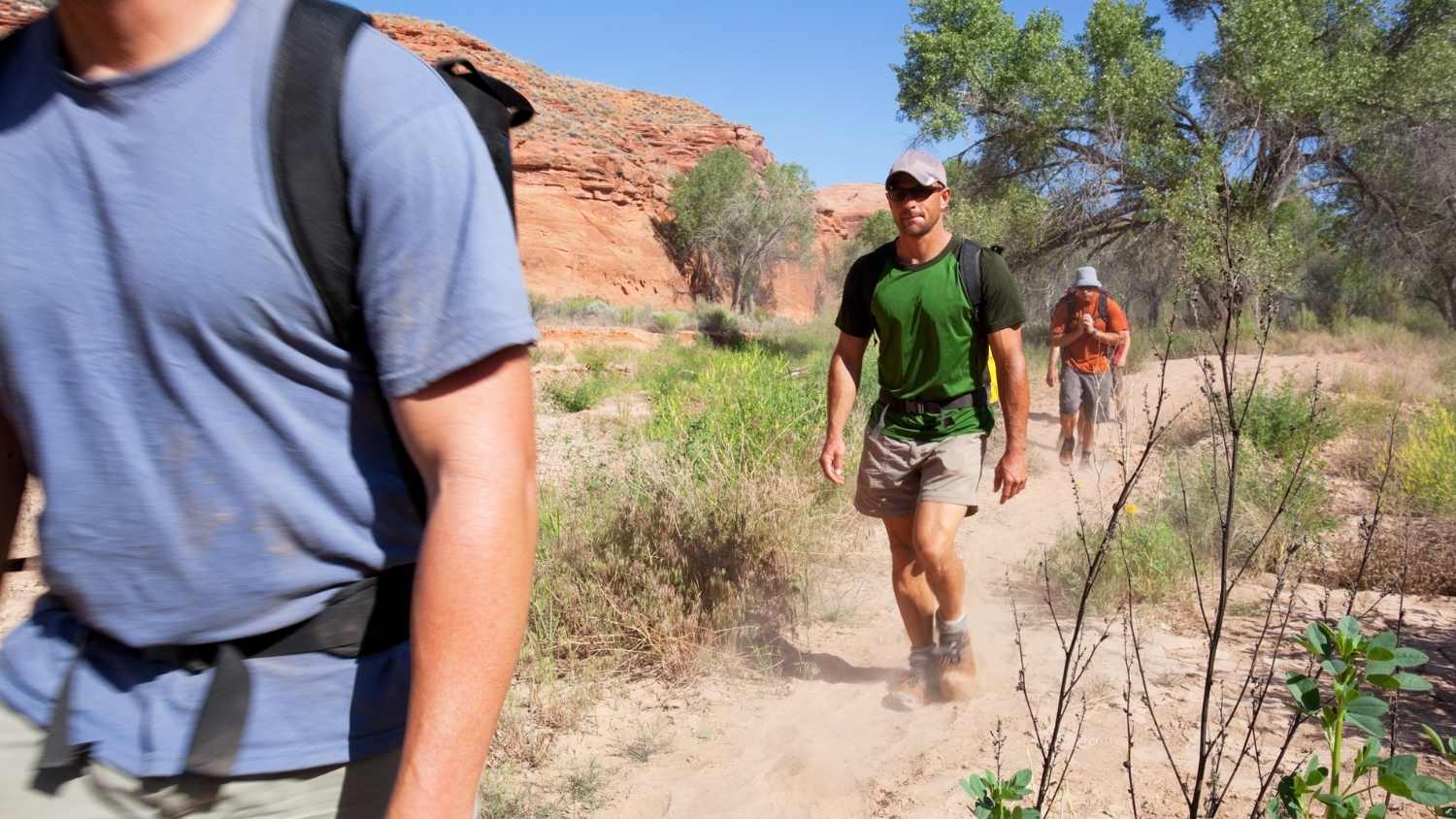 Whether you're climbing a peak or enjoying an easy day hike, hiking in hot weather can be tricky. Knowing which foods to eat on hot days can make a significant impact on how your adventure plays out. High temperatures can also negatively affect your athletic performance and put you at risk for heat illness. Knowing the risks of heat illness and how to prevent them will keep you adventuring all summer safely long. It can be as simple as staying hydrated and choosing the right foods to eat on hot days.
Fluid loss and impaired performance
Eating and drinking properly throughout the day is essential in hot weather to avoid heat illness and decreased performance. If you don't, your muscle strength could decrease while you're nearing the summit of your climb. Your athletic performance starts to suffer when your body loses just 2-3% of its weight in fluids. For an athlete weighing 200 pounds, 2 percent body weight would be 4 pounds, or two liters in fluid. Typical Nalgene bottles are one liter each. Losing this much sweat during hot weather activities is not difficult. You need to replace fluids frequently to stay hydrated. If the hot weather is also windy, humid, or dry, water and electrolyte needs are increased even more.
Loss of electrolytes while hiking in hot weather
You've probably noticed that you lose more fluids in hot weather. We sweat more when it's hot because sweating helps to cool our bodies down. But did you know that you lose more electrolytes in the heat as well? Electrolytes are essential for your body to function, and we lose them in sweat.
The main electrolyte in sweat is salt (sodium chloride). In addition to salt, sweat contains small amounts of potassium, magnesium, and calcium. We need to replace all of these electrolytes as we're hiking.
Fluid and electrolyte losses vary widely depending on the person. Some athletes are "salty" sweaters or sweat more than others.
If you lost 2 pounds of fluid weight

(one liter) mostly from sweating, you could lose:
500-1800 mg Sodium

&

700-2800 mg Chloride

= almost a teaspoon of salt at the higher end
150-400 mg Potassium = 2 oranges
0-35 mg Magnesium = 1 fig
0-120 mg Calcium = 1/3 cup almonds
Heavy sweaters, especially when hiking in hot weather, could lose up to three liters of fluid every hour, depending on the activity. That adds up to a lot of electrolytes lost! Salt is the most important one to replace. Luckily, electrolytes are widely available in common trail foods such as dried fruits, nuts, seeds, and salty snacks like pretzels. Commercial rehydration mixes are also available but are usually unnecessary if you eat a variety of salty snacks throughout the day.
Risk of hyponatremia
Let's say you're hiking in Moab, Utah, in June. It's 98 degrees Fahrenheit, but somehow you don't feel a drop of sweat. Here's something to remember in dry heat (desert): we don't always notice how much we sweat because it evaporates so quickly. Compare this to New England's humid summers, where you might be sweating buckets. With high humidity, sweat doesn't evaporate into the air as easily because the air is already full of water. Both conditions require extra sweat to cool the body down.
If you've been sweating all day and drinking four Nalgenes of plain water, you might notice that you have a headache and feel bloated, puffy, and nauseous. You may even experience vomiting and confusion. These are symptoms of hyponatremia, a condition that occurs seen when sodium levels drop below 130 mmol/L. What happened? You essentially diluted your blood with too much water.
To avoid hyponatremia and dehydration, consume fluids and food sources that contain sodium, especially when hiking for longer than one hour. Also, plan ahead to have fluids available to sip all day long. You should never get so thirsty that you feel the need to drink all four of those Nalgenes at once!
Foods to eat on hot days
Salt

(sodium chloride) = salted nuts, trail mix, pretzels, crackers, popcorn, pickles, and jerky
Potassium = bananas, melons, oranges, grapefruit juice, and kiwis
Magnesium = pumpkin seeds, figs, cashews, and peanuts
Calcium = almonds, cheese, dry milk, fortified cereals
Tips for avoiding heat illness while hiking in hot weather
Symptoms of heat illness include dizziness, headaches, cramps, muscle spasms, nausea, and vomiting.
To avoid dehydration and heat illness, make sure to:
Adapt to hiking in the heat, which takes seven to fourteen days.
Start with shorter hikes in the heat, and gradually increase exercise time daily.
Begin hiking well hydrated. Check your urine color to see if you're on the right track. Urine should be light yellow to nearly clear. If it's dark yellow, you must drink more before starting hard exercise in the heat.
Consume cold fluids

during and after hiking. Flavoring your fluids may make you more likely to keep sipping. Hydro Flasks are awesome re-usable water bottles that keep fluids cold for hours.
Make a 'mocktail'. Add some frozen blueberries, squeezed lemon wedges, a dash of salt, and slapped mint for a delicious flavor and extra electrolytes. Make sure you literally slap the mint with your hands so the oils extract!
Heat can kill your appetite, but it's important to still have the right foods to eat on hot days and fluids before, during, and after your hike. Optimal hydration requires a balance of water, electrolytes, and carbohydrates. Seek out a Sports Dietitian to individualize your nutrition needs and fitness goals!
Disclaimer: This is general nutrition advice, and you should talk with your physician before implementing any dietary or lifestyle changes.
Give these electrolyte-rich hiking snack recipes a try while hiking on hot days:
---
Backcountry Foodie is your go-to resource for more than 200 backpacking dietitian-created recipes, a one-of-a-kind automated meal planning tool, virtual masterclasses, YouTube videos, and podcast episodes.
---
Did you find this post helpful?
Pin It and share it with your fellow adventurers…
---
Are you new to our blog?
You may find these posts helpful:
ABOUT THE AUTHORS: