How to Plan Food for a Canoe Camping Trip
Updated January 4, 2023
This post may contain affiliate links.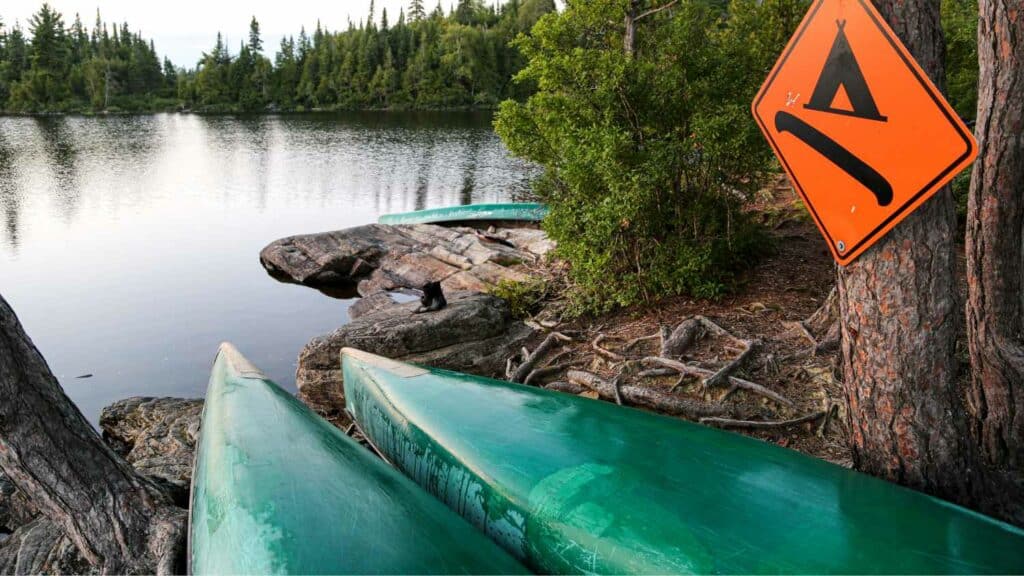 Factors to Consider | Amount of Food to Pack | Which Foods to Bring | Canoe Trip Hydration
Curious about packing food for canoe camping trips? Looking to transition from day paddles to overnight trips? Whether you are an experienced paddler looking to improve your nutrition or just curious about what canoe camping is all about, this article is for you!
Here at Backcountry Foodie, our main focus is food to fuel your hiking and backpacking trips. That said, the food for a paddling trip (canoe, kayak, or SUP) is not too different. The fact that you don't have to carry everything on your back might even give you even more flexibility in your meal planning. If you're a foodie and have never been canoe camping, this post might just convince you to give it a try!
What is Canoe Camping?
Canoe camping trips are multi-day trips where you paddle between campsites on lakes and rivers. All of the gear you need is carried in your boat. When lakes and rivers do not connect, you must portage (carry) your boat and all of your gear on trails or roads.
What Should I Consider When Planning Food for a Canoe Camping Trip?
First, think about the length of your trip. This will determine how much food you need to pack and the types of food you can bring. For shorter trips, you may be able to bring some fresh food. For long trips, space, weight, and the shelf life and durability of your food will be more of a concern.
You should know the mileage of your route and your average paddling speed. From this, you can calculate the hours per day you will actually be paddling and portaging (if applicable). This is important because you burn significantly more calories when exercising than while sitting at camp or floating down the river.
Think about the weather as well. Being on open water means you will be more exposed to wind, which could make it harder to paddle. If you get wet from rain or capsizing, shivering can burn up to 400 extra calories per hour.
Finally, how will you store your food? Some people have canoe barrels or wanigans, which are food storage methods designed specifically for canoe tripping. You can also use a backpacking bear can or do a classic bear hang. As always, be sure to check the food storage regulations for the area you will be camping in.
How Much Food Should I Pack for a Canoe Camping Trip?
Well, it depends!
Many factors affect the amount of food you will need to pack for a canoe trip. Like backpacking, the best way to dial in on the fuel your body needs is to keep a food journal with the following details:
Conditions of the trip
What you ate
How you felt
Any other details you think are relevant
You can then use this information to plan for future trips, ensuring that what you pack is personalized to your needs.
Here are some general guidelines to think about when deciding how much food to pack:
For every hour of paddling, you could burn anywhere from 200-700 calories per hour. This is a wide range that depends on your weight, fitness level, speed, and water conditions.
Long portages will have a larger impact on your calorie needs compared to easy paddling for the same amount of time.
For low-intensity paddles, aim to eat 30-60 grams of carbs per hour. For more intense exercise, you should be eating 60-90 grams of carbs per hour. See our Best Backpacking Foods for Energy post for more information about carbohydrate serving sizes and snacks.
If you are unsure how much food to pack, it's a good idea to pack a bit more than you think you need. This will cover you in case your trip goes longer than planned, too. We recommend meal replacement drinks like our Peanut Butter Protein Shake for just this purpose.
What Food Should I Bring on a Canoe Camping Trip?
Choosing which foods to bring on your trip depends on personal preference and the details of your trip.
Short, Laid-back Trips
For short trips with few or no portages, many people opt to bring fresh foods similar to what they would eat at home. However, if you are planning to get into some serious backcountry cooking on your trip, we would not recommend bringing fresh meat, fish, eggs, or dairy products (with the exception of hard cheeses). These foods should not be kept unrefrigerated for more than 2 hours. Dry milk, powdered eggs, tuna or chicken packets, and jerky are good alternatives. Some foods also do not pack well (e.g., bananas), and the size of your food storage container (canoe barrel, bear bag) will determine how much you can pack.
Some fresh foods that keep well include:
Potatoes, carrots, peppers, onions, cabbage
Apples & oranges
Sharp cheddar cheese
Leave No Trace
If you plan to bring fresh foods on your trip, make sure to pack out all food scraps to dispose of when you get home. It can take an orange peel up to 6 months to decompose! Also, make sure to wash your dishes away from water sources, even though it can be tempting to give them a rinse directly in the lake or river.
Ultralight backpacking recipes, like our Garlic Parmesan Ramen, also work great for short trips and will save you space and effort if you don't want to worry about bringing fresh foods.
Longer, More Strenuous Trips
For multi-day trips and trips with long portages, we would recommend mostly dried foods. You'll probably be trying to pack a lot of food in addition to all of your other gear. Backcountry Foodie has tons of great recipes that are low-volume, lightweight, and loaded with nutrition. These foods will last for even the longest trips.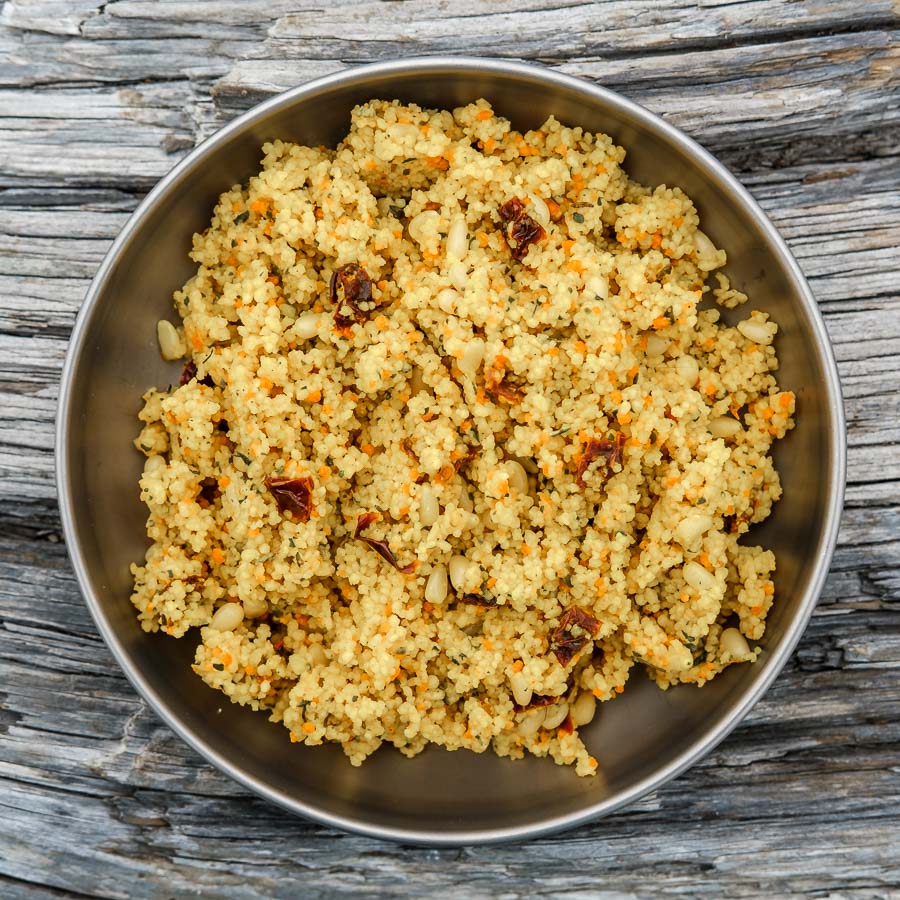 Regardless of the length of your trip, make sure to pack plenty of snacks. Plan to eat every 30-90 minutes when you are actively exercising, depending on the intensity of your activity.
---
Hydration while Paddling
Hydration is an important part of fueling for paddling. You are often very exposed to wind and sun and might not notice how much you are sweating if your sweat evaporates quickly.
The amount of water you should drink per hour varies depending on how heavy of a sweater you are. For light sweaters, 0.5-1 liter of water per hour is a good estimate, whereas heavy sweaters can lose up to 2 liters of water per hour.
You also need to eat foods with salt to stay hydrated. You can lose 100-4000 mg of sodium (salt) per hour, depending on how much you are sweating and how salty your sweat is.
Some salty snacks to consider packing include:
As you might have noticed, canoe-tripping food is not too different from backpacking food. The best foods to pack really vary depending on your trip and personal preferences.
---
Putting It Together
Keep in mind these factors the next time you are planning a canoe trip:
Length of your trip
Miles you will travel each day
Speed you plan to travel
Weather
Portages
Food storage
Hydration
Personal needs and preferences
Leave No Trace principles
---
Need Help Planning Food for Your Trip?
Backcountry Foodie is your go-to resource for more than 200 dietitian-created backpacking recipes and a one-of-a-kind automated meal planning tool. The meal planner even creates itemized shopping lists for you! Meal prep has never been easier.
Check out this video to see where all the magic happens.
---
DISCLOSURE: Some of the links on this page are affiliate links, which means we may receive a modest commission if purchases are made through those links. This adds no cost to our readers and helps us keep our site up and running. Our reputation is our most important asset, so we only include links for products we use ourselves.
---
Did you find this post helpful?
Pin it and share it with your fellow hikers.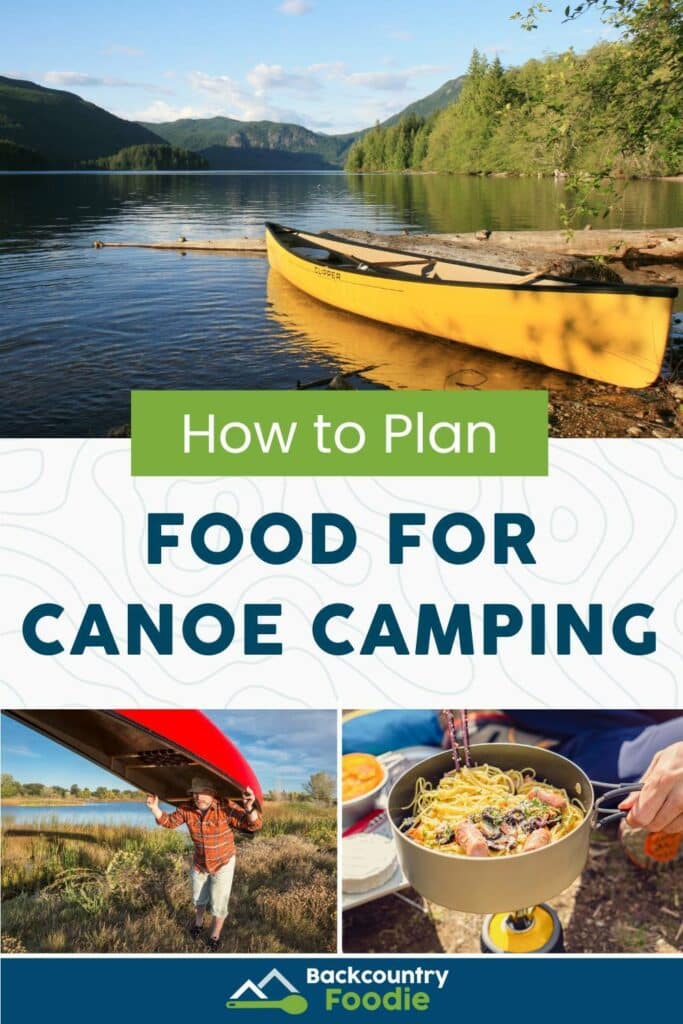 Are you new to our blog?
Consider checking out these posts:
---
ABOUT THE AUTHORS:
Sarah Coupal is a Dietetic Intern at Illinois State University mentored by Aaron. She holds a BS in Nutritional Sciences from Cornell University and spent two summers as the Trails Food Coordinator for the Adirondack Mountain Club. She enjoys hiking/backpacking, canoeing, cross-country skiing, and running in her free time.