Garlic Parmesan Ramen | Backpacking Recipe
Are you new to making homemade meals or do you find preparing meals too time-consuming? Our ultralight garlic parmesan ramen recipe takes less than 5 minutes to prepare and is hands down cheaper and tastier than most freeze-dried meals. It's the perfect recipe to get you started and one of my go-to favorites.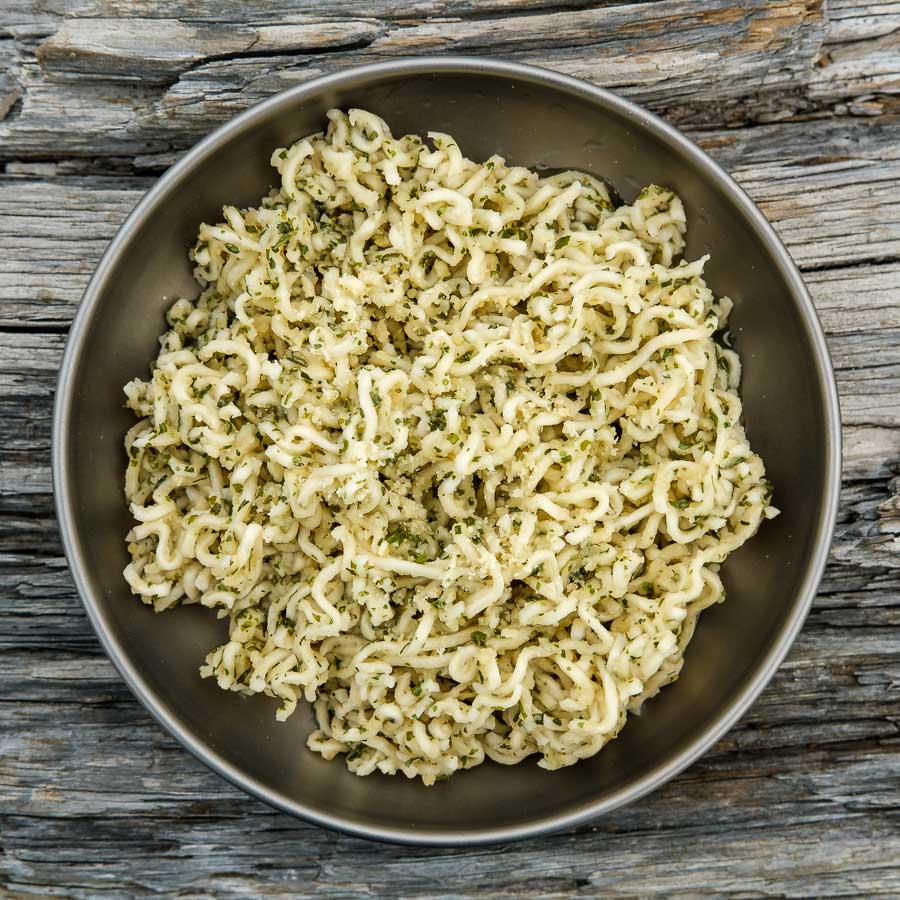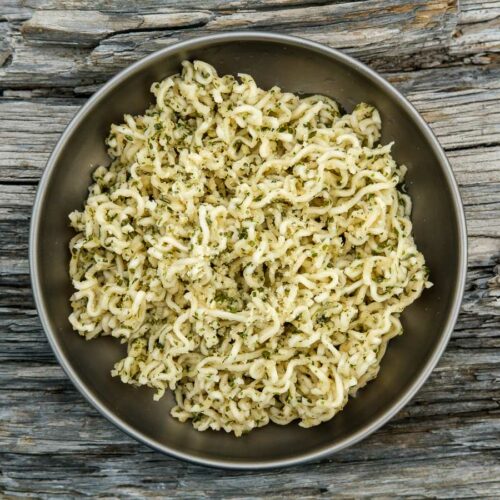 Garlic Parmesan Ramen
If you're new to making homemade backpacking meals, this is the perfect meal to start with. It's a Foodie fan favorite!
Rate This Recipe
NUTRITION (per serving)
INGREDIENTS
1

package

ramen noodles

1

Tbsp

parsley, dried

¼

tsp

garlic powder

¼

tsp

black pepper

⅛

tsp

table salt

¼

cup

parmesan cheese, shelf-stable

3

Tbsp

olive oil
OPTIONAL
substitution

- rice ramen noodles,

gluten-free option

substitution

- angel hair pasta, precooked and dehydrated

,

reduced-sodium option

substitution

- salt substitute

,

reduced-sodium option
INSTRUCTIONS
HOME
Discard ramen noodle spice packet.

Put noodles in a bag or container to be used in the backcountry.

Put the remaining dry ingredients in a separate bag to be stored inside the noodle bag or container. See meal prep tip below.

Pack 3 Tbsp (42 g) olive oil in a leakproof container to be added to the meal when consumed. We recommend double bagging the oil in the event there is a leak.
FIELD
Remove the parmesan herb packet.

Add 8 oz (240 mL) hot/cold water or enough to cover the noodles.

Let stand to allow the noodles to rehydrate. This will take approximately 7 minutes if cooking the meal and 30 minutes if cold soaking. Avoid over-soaking noodles as they will become mushy.

Consume or properly discard the noodle broth to practice the Leave No Trace principle.

Add parmesan herb packet and 3 Tbsp (42 g) olive oil to the noodles.

Stir to mix well and enjoy!
NOTES
MEAL PREP TIP
If preparing the meal for long-term storage, we recommend not adding the parmesan cheese until just before consuming the meal. By doing so, the shelf-life of the meal will be lengthened significantly.
NUTRITION
Total sugar (per serving): 2 g with no added sugar
To reduce the meal's sodium content by 671 mg, replace the ramen noodles with angel hair pasta and table salt with a salt substitute as desired.

To reduce calories by 120, reduce olive oil volume by 1 Tbsp (14 g). We do not recommend leaving out all of the oil as some oil is required to create a pesto sauce.
Did you make this recipe? We'd love to see it!
Share photos from your kitchen or the backcountry below.
Disclaimer: Backcountry Foodie is an Amazon Affiliate, which means that if you choose to purchase a product from a link on this page we could potentially receive a small commission to help support ongoing recipe development.
Did you enjoy this ultralight backpacking recipe?
Click here to learn more about Backcountry Foodie's ultralight recipes and meal planning service.
Hungry for more?
Here are more recipes you'll likely enjoy…
ABOUT THE AUTHOR:
Aaron Owens Mayhew, MS, RDN, is a registered dietitian and ultralight long-distance backpacker with over 20 years of nutrition and backpacking experience. She's also the founder and owner of Backcountry Foodie, online ultralight recipes and meal planning platform for backpackers. She also enjoys teaching hikers, like you, about backpacking nutrition via live virtual masterclasses. You can follow Aaron's adventures in the kitchen and the backcountry via Instagram and Facebook.