Brownie Batter Hummus | Backpacking Recipe
This ultralight brownie batter hummus backpacking recipe is absolutely divine and believe it or not, a healthy snack option! We would compare the hummus to a delicious bowl of brownie batter. Dehydrated chocolate hummus is an excellent cold soak mid-day treat or dessert after a long day in the backcountry.
Benefits of taking dehydrated hummus into the backcountry:
1. Protein for muscle recovery.
The garbanzo beans and nut butter provide great sources of vegan protein. Keep in mind that protein consumed post-exercise is important for muscle recovery. It is recommended that 20-30 grams of protein be consumed within two hours of exercise. One serving of this hummus recipe provides 10 grams of protein. What an awesome way to treat yourself after putting in the miles!
2. Healthy fats for sustainable energy.
The fat content of the nut butter and coconut oil provide sustainable energy for those long days in the backcountry. If dehydrating this recipe for the backcountry, it comes in at an impressive 138 calories per ounce. Not bad for a healthy treat! If you're not climbing the tallest peak, the coconut oil can be left out to reduce the total calories of the recipe without changing the flavor. If treating yourself to this yummy snack at home, leaving out the coconut oil is probably not a bad idea unless you've just returned from a trail run. Your waistline will thank you.
3. Wholesome ingredients and easy preparation.
The hummus requires a limited number of ingredients that are void of artificial colors, flavors, and sweeteners. Add the ingredients to a blender or food processor and that's it! A mouth-watering healthy snack that's prepared within a matter of minutes. If preparing the recipe for use in the backcountry, simply spread the mixture onto dehydrator trays and dehydrate at 125℉ (52℃) until completely dry. The hummus requires less than 15 minutes to rehydrate with cold water in the backcountry which is important when your stomach is impatiently waiting for the next meal. Our favorite way to eat the hummus is to top a Chocolate Mint Honey Stinger Waffle with a spoonful of the hummus. Yum! This boosts the meal by 150 calories and 1 gram of protein by adding only a small volume of food. The caloric density of this treat also increases to 142 kcal/oz with the addition of the waffle. Now, that's an ultralight treat!
Words of advice…
Consider making a double batch as it will be difficult to save this chocolate hummus recipe for later.
Just sayin'!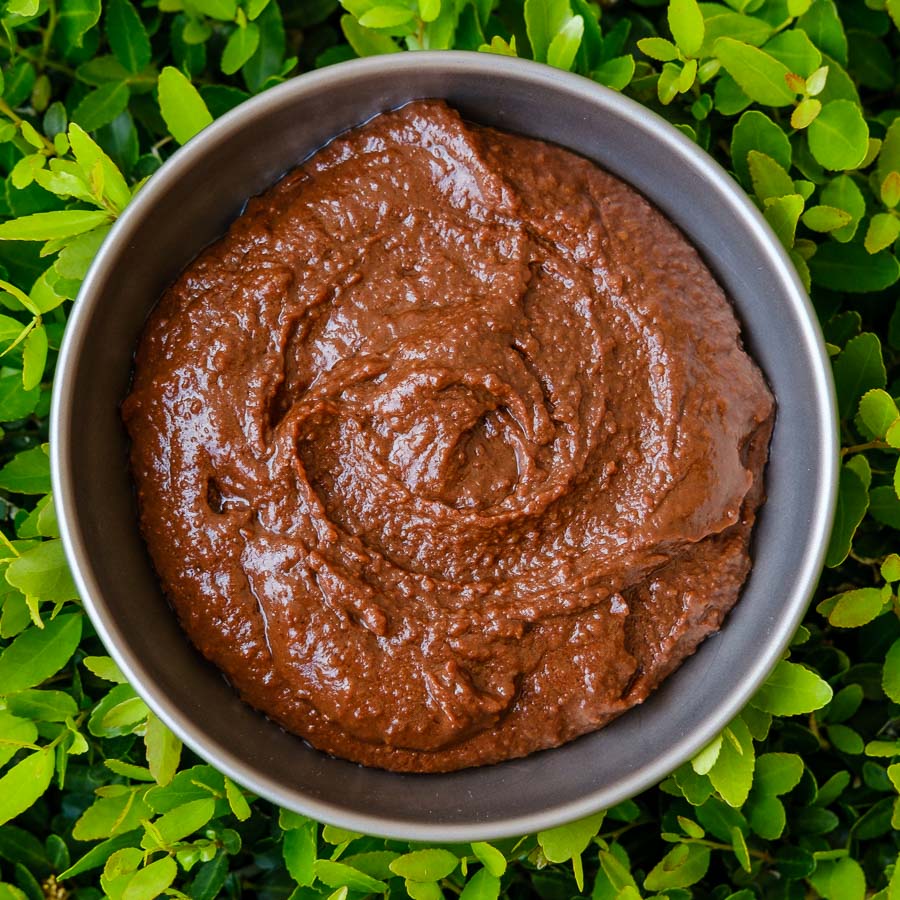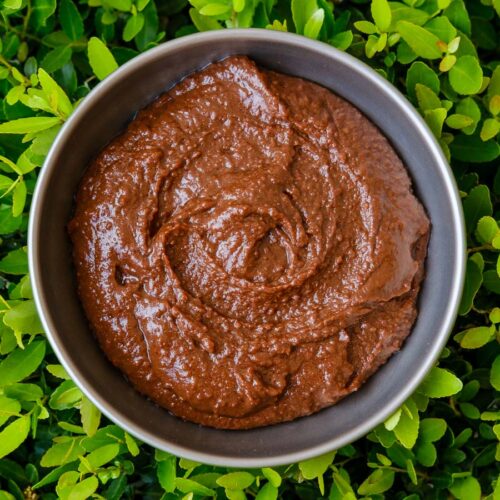 Brownie Batter Hummus
This chocolate hummus is absolutely divine! We recommend that you make two batches because you'll want to eat a serving before dehydrating it for your trip. This low volume treat is also great for bear cans where space is at a premium.
Rate This Recipe
View Comments / Leave A Review
NUTRITION (per serving)
INGREDIENTS
15

oz

chickpeas (garbanzo beans), canned

,

drained and rinsed

⅓

cup

cane sugar

1 ½

tsp

vanilla extract

½

tsp

table salt

4

packets (1.1 oz each)

almond butter

,

or nut/seed butter of choice

4

Tbsp

coconut oil
INSTRUCTIONS
HOME
Put all ingredients, except the nut butter and coconut oil, in a food processor or blender. If preparing the recipe to eat at home, include the nut butter and oil in this step. See meal prep tip below.

Add ½ cup of water to the food processor or blender.

Blend until the mixture is free of lumps.

Spread a thin layer of the mixture onto dehydrator trays.

Dry at 125℉ (52℃) until completely dry. The mixture should be brittle when dry.

Put the dehydrated hummus in a coffee grinder or spice mill and blend until a powder forms. Powdering is not required but speeds up the rehydration process greatly.

Put one 1.6 oz (47 g) serving in a bag or container to be used in the backcountry. Repeat this step for a total of four servings.

Pack 2 Tbsp or 1.1 oz packet (32 g) of nut butter, per serving, to be added when the meal is consumed.

Pack 1 Tbsp (14 g) coconut oil in a leakproof container to be added when the meal is consumed. We recommend double bagging the oil in the event there is a leak.
FIELD
Add 2 oz (60 mL) cold water to the bag or container.

Stir to mix well and let stand until fully rehydrated.

Massage the bag with your fingertips or use a utensil to break up any clumps. The texture of the hummus should be smooth when fully rehydrated.

Add 2 Tbsp or 1.1 oz packet (32 g) nut butter and 1 Tbsp (14 g) coconut oil to the mixture.

Stir to mix well and enjoy by the spoonful!
NOTES
MEAL PREP TIP
To create a smoother final product, we recommend removing the skins from the chickpeas (garbanzo beans) before adding them to the blender. This step is optional.
NUTRITION
Total sugar (per serving): 20 g, including 12 g added sugar.
For a no-added-sugar recipe, replace the cane sugar with a sugar substitute.
Keep in mind the level of sweetness provided by alternative sweeteners. Adjust serving size accordingly.

To reduce calories by 120 per serving, do not add the 1 Tbsp (14 g) coconut oil per serving.
MY NOTES
Did you make this recipe? We'd love to see it!
Share photos from your kitchen or the backcountry below.
Disclaimer: Backcountry Foodie is an Amazon Affiliate, which means that if you choose to purchase a product from a link on this page we could potentially receive a small commission to help support ongoing recipe development.
Did you enjoy this ultralight backpacking dessert recipe?
Click here to learn more about Backcountry Foodie's ultralight recipes and meal planning service.
Hungry for more?
Here are more recipes you'll likely enjoy…
ABOUT THE AUTHOR:
Aaron Owens Mayhew, MS, RDN, is a registered dietitian and ultralight long-distance backpacker with over 20 years of nutrition and backpacking experience. She's also the founder and owner of Backcountry Foodie, online ultralight recipes and meal planning platform for backpackers. She also enjoys teaching hikers, like you, about backpacking nutrition via live virtual masterclasses. You can follow Aaron's adventures in the kitchen and the backcountry via Instagram and Facebook.